Automated testing is developing at a very rapid pace. According to a report by Markets and Markets, its market will reach $50 billion in 2026, which is 2.41 times greater than the 2021 figure. At the same time, the need for classic manual testing has remained, although it has receded to the background compared to automation.
The eternal struggle between automated and manual testing generates a demand for universal specialists and a tendency to combine these types. Vectors in the industry that involve almost complete automation of processes are now winning: RPA, Codeless and low-code, AI, Global automation of testing processes, and UX as a key factor in QA effectiveness. However, even they cannot completely eliminate manual tests from the practice of QA specialists.
The Zappletech team keeps abreast of trends and innovations in testing. That's why we have prepared an extensive breakdown of these two competitors in today's IT field.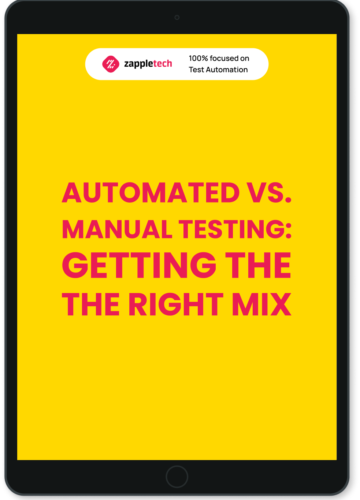 This e-book provides an overview of key topics such as:
Analysis of 5 Testing Industry Trends.
Advantages of automatic and manual testing.
A brief description of 8 General Types of Testing.
Evidence for a successful combination of the 2 types under consideration.
GET YOUR FREE COPY RIGHT NOW