The Mobile and Web Test Automation industry is growing at an unprecedented rate and has a great chance for the future. Future Market Insights predicts that the mobile application testing automation industry will reach $93.6 billion in 2032, up from $24.7 billion today. Years from now, mobile testing could move almost to full automation.
More innovative types of frameworks are emerging in testing. Testers are actively using AI-based tools, and their number will only increase in the future. The process of automation increases the threshold of entry into the QA-engineering profession.
The ZappleTech team has studied the forecasts of leading experts and the prospects of automated testing technology development and is ready to share with you some interesting information.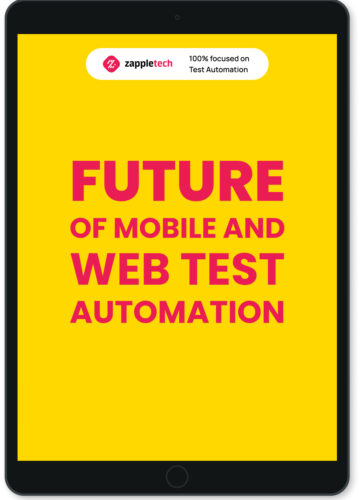 In this e-book, we have collected:
Opinions and forecasts of key market specialists.
Prospects for the development of automated mobile testing.
No-code testing automation tools such as Katalon Studio, Appium, 21 Labs, and Ranorex Studio.
Prospects for other frameworks such as Playwright, Selenium, and others.
Analysis of new requirements for the testing profession.
GET YOUR FREE COPY RIGHT NOW