Larissa Rosochansky, IT specialist with 21 years of experience, certified by PMP, PSM, SAFEe 5 Lean Portfolio Manager, and ITIL Foundation, talked about what Quality Engineering Chapter is, some best practices to follow, and mistakes to avoid.

Chapter – What Is It?
Truly agile companies usually organize themselves in Tribes and Squads to deliver the best product for their client. A chapter is a community of people working in the same domain who work for the same company and are interested in the same issues.But what is it for?
Recurring meetings to exchange information and experiences.
Share Lessons Learned – Make Fearless Mistakes and Learn Fast.
Generate a sense of belonging and community.
Many heads are better than one.
A unique and safe place for exchanges, questions, and transparency.
Now it's time to figure out where to start.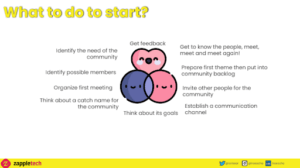 First of all, you need to get feedback – why do we need this community?
Identify the needs of the community.
Identify possible members.
Organize the first meeting.
Think about a catch name for the community.
Think about your goals.
Establish a communication channel.
Invite other people for the community.
Prepare the first theme then put into community backlog.
Get to know the people, meet, meet and meet again!
Let's deal with the pitfalls that you may encounter. Because of them, your community may not function properly.
Do not find the right people as members.
Do not understand the need of the community before creating it.
Do not have a centralized place to share communication.
Be diverse and inclusive.
Success Case
During the pandemic, the speaker had a successful case of creating a community – it was implemented entirely online. This project had its own characteristics:
Several ways to make a testing strategy.
Test concepts (pyramids, role of QA within the squad) were not consistent and standardized.
Feeling part of a bigger whole, to have a purpose.
They didn't know the tools and accelerators at their disposal.
Automation efforts were isolated and sparse.
Understanding what they were and how Quality efforts were organized – qualitative and quantitative research.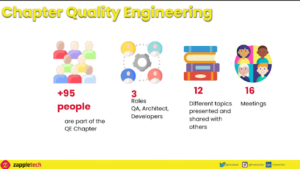 At the meetings, they tried to involve people in the conversation and clarified which topics were the most relevant for them. Everything was thought out to the smallest detail:
List of QAs and Architects with HR.
Chat name *Customer* – Quality Engineering.
Autonomy for members to add more of them.
Purpose of the chapter published in the chat.
Feedback.
Transparent communication: dissemination of meetings, ideas, experiences, feedbacks: retro feedback.
Particular attention was paid to the organization of the first meeting:
Dissemination of the first meeting in all online communication channels.
Recording to watch later and be more inclusive.
Alignment on QA concepts and roles
Experience exchange.
From this successful case, they learned several important lessons that they plan to continue in the future:
Involve not only QAs but also Architects and other roles.
Advertise, advertise and advertise!
Collect the greatest pain points and questions, and set up first meetings about these topics.
Find engaged people who want to help on the Chapter.
Add topics to the backlog and organize the backlog visually (e.g., Trello).
Keep the Chapter alive with relevant topics and interesting chat discussions: ask powerful, thought-provoking questions.
Encourage new people to share new topics, experiences, and learnings.
Encourage people publicly!
Tip from
Larissa Rosochansky
– share knowledge, share experience, find a way to reward people (not necessarily financially) and always encourage them publicly. It is really very important for the people and the quality of the work.