Behavior Driven Development is a software development methodology that helps software developers to document what the application will do and how it will do it. It starts with a clear understanding of the expected behavior of the user when using the application.
Then it documents what the application will do to fulfil that behavior, in turn making it easier for developers to implement and troubleshoot the application. Behavior Driven Development improves the developer's understanding of how the application will work, making them better able to translate the planned behavior into reality, and better able to troubleshoot when things go wrong.
In this blog, we will be discussing what is behavior-driven development, its benefits for software development and the tools to implement it in your project.
What is behavior-driven development?
Behavior-driven development (BDD) is an Agile software development methodology in which an application is documented and designed around the behavior a user expects to experience when interacting with it. It helps to identify not only what the desired behavior is, but also how to accomplish that behavior.
This is done by writing user stories that describe the desired behavior of the user, then writing code to implement the user story. It is important to note that behavior-driven development is not just about writing code, it is also about writing user stories, which must be properly organized, prioritized and tested.
How BDD works
Behavior-driven development is centered around the interactions between people and software. It uses a collaborative process that is focused on communication, collaboration, and teamwork.

Behavior
In BDD, the teams define the business requirement of a piece of software in a way that the developers can clearly understand and communicate. That way, the developers can begin the process of determining what needs to be done and start working on it.
The software requirements are defined in such a way so that non-developer staff could understand them as well. This helps the stakeholders to understand the business value of a feature and facilitates the creation of specifications and APIs.
Language
BDD can be difficult to implement because the development team is typically made up of members who use different programming languages. In order to remedy this, the developer can use language to communicate the desired behavior to the development team.
In order to do this, developers create stories or use specific language to describe the behavior of the system before it is built. This allows the developers to work with the product owner so that the requirements are clear to everyone.
Test-driven development (TDD) focuses on the components that make up an application, not on larger features or how the components work together. This means that there is no way to know if two components might not interact successfully to deliver the intended behavior.
The component itself might behave perfectly, but without an interaction test, the user might see something wrong. Behavior-driven development has a focus on the behavior of software, which is the intended output of a system. With BDD, you are able to write tests to ensure that the behavior is as expected.
On the contrary, BDD is oriented toward the features being developed. It aims to ensure that all the features on the client side perform as expected.
Pros and cons of BDD in the software development process
We have already learned, how BDD is working, now it's time to see its strong and weak points.
Benefits
Below are some strong points of behavior-driven development that will assist the engineering team in developing a new project.
Ensures effective communication within the team
BDD helps teams to design software in a more collaborative way. Team members describe the behavior of the software, and then the code is written to implement those steps. As a result, the whole project team has a unified understanding of the expected product behavior.
Reduces quality control costs
Automating acceptance tests for all the expected user scenarios is one of the key benefits of BDD. When the business is involved in the process and is able to test as the development team does, the quality control costs will reduce.
Allows for more accurate task estimates
Behavior-driven testing allows for the team to come together and talk about the functions and behavior of the product that are expected to be completed. This allows for a more accurate task estimate for the project because it is given to the team before the development starts.
Puts a strong emphasis on the user experience
BDD helps a team to focus on the desired behavior of the software rather than the implementation. This focus helps to avoid bugs and maximizes the user experience. BDD forces a development team to have a conversation with users to understand and prioritize what they want.
Creates living documentation
Behavior-driven development helps developers understand where the code is headed and what it will do by creating living documentation as you go. This takes the form of executable specifications that are generated from scenarios and tests that are run on the product. This allows for better testing and faster iteration and faster learning for new team members.
Pitfalls
With all its benefits, BDD has some peculiarities that can affect the efficiency of the development process and that need to be taken into account.
Requires more time than traditional development
Behavior-driven development requires teams to develop a comprehensive list of scenarios for all the people involved in creating it, including the product owner, stakeholders, developers, testers and end-users. Creating and maintaining scenarios and tests for a large team can be time-consuming and difficult to maintain.
Not suited for a small team
BDD doesn't work well for small teams. Some developers have the need to have a lot of conversations with a tester and project manager before taking on a project. This can be time-consuming and frustrating for all involved. If this is the case on your team, it makes sense to simply create the tests after you've put in the framework, instead of having a lot of discussions with a tester and project manager before coding.
Needs to be implemented at the start of the project
The concept of behavior-driven development works best before any code is written, which means that it would be a waste of time to start implementing it when you are in the midst of a project. You should start thinking about and writing scenarios and tests when you have the client on board and have already done the research.
Tools for BDD
Let's consider some tools that will help you to establish BDD in your software project.
RSpec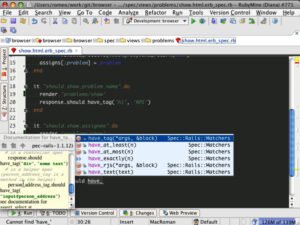 RSpec is a testing tool that is used by developers for behavior-driven development. It is used for writing automated tests for Ruby, in order to make sure that a class of code is behaving as expected, and that it is not a source of bugs.
In order to use RSpec, all you have to do is to write a spec file. It is a domain-specific language that can be used to test your code. A spec file is coded in RSpec, so in order to write a spec file, you have to be familiar with the RSpec language.
RSpec allows you to write code with "describe" blocks, "it" blocks, and "expect" blocks. These blocks are used to describe what the code being tested should do, what "should" happen when it is run, and what is "not" supposed to happen. These blocks are then run against the code by the RSpec runner, and if they pass, the test passes. After the test passes, you can use "context" blocks to write more code which will run automatically when the "describe" block has been run.
Cucumber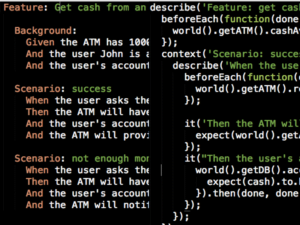 Cucumber is an open-source tool that supports behavior-driven development. It is a powerful tool for software development and testing. Cucumber supports the Gherkin language and is used to describe the behavior of the software being developed. Gherkin is a natural language that allows people to describe what they would like the software to do.
To use Cucumber, you will need to install the software, and then create a Gherkin story that is used to describe what you want the software to do. Cucumber allows people to create tests and storyboards that will be run by the software to help with development. Cucumber will then run the Gherkin story and make some decisions based on the outcome.
SpecFlow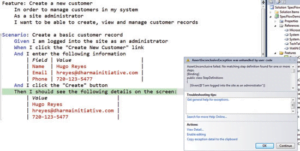 SpecFlow is a BDD tool that enables teams to write automated tests for their Gherkin scenarios. SpecFlow enables teams to write automated tests for their requirements while writing clear and concise features. With SpecFlow, teams can easily share the resulting examples and use automation to drive the development of the application.
SpecFlow enables teams to create a specification of their feature and automate the automation of the testing that ensures that the requirement is fulfilled.
With SpecFlow you can use C# and .NET to write your feature files and automation code and easily automate your BDD testing. SpecFlow has been designed to help you write your feature files and automation code in your favorite IDE using C# and .NET methods.
JBehave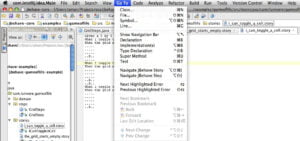 JBehave is a behavior-driven development framework for automated acceptance testing. It's written in Java and is intended to provide an intuitive, accessible and extensible interface for automated testing. It uses a pluggable architecture and a flexible data-driven framework for testing business logic.
The framework is largely an alternative to running regression tests on your code. It is intended to work well with agile development, integrating acceptance, functional and unit tests into a single continuous integration process. In JBehave, you write stories, which are executable test scripts that you can use to exercise your software. Each story is a single test, which describes the behavior of the system under test and the conditions that trigger that behavior.
In BDD, JBehave uses the following concepts:
Story
The JBehave story format provides for a means of expressing your business logic in a concise, structured manner that can be easily tested, mocked, and improved. Stories allow you to quickly create scenarios, test them, and then iterate on them.
Scenario
In JBehave, scenarios are the representations of the system execution in the form of sequences of messages exchanged between objects. A scenario is made up of a list of steps, each one representing the interaction of objects in the system. The steps in a scenario may also be represented as a state machine. Basically, a scenario is a partial view of the system, whereas a state machine is a complete view of the system.
Steps
Steps are a simple way to represent the execution of behavior. They are the classic BDD keywords given, when, then. The flow of steps is typically structured in a waterfall model, where the first step is always the entry point or the first step of the behavior, and subsequent steps are one level higher.
Lettuce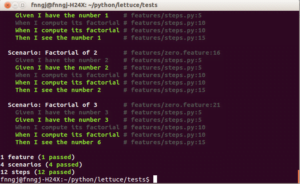 Lettuce is a BDD framework similar to Cucumber, but for Python. It has been designed with the sole goal of making it easy to understand test cases and automate them across 2050+ browsers. Lettuce is known for its simplicity, as it doesn't require any external dependencies, and it is simple to get started.
Lettuce is made for Python, so it will work out-of-the-box on most Linux environments. It is also compatible with all the major Python libraries, including Django, Flask, Pyramid, and more. Lettuce is not just a framework, it's also a testing tool. Lettuce comes with two different tools: the Lettuce executor and the Lettuce web server.
Conclusion
We hope you enjoyed our article about behavior-driven development. We know that doing a good job with creating an application can be difficult, and this method helps to make it easier. We also hope that you can use what you learned today to create your own application! If you have any comments, questions, or concerns, please do not hesitate to reach out to us. Thank you for reading, we would love to hear from you!