Automation testing is gaining momentum year after year. More and more people are striving to own this specialty, not to mention that vacancies of automation testers are growing exponentially.
It's easy to learn, profitable, and has many prospects. Moreover, there is an assumption that every third employee will be involved in test automation by 2023.
Let's take a closer little at this specialty and highlight the most excellent prospects and perks.
Who Are Automation Testers?
These specialists test the software when developing and are called QA (quality assurance) engineers or automation testers. This profession is at the crossing of programming, analytics, and testing.
They model different scenarios using testing programs and tools. In essence, companies hire them to improve the IT product quality before use, whether it is a mobile game to software for a bank. Automation testing is suitable for almost all testing types:
Sanity.
Smoke.
Functional and others.
Since creating a software product exists today for any large business, applicable in any industry. Testing covers the entire development cycle: planning, designing, creating, and executing test cases.
What Do They Do?
Such specialists' main task is to develop solutions for the accelerated testing of programs. This work involves two key tasks:
A code writing to test a product where manual testing is impossible.
Routine processes optimization and reallocation of time and resources in favor of priority tasks of the solution.
Thus, this product much faster demonstrates good functionality and wins the competition with similar products.
The list of their responsibilities also includes such issues as:
Collecting the required range of data about the project.
Test the program according to the specified regulations and simulate the likely situations when using the software.
Check the software for operability.
Identify all bugs and system errors that lead to software failure.
Describe the problems so that the developers can make changes.
Retest after making edits.
Ideally, the tester has to check the product to find out all bugs so that the product work clear whatever the user uses it.
This job also suggests some element of psychology: a tester needs to think like a user who is far from IT to put himself in his place. Therefore, companies value newcomers: they notice details that professionals don't see from experience height.
Who Can Become Such a Specialist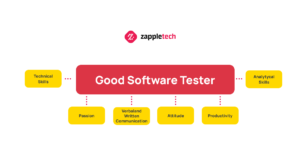 Apart from language knowledge, testers have to demonstrate such important qualities as a flexible and curious mind, attentiveness, the ability to formulate and convey to developers, and management their view of the problem.
The professional minimum has also passion for IT and computer science. If you have all these qualities, you can confidently pretend on a remote or freelance job, especially for web apps and beta testing.
A software tester interacts very closely with both programmers within the project life cycle and with the quality director, making him a full-fledged employee of the company, constantly involved in work processes.
In essence, the automated tester can become anybody who wants to make a career in IT: people with almost any background, with no engineering education, and unfamiliar with programming languages can come to testing.
Automation Testing Career and How to Start It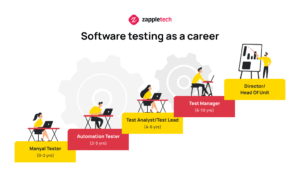 The good news is that you don't have to spend 4-6 years at a university to achieve such a specialty. Instead, you can get up-to-date education on your own by finding information in Google or specialized courses, which is much faster and more convenient.
Teaching with a tutor will take approximately one year. After that, you will start a career in test automation as a freelancer or full-fledged employee. After that, a more advanced specialist can operate with demanded tools for automation testing, like Cucumber, Selenium, Selenide, etc.
The employer does not care how old you are and what specialty you worked in before. The main thing is your professionalism and practical skills.
It will be great if you manage to get a job starting in an IT company, where you gain experience under the mentors' guidance. This will give a powerful impetus to development.
Profession Prospects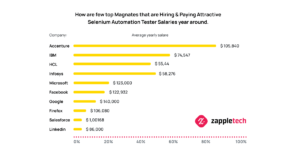 To date, some software testing processes are already being automated and outsourced to artificial intelligence. However, the cost of automation is recouped relatively slowly and is not economically feasible in all projects.
Since the commercial success of IT product development depends on a balance between the quality of the product and the costs of its creation, the involvement of a person in the testing process will be economically justified for a long time.
Why You Should Consider an Idea to Be a Tester
Automation testing is a decent career. Firstly, you don't need any special education. QA testers have many prospects and perks, such as:
Fast and inexpensive training to enter a career in test automation.
Becoming a tester is easier than learning programming.
You can work both in the state and freelance.
The prospect of high wages soon after courses end.
The profession will be relevant for the next decades at a minimum.
Rapid career advancement: a tester has all opportunities to grow to a business analyst, project manager, or team leader.
It offers decent salaries: QA automation testers earn approximately $ 42 per hour and $7,314 per month.
If you want to move to developers after a while, it will be much easier for you to learn to program than from scratch.
It is one of the most demanded professions in the IT area. New job search advertisements are constantly being posted on job sites.
Not only a prestigious and highly paid job but also an interesting one, you have only chosen a company that produces what you like: mobile games, telephony, business software, etc.
If the tester knows additional languages, this can be a great opportunity to collaborate with companies where that language is predominant.
For example, a tester who knows Java can find himself in most Android projects. A specialist who knows C/C ++ will find himself producing video games and consoles.
On the other side, if you only know one skill, it can limit your choices and opportunities for employment and choice. Also, a career in test automation has some little drawbacks, particularly two of them. Firstly, part of the job is routine and monotonous actions (however, this applies to any intellectual work). Secondly is that programmers get bigger salaries, after all.
To Summarize
Automated testing is one of the most compelling IT career options, and naturally. The specialty does not require admission to a specialized institution, it is available for development, and this takes a maximum of a year.
Such a specialist performs two main functions: testing and optimization, with additional tasks. The main plus is that it does not require a programming language, but if you know C ++ or Java, this will be your additional advantage. There are many reasons for being promising in a career in test automation:
It is promising.
You can work remotely or in-house or position yourself as a freelancer.
You can earn $ 7,314 on average.
You have excellent career prospects.
This is a challenging and interesting job that continues to gain popularity. This is why it is a great career option if you want to find yourself in IT.