During the development of a digital product, its quality plays an almost pivotal role. It directly affects how the audience perceives the IT solution, project funding from investors, and the overall potential of the application, website, or game on the target market.
The findings of Fortune Business Insights analysts best illustrate this statement. According to their data, the market value of aQA (including QA automation testing services) reached $15.39 billion in 2023 and continues to grow at a CAGR of 18.8%. The projected capitalization for 2030 is $51.26 billion, despite the ongoing geopolitical situation worldwide.
Considering the active development of the industry, we can conclude that QA automation testing services are in demand among developers, stakeholders, investors, and more. However, QA comes with several challenges that can potentially lead to decreased productivity in the verification processes or even problems with the quality of IT solutions.
Drawing from our own experience, the ZappleTech team has prepared a thematic material for you to learn:
Why QA automation testing services are essential for every project.
The difference between in-house and outsourced testing.
The advantages of outsourcing.
The challenges in aQA and how to avoid them.
How to build truly effective teamwork in a project.
We guarantee this information will help you optimize QA automation testing services and achieve the best results. And to start, let's focus on the value of aQA for digital products.
The Importance of QA Automation Testing Services
Every development team has a different perspective on aQA, but overall, they recognize its effectiveness and value for a project's viability.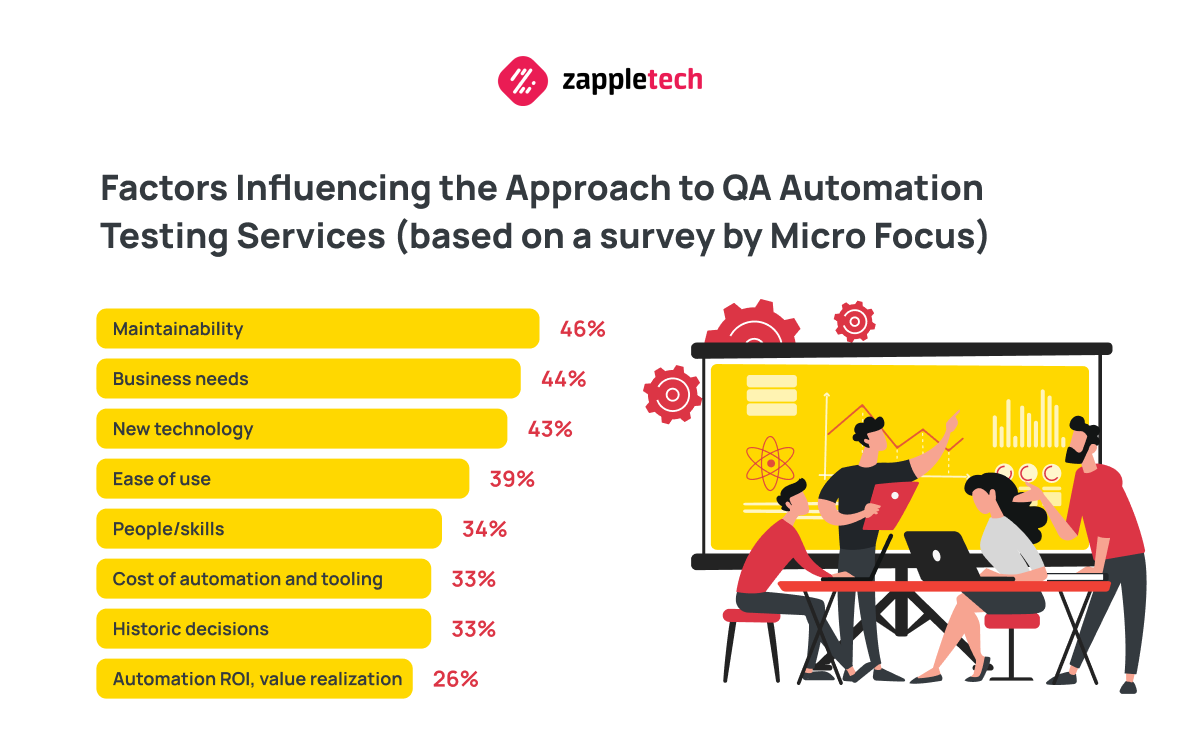 For instance, based on a survey by Micro Focus experts in the IT industry, we can see the following breakdown of the value of a QA in the context of factors influencing the approach to QA automation testing services:
Maintainability – 46%
Business needs – 44%
New technology – 43%
Ease of use – 39%
People/skills – 34%
Cost of automation and tooling – 33%
Historic decisions – 33%
Automation ROI, value realization – 26%
The three dominant factors are maintainability, business needs, and new technology.
Maintainability is crucial from a technical standpoint, as every algorithm can be reused, saving engineers time and improving the effectiveness of QA automation testing services.
Regarding business needs, automation allows you to configure the environment and testing scenarios to assess the IT solution's alignment with the brand concept, realism, and UX quality.
As for new technologies, they offer a more exciting prospect. They enable the acceleration of case and algorithm development, as well as the prediction of bug appearances and more. This primarily concerns AI, ML, and RPA, which are already quite prevalent in the QA automation testing services market.
In-house vs. Outsourcing QA Automation Testing Services
Companies developing digital products face a dilemma: delegate QA automation testing services or hire in-house experts and new staff.
Both models have advantages and disadvantages, so let's compare them and determine which one is better suited for different types of projects:
| | | |
| --- | --- | --- |
| | Outsourcing | In-house |
| Team size | Almost unlimited, as you can hire experts from different companies for a single project. | Constrained by the size of the QA department and the budget available for hiring new experts. |
| Industry experience | Extensive understanding of various industries, especially those with which the company has frequently worked. | Knowledge restricted to the specific niche of the employing company and previous organizations. |
| Skill level | Highly diverse and constantly growing. | Typically junior or middle, with a few senior positions or engineering staff. |
| Variety of skills | Limited by the scope of work and projects the specialists have worked on throughout their careers. | Limited by the company's internal activities, its specifics, and technological characteristics. |
| Speed of work | Maximum, as the team focuses exclusively on the delegated project. | Variable, depending on the team's current workload and the company's needs. |
| Knowledge of tools and technologies | Highly diverse, limited only by the specific project requirements. | Variable, as companies often experiment with their tech stack and implement innovative frameworks and technologies. |
| Flexibility and adaptability | Absolute, as subcontractors typically provide only QA automation testing services, they can quickly adapt to changes in the project, the tech stack, and so on. | Minimal, as in-house experts depend on the company's existing framework and cannot, for example, abstain from support duties to conduct testing. |
| Availability | Adept at adding additional specialists to the current project quickly. | To expand the in-house team, you must hire experts, meaning you have to search for them, conduct interviews, and assess their skills. |
| Total cost | Depends entirely on the project's scale, the complexity of QA automation testing services, and the actual work performed. | It includes expenses for recruitment, training, equipment provisioning, and monthly salaries. |
Based on ZappleTech's assessment, outsourcing is better for rapidly expanding teams or delegating complex projects. This is especially true for startups that do not have a sufficient budget to staff their team with in-house testers.
On the other hand, in-house QA automation testing services are optimal for supporting a digital product and conducting ongoing and planned tests.
Based on the arguments presented above, we can conclude that outsourcing is a more flexible and comfortable QA model in most cases. However, these are not all of its advantages.
Advantages of Outsourcing QA Automation Testing Services
Outsourcing services have always been and will remain an optimal option due to their versatility and availability. Moreover, they have several defined advantages that outweigh the benefits of in-house processes. For example, access to a diverse pool of talents and expertise.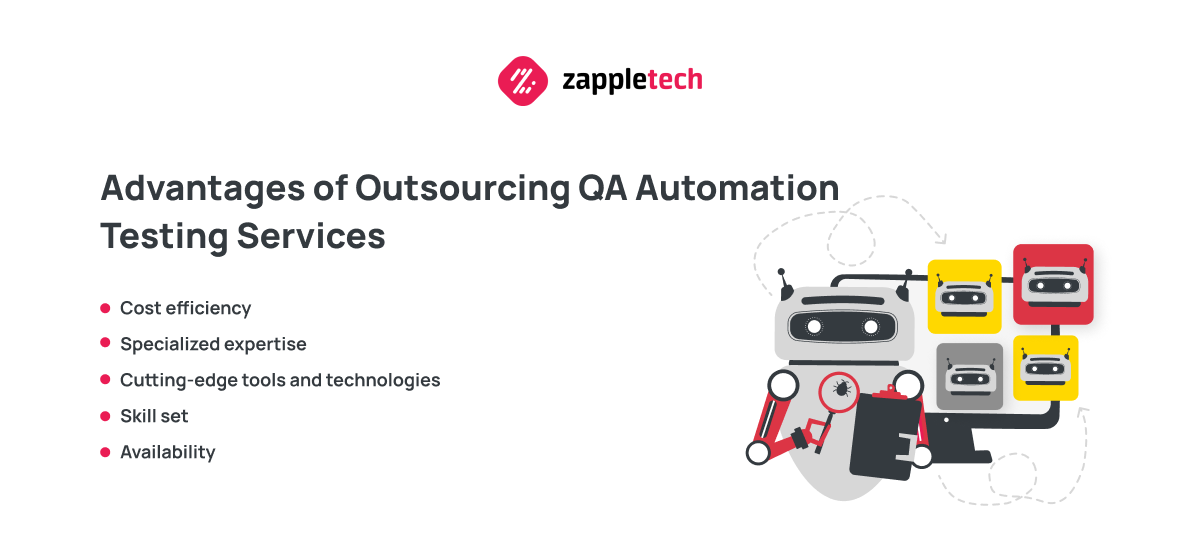 Furthermore, external QA automation testing services are advantageous for development teams for several reasons. The ZappleTech experts have prepared a comprehensive overview of these reasons to help you evaluate the benefits of outsourcing.
Cost Efficiency
Every job should be paid fairly, but there is a significant gap in the cost between hiring in-house versus outsourcing specialists:
With the outsourcing model, the company pays only for the services provided. When hiring in-house, there are additional costs, not only in terms of salaries but also for equipment, office rent, and more.
The cost of hiring middle+ / senior-level professionals in-house can be quite high. In contrast, the rate of an outsourcing expert of the same caliber is included in the overall budget for QA automation testing services.
When working with an external specialized team, purchasing licenses for testing frameworks and operating systems and renting servers or cloud environments is not required.
These cost-related aspects can be justified if your budget allows for maintaining a large in-house team and it aligns economically with your business needs. In most other cases, it is more cost-effective to delegate the project to an outsourcing provider.
Specialized Expertise
The company's internal specifics confine the professional development of in-house experts. In other words, if a specialist has been working for years in a single environment with specific technologies, they will excel in that industry. However, if they are tasked with something related to different tools or segments, they will need significant time to adapt.
In contrast, outsourcing teams are different. They develop skills and knowledge by working with a wide range of industries. Therefore, they can adapt to any project in a short amount of time, providing high-quality QA automation testing services to clients.
As in the case of ZappleTech, whose members have expertise covering all popular and widespread business segments.
Cutting-Edge Tools and Technologies
For effective aQA, it is necessary to employ various frameworks, such as Selenium, Cypress, Playwright, Apache JMeter, Cucumber, and more. This is just a tiny fraction of the toolset available to outsourcing teams like ZappleTech. All these IT solutions, and most of their counterparts, must be known at an expert level and applied as needed.
The same applies to technologies that are increasingly intertwined with QA. These include AI, ML, RPA, and concepts that allow their use for improving testing quality, such as predicting project issues, risk management, or automating the creation of test cases and algorithms for QA automation testing services.

Mikhail Bodnarchuk

CDO, ZappleTech Inc.
In the case of in-house teams, such technologies might be unavailable to experts due to their cost, complexity, or the company's needs. We do not claim that comprehensive testing of digital solutions is impossible without advanced tools, but we guarantee that it will take significantly more time and resources.
Skill Set
Skills and abilities and understanding where and when to best apply certain technologies are advantages of external QA automation testing services. This results from contractors working across different industries and companies in the market, as well as collaboration with development and support teams.
These specialized skills and abilities include:
Hard and soft skills.
Knowledge of programming languages and technologies.
Understanding the specifics of different industries.
Knowledge of work methodologies and concepts.
Self-organization and performance measurement.
The ability to create maintainable automation algorithms.
The examples provided are just a part of the skill set that allows QA automation testing service providers to excel over in-house testers, such as the team at ZappleTech, whose members have a wide range of skills and effectively combine them in their work.
Availability
In a broad sense, the availability of resources means that existing experts can quickly switch between projects and integrate into critical projects. Once again, this is an advantage of outsourcing teams providing QA automation testing services.
In contrast, for a company's in-house team, the allocation of resources is almost 100%, and in the case of outsourcing providers, there are always a few experts "just in case." These providers can instantly expand the team without additional costs.
Regarding in-house teams, to expand them, you need to put in additional effort, such as finding and hiring specialists through an HR agency or an internal HR department. These are extra expenses and time spent on recruitment and onboarding.
Even in the case where a company hires an in-house expert, there is a need for several additional processes to ensure team synchronization and effective work. At the same time, these operations are also relevant for working with outsourcing providers of QA automation testing services.
ZappleTech experts have prepared a series of recommendations so that you can set up your digital product support and testing department as effectively as possible.
Building a High-Performing QA Automation Testing Team
Imagine you've assembled an in-house team or hired one from a subcontracting company, integrated them into your project, and received intermediate and final performance metrics for QA automation testing services at a minimal level.
There can be several reasons for this:
An improperly assembled team.
The product's specifics were not taken into account.
Management processes are not well-tuned.
Overinflated expectations/promises.
Other internal issues.
In addition to the specific issues related to QA automation testing services, there is also organizational complexity, communication challenges, and adaptability. Therefore, we offer recommendations on how to easily and effectively optimize your team's performance and collaboration.
Skill Set Requirements
The first thing to focus on when forming a team for QA automation testing services is the skill set of each team member. Weak points should be compensated for by strengths or the skills of other experts. A critical factor is the direct matching of skills to the project's requirements.
For instance, if you are developing a digital product based on JavaScript for the financial technology segment, your subcontractors providing QA automation testing services should be proficient in this area.
Skill set selection is necessary to hire experts with experience working with the tech stack and the industry for which the IT solution is being created. Only when your performers have the expertise will their work efficiency and performance be maximized.
Tips for Hiring and Training Team Members
If you plan to build a team from freelancers or assemble an in-house group for QA automation testing services, you need to find, hire, and onboard the experts and establish their cooperation.
You can achieve this through several methods, such as:
Personal and team meetups with project managers.
Conveying the corporate culture to each team member.
Meetings with relevant departments, e.g., development.
Establishing a group for informal communication.
Organizing a series of training sessions and, if possible, offline meetings.
Please note that these recommendations are applied most frequently during the hiring and onboarding of in-house staff. Such processes are unnecessary for dedicated teams for QA automation testing services. For instance, experts at ZappleTech have an established corporate ethos and culture, allowing them to quickly adapt to working with any teams and companies.
Team Composition
The composition is one of the most critical issues in building a team that provides QA automation testing services. In general, providers directly address this issue, but sometimes they may make mistakes as well.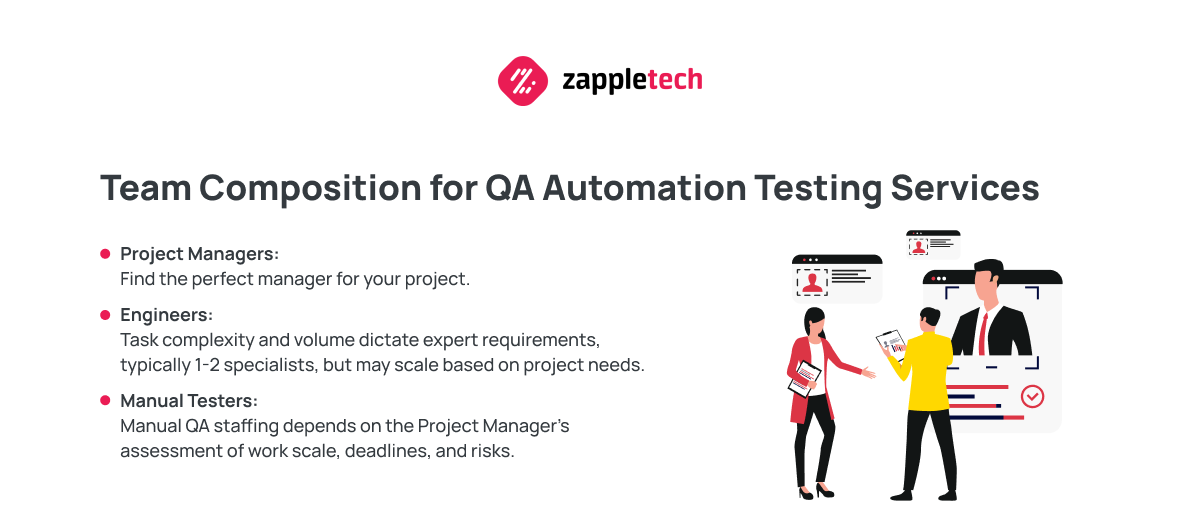 To create the most effective team, you need to determine the number and level of various roles, such as:
Project Managers: Do you have an in-house manager, or is the manager's level sufficient for the current project?
Engineers: The number of checks to be automated and the complexity of the tasks determine the required number of experts. Typically, 1-2 specialists are sufficient, but this number can increase depending on project needs.
Manual Testers: The number of manual QA professionals varies at the discretion of the Project Manager, who considers the scale of work, deadlines, risks, etc.
Additionally, you should pay attention to:
The skills of each team member.
The work experience of experts in the industry.
The ability to work with specific tools or technologies.
This is necessary to compensate for skill gaps, establish a continuous and efficient testing process, and, in particular, QA automation testing services.
If you lack experience forming teams or cannot prioritize the project, delegate these and other tasks to ZappleTech experts. This will save you time and effort and help you avoid numerous challenges related to QA automation testing services. By the way, let's take a brief look at those challenges.
Common Challenges and Solutions in QA Automation Testing Services
Despite the advantages of QA automation testing services and their outsourcing, this type of work has several challenges that can significantly affect the team's overall productivity and testing effectiveness.
Among the most common challenges are:
Defining the scope of work. What, how much, how, and why are we testing within this project?
Setting priorities. Why are we focusing on a particular module instead of a specific function, and so on?
Determining the methods. Why are we using conditional Selenium instead of Test Cafe?
Defining responsibilities. What happens if an error is missed in module X?
Resource allocation. Why not add more specialists to the team or reduce their number?
Feasibility assessment. Why are we automating this and not something else; perhaps it's better to cover everything at once.
Please note that this is just a very basic list of questions that arise in teams providing QA automation testing services. In general, there are many more challenges, and they can significantly reduce the quality of the final software if not addressed promptly. By the way, these reactions are almost always incorporated into risk management, although in practice, the decisions may differ from the described concepts.
ZappleTech experts have prepared a brief overview of typical challenges and methods to overcome them so that you can more effectively manage processes and establish a quality workflow for QA automation testing services.
Dynamic Testing Environments: Strategies
Managing test environments is the first and most interesting challenge in QA automation testing services. And yes, there are generally more than one, each with its own configuration and covering various team and project needs.
In general, the nuances related to test environments include:
Environment management. Organizing tech stacks, necessary equipment, scalability, configurations, inventory, and documentation.
Deviations from parameters. Over time, there is a conditional degradation of test environment configurations and their desynchronization with working environments.
Environment availability. For instance, if it is used simultaneously to solve multiple tasks and has shared computing power, accessibility.
Data support. Not all data formats and information can be implemented in the environment, let alone scenarios for automation.
Scalability and maintainability. Sometimes, environments are configured for specific needs that grow over time, but the environment cannot change the current configuration.
Cooperation. In general, all processes related to deployment, use, and maintenance of test environments should be coordinated among all project teams.
To mitigate the challenges in QA automation testing services, establish a process of continuous monitoring and communication between teams and document actions in the environment. This is a challenging task, but only in cases where you do not have experienced managers in your teams.

Sergey Almyashev

COO, ZappleTech Inc.
You can always delegate these processes to ZappleTech experts, eliminating potential risks associated with test environment management in your project.
Tools and Techniques for Maintaining Stability
Another important challenge is selecting tools and techniques for QA automation testing services. Specifically distributing them based on coverage, efficiency, and suitability for specific tasks. However, you need to determine the testing areas and their potential for automation.
The main segments for automation include:
API
End To End
Module
System
Acceptance
UI/UX
Almost every type of QA automation testing service requires its own set of tools. For example, Selenium for regression, functional, modular, and integration testing. Postman for API, JMeter for performance, and so on.
Moreover, don't forget about automation techniques that allow your team to build processes more effectively and increase work performance. For example, the principle of creating maintainable algorithms that can be modified and edited according to current needs. Documentation of processes is also a mandatory component of QA automation testing services.
If you need additional information on optimal tools for different tasks and automation concepts, ZappleTech experts will provide it and advise you on how to enhance testing efficiency.
Scalability and Resource Management
Another challenge lies in managing the team that provides QA automation testing services. Specifically, it involves allocating resources between tasks, monitoring processes and results, and the potential for expansion as needed.
Let's consider the situation:
You're deploying your development project and looking for subcontractors to test it. You choose a team that promises to complete the entire range of work in the shortest possible time. As a result, you bring on board dozens of specialists who either hinder each other or duplicate processes.
There's another side to the coin:
Under similar conditions, you bring on a full-stack tester who guarantees to cover the project's needs single-handedly. Clearly, even for a project of moderate scale, this won't be sufficient.
Yes, these are extremes, but they vividly illustrate the issue: in the first case, you're spending your budget inefficiently, and in the second, you can't meet deadlines or receive minimal quality QA automation testing services.
If you want to ensure the optimal balance between price and quality for your project, you'll need the assistance of experts like ZappleTech. You'll receive a well-structured team that can be quickly scaled as needed.
Maintaining Test Coverage
Your roadmap, QA automation testing services plan, cases, and algorithms quickly lose relevance. At each stage, you shift priorities, focus on different aspects, and address newly discovered bugs. This, too, is a challenge that can negatively impact your project.
Every member of the QA team becomes encumbered with documentation and cases necessary to maintain focus between sprints. However, they often lose focus and concentrate on less critical matters.
To avoid such situations, you need to introduce a relatively simple concept within the team:
Streamlined documentation flow: Cases, algorithms, and reporting should be unified to avoid confusion.
Version control: Each test or bug detection should be assigned an index indicating the stage at which the operation was conducted.
Maintainable algorithms: Automation code should be concise, clear, and versatile to facilitate information transfer if there are team changes, make quick adjustments to the code, consolidate existing cases into a robust End-to-End algorithm.
Continuous focus: Regularly check the team's schedule and priorities, primarily focusing on critical issues.
Periodic project review: Weekly or monthly general meetings to discuss progress, project challenges, problems, and brainstorm solutions.
Only by following these practices can you effectively organize QA automation testing services nd achieve top-notch results with your subcontractors, with whom you'll also need to establish effective communication.
Effective Work Collaboration and Communication
No project will be completed on time and with quality if there is no mutual understanding between providers of QA automation testing services and the development team. Yes, it's a problem that can lead to process desynchronization, loss of focus, and, in general, rather unpleasant consequences.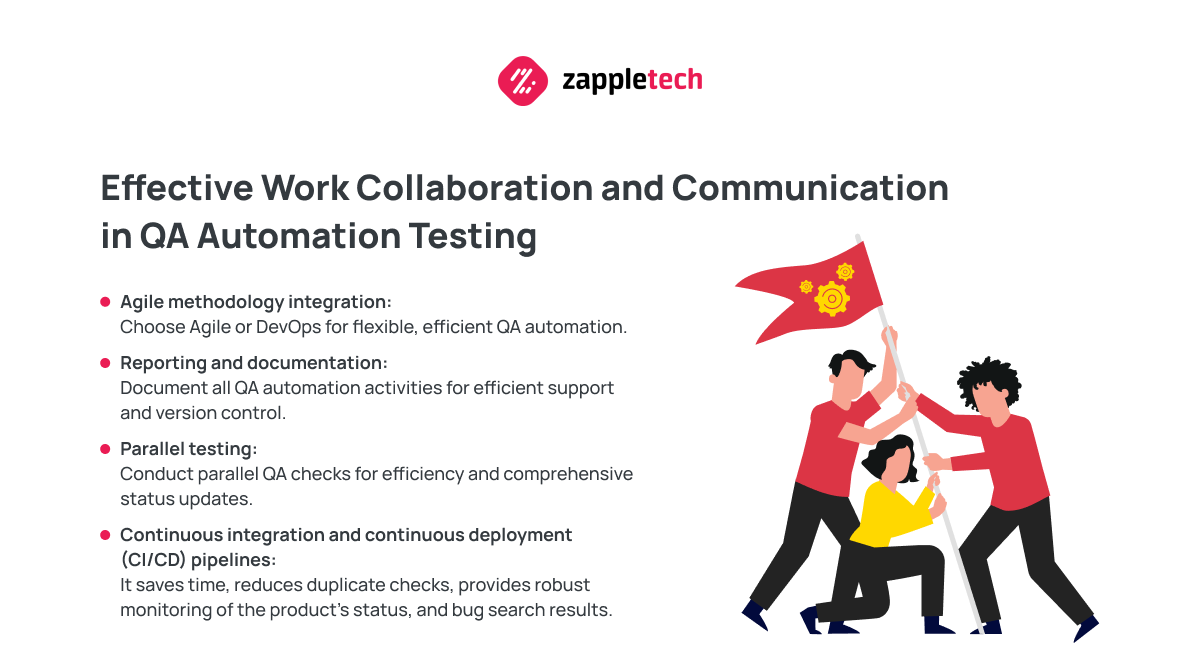 The experts at ZappleTech have prepared several recommendations to help you establish effective collaboration among all departments involved in the project.
Agile Methodology Integration
The first recommendation is flexibility. Agile and DevOps methodologies allow teams to collaborate effectively within QA automation testing services and beyond.
The concepts of these methodologies revolve around the ability to react quickly to challenges and risks without critically impacting project deadlines and quality.
That's why ZappleTech experts suggest developing and testing digital products using Agile or DevOps methodologies.
Reporting and Documentation
The second piece of advice is thorough documentation of everything done within QA automation testing services. For example, document each case, algorithm (and how it operates), current and strategic project objectives.
This will help you quickly understand the nuances for the technical support team and users, as well as streamline version control, changes, and focus on priority tasks.
Parallel Testing
Carry out parallel checks within the scope of QA automation testing services whenever possible. For example, test multiple product iterations simultaneously or multiple versions (compatibility with different browsers, and so on).
This will save you time and resources and provide a more comprehensive understanding of the current state of the digital solution at any stage of its development and deployment. ZappleTech experts use cloud testing environments for these tasks to efficiently parallelize checks without overloading equipment.
Continuous Integration and Continuous Deployment (CI/CD) Pipelines
Always use CI/CD tools for QA automation testing services. Firstly, it will save time for your teams, and secondly, it will minimize the risk of duplicating checks.

Mykhailo Poliarush

CEO, ZappleTech Inc.
Overall, this is the best way to monitor the product's status and keep track of bug search results and fixes.
Or you can simply delegate the project to ZappleTech experts right away and forget about all potential issues with QA automation testing services.
How Will ZappleTech's QA Automation Testing Services Benefit Your Project?
With nearly 10 years of experience in the QA segment, almost 100% satisfied clients, and 5-star ratings on leading review aggregators like DesignRush, TrustPilot, and G2, ZappleTech is more than just a provider of QA automation testing services – it's a top-notch team.
We help businesses release quality, user-friendly solutions that meet industry and customer needs. We employ advanced tools and technologies, introduce innovation, and apply cutting-edge QA concepts.
With QA automation testing services from ZappleTech, you'll receive a bug-free digital product without significant budget expenses. Want to see the team's expertise for yourself? Request a free consultation and demonstration from a ZappleTech manager!