Hello dear readers! As you already know from our past articles, automating tests is a challenging but interesting job that only experienced QA experts can do. Despite this, the automation market share is growing at an average annual rate of 16%. According to Gminsights, it was valued at $15 billion at the end of 2020, which is quite a lot for IT. On the one hand, this solution really speeds up development, but on the other hand, it causes some problems.
Experts from ZappleTech researched the topic of testing and identified common difficulties in this area. In this article, we'll talk about challenges faced in automation testing in general. Let's focus on these challenges and the methods for solving them. Sit back, we're getting started!
Automation: Common Difficulties and Problems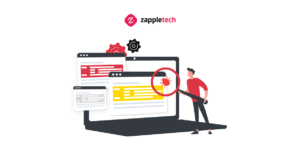 First, let's go through the main challenges that almost all QA specialists face. As you see, we will talk about the technical side of the issue, the purposes of testing, its effectiveness, and decryption of reporting.
Difficulties in technical implementation:
The choice of the optimal software for work is often complicated by the skills of specialists and the product's tech stack.
Open-source software is poorly supported and lacks most IT innovations.
The effectiveness of automation partially offsets the time spent writing cases and scripts.
Primary must-have tools require programming and development knowledge.
Basically, it is a common stumbling block in QA when choosing between automation and manual testing. But we all know that it causes problems only for beginners because experienced teams consider such difficulties as just tasks to solve, not troubles.
Difficulties with testing goals and effectiveness:
There are situations where automation and manual testing are equally good for testing functionality.
Sometimes it is not easy to combine all critical scenarios within one sprint and assess the finished code.
When testing the interface and design, it becomes necessary to partially duplicate cases, which complicates parallelization.
Some custom scripts do not display the actual functionality.
Of course, these problems can be solved by traditional means or leveled with a competent approach. Connecting additional tools or even deploying a sandbox makes it possible to parallelize automation and catch software bugs effectively.
Problems with reporting and quality control:
Most program logs contain either overly detailed or, conversely, simplified information.
Generating reports is possible only after the full automation cycle.
Sometimes you need additional conversion tools and skills to read the logs.
Control over debugged code requires re-running the script with corrected macros, which takes a lot of time.
Let's return to the topic of software for testing. Paid tools for automation and parallelization partially neutralize these difficulties. The same goes for QA staff: a technician with development and coding skills can handle problems more easily than a novice with no background.
So, we looked at the general nuances, omitting the specifics of each type of software to be tested. Now let's talk about automation in terms of coding, IT products, frameworks, and mobile apps.
4 problem areas in SQA automation
The methods are similar, but there are individual features of testing programs for different platforms and technical stacks. Let's talk about them in this section. We'll consider both the difficulties and the completely harmless nuances that somehow affect SQA.
Automation testing coding challenges
A QA specialist needs coding to automate and parallelize testing in a virtual environment. Yes, there are programs in which scripts and scenarios are put together like a constructor using visual blocks, but they are often too ordinary and do not solve all tasks. As for the challenges in code automation testing, developers usually do it by compiling or using the built-in modules of the tool.
Technical difficulties of automation:
Knowledge of coding by specialists. Syntax similar to TypeScript is used to write scripts.
Ability to prepare suitable cases. Here, not only the script is important, but also its detailed description.
Analysis and interpretation of the results. Each tool generates reports in different formats, so processing takes time.
The language barrier. Complex testing requires knowledge of at least a few popular programming languages.
Variability. If urgent adjustments are made during the sprint, most ready-made cases lose their relevance.
The essential characteristic of QA specialists is their background. The more varied the experience of experts, the more confidently they solve the difficulties arising on the way to perfection.
Challenges in automation in software testing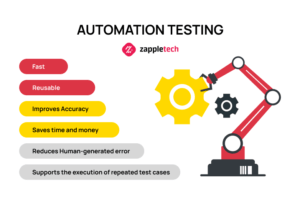 Let's focus on two common archetypes of programs: web and desktop solutions. Checks involve similar methodology but differ in tools and scripts tied to specific syntaxes.
Difficulties in automating desktop app tests:
Test bench. In parallelization, virtual machines may overload the working hardware.
Time. Even with full-fledged parallel testing, the average interface test time reaches a couple of hours.
Tools. To work with most computer programs, specific products are needed, most often paid and complex.
Skills. Without a QA background, it is difficult for a QA professional to use native tools like Appium or Selenium.
In fact, desktop programs are fading into the background, so they are not a priority when training new specialists.
Difficulties in automating web app tests:
Variety. There are many tools for testing cloud products, so it can be difficult to choose the best one.
Multiplatform. Typically, these IT solutions run on multiple operating systems, making full testing complicated.
Cloud. Quite expensive for QA newbies, but it simplifies checking a product across all platforms.
Credibility. Most tools provide reports in hard-to-read logs, which are often ignored by experts.
Now it's not a problem to find a universal tool, get acquainted with the basic guides, and start testing, but its quality will be below average.
Challenges in framework automation
Frameworks are vital components of modern cloud solutions used in mobile products. To test and automate them, the same tools are used as for cloud solutions. You can learn more about them in one of our previous materials.
Challenges for QA in automating frameworks:
Technical Stacks. There are no universal tools for testing all kinds of frameworks.
Interface. Dozens of scenarios are needed to test all elements and design of an IT product.
Price. The cost is not affordable because such solutions often become obsolete even before the end of previous sprints.
Deadlines. Most often, there is not enough time for full-fledged test automation due to deadlines.
The main issue here is testing relevance. Typically, the product develops faster than the QA team reviews key features.
Challenges faced in mobile automation testing
The problems of automated mobile software testing are connected with the specifics of development and available tools. Also, finding a suitable platform for testing may not be an easy task.
The main challenges of testing automation for mobile apps:
Range of formats. Due to the abundance of screen resolutions, each must be considered and tested individually.
OS. iOS and Android are the leading development platforms, but their difference makes it not easy to test the software quickly.
Scripts. It is difficult to predict all user actions when writing scripts. Non-obvious bugs usually appear after the release.
Tools. There are many test programs, but each one does a very individual job.
To effectively automate software testing, you need a qualified team of highly skilled specialists. We provide you with the best QA experts to comprehensively test your products.
Test automation challenges and best practices
We have already talked about the sad things, so let's switch to a technique that will help you test any IT product more effectively. It is used everywhere, but many ignore it and focus on their experience or advice of colleagues. It consists of a few general tips that help to improve test automation efficiency.
Tips from QA experts to help you test products more effectively:
For automation, use proven tools with a large community and precise specifications.
When developing cases and scenarios, adhere to the user experience in other products.
To fix bugs effectively, you should clearly describe the problem and, if possible, localize it.
To avoid confusion during the sprint, prepare tasks in advance, relying on the ToR and the roadmap.
To improve your skills, learn popular programming languages ​​and tools that may be useful in the future.
It sounds corny, but these tips really work. We focus on them too and catch bugs more efficiently.
Challenges faced in automation testing: interview questions
It is no secret that now anyone can start a career in QA. There is no need for extensive background, development skills, or the recommendation of a good friend. First of all, HRs look at 3 parameters of a person: attentiveness, creativity, and sociability. It is generally enough for a start. As for the Middle and Senior levels, the requirements are much higher.
What are interviewed candidates for the QA and test automation expert positions?
Concept definition.
Varieties.
Checking procedure.
Organization of reporting and tasks.
When it is better to cancel automation.
Tools.
After that, HRs offer to confirm theoretical knowledge in practice and, based on the results, determine who can take the vacant position.
The world is changing, as is the IT industry. New methods replace old ones, getting rid of old challenges and acquiring new ones. There is always only one thing, high-quality QA, which helps your IT products enter the market quickly and take a leading position in the niche. Order test automation services from ZappleTech, and you will get the best service. You can also contact our manager to discuss any issues.