Have you ever calculated how much time QA teams spend testing IT products? In modern development methodologies, each stage takes literally 2-3 weeks. Of course, it is not easy for even a large staff to check 100% of the implemented functionality during this short period. Furthermore, if the project targets multiple platforms at the same time, it takes about 16-20 hours to test each version thoroughly. With sequential testing, the figure increases proportionally to the product checks. For example, you need to test an application in IE, Firefox, Opera, Chrome, and Safari browsers on various OS like Android, iOS, Windows, Linux, and macOS. Then the approximate time spent will exceed 250 hours!
The only rational way out of this situation is to go test in parallel. With the advanced technology and amazing processing power of modern web servers, dozens of simultaneous tests can be performed without lowering the performance of a device. Although local virtual machines are now used for the same purposes, their configuration requires time, money, and skill.
ZappleTech experts researched the SQA industry and highlighted the best options for parallel test execution both through the server and on-site. Also, we have prepared several tips for such testing.
What is parallel running?
The parallel testing definition is running two or more test scenarios at the same time. Its undeniable advantage is reduced time for testing cycles on various devices, systems, and Internet browsers. Parallel testing is used to:
Optimize resource costs for performing a chain of routine tasks.
Regression testing of several versions of an IT product in a virtual environment.
Checking different software options after introducing new modules or editing old ones.
Testing the relevance of data transferred to a new version of the application.
We believe that these tasks are a priority for parallelizing testing into several autonomous scenarios. With modern tools and web technologies, parallel tests are available even to novice QA specialists, and the final profit is worth studying this issue in more detail.
Tools for performing parallel automated tests
For everyone familiar with test automation described in one of the previous articles, the topic of parallelization is not a revelation. There are the same mechanics of constructing scenarios, tasks, and cases.
The only differences are scripts that require you to:
Adapt the code for different platforms, virtual machines, or web servers.
Configure the native environment of the tool for parallel test execution or use a third-party service.
Prepare multiple use cases considering different situations in advance.
Decide on the number of cycles and analyze the output results in graphical or numerical form.
Set the timings with the desired values ​​to test the productivity and responsiveness of the application.
Specify for each option its path to save structured check logs.
We believe this list is the foundation that helps to go parallel tests of any IT project. In addition, you should decide in advance what means you will use for testing: local or remote, as they have differences that fundamentally change the experience.
Parallel test execution: cloud or virtual?
The virtual environment is not enough to receive accurate information about product performance. A virtual machine is a sandbox that runs a simulation of the OS and emulates the device. These virtual images negatively affect performance speed, taking away part of the PC's resources. For complete testing, at least a dozen of such machines are required. However, they may overload the computer if launched simultaneously.
But you can also use cloud technology. Here, testing is provided on dozens of devices at the same time. High bandwidth broadband (often fiber optic) promptly displays all connected environments on a desktop PC monitor. The main advantage of cloud testing is its complete cross-platform functionality. You don't need a MacBook or iPhone on hand. Using the cloud, you can check your application on a test instance remotely and get reliable results.
Let's take a look at special tools for parallelizing testing on different platforms.
Web Apps
Cloud solutions are now in demand among developers and customers, as they offer the freedom to choose the technology stack, interface, and design. Thanks to the modern API integration, such solutions can contain any modules, and social networks and other services can be connected to them as well.
Selenium is most often used to test web apps. Today, it is the leader among free automation tools used by QA specialists.
Its main features are:
Price. It is a completely free open-source project with a large and loyal community.
Flexibility. Scripting test cases in Selenium is easy with many implementation options.
Integration with Agile and DevOps. The tool provides continuous data exchange and structured reports.
Cross-platform. Selenium works with both web and mobile apps.
Versatility. It supports the most popular languages ​​such as Java, Ruby, C#, PHP, JavaScript, and Python.
Customization. Unlike paid proprietary tools, Selenium supports third-party plugins and libraries.
We believe that this solution completely covers all QA needs for web apps, up to parallel test execution and interface testing automation. The disadvantage of Selenium is the high entry threshold, as testers must know the programming languages supported.
Mobile apps
Several tools are used to test mobile apps, but Appium is the most popular among QA specialists. It is a great solution built on SeleniumWebDriver, that offers developers the same set of commands and scripts as the original solution. The key difference is tailoring for products for Android and iOS.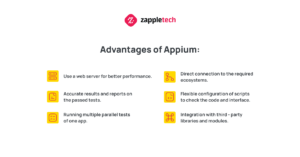 The ZappleTech team recommends this tool for mobile testers. Its functionality is enough to check all the main processes. Appium supports popular programming and scripting languages, which makes it one of the best options for SQA.
Desktop programs
Due to the specifics of working with desktop programs, testers have a limited range of tools for automating and parallelizing QA. One of the solutions is TestComplete. Its functionality allows you to run many interface tests at the same time, speeding up the routine process.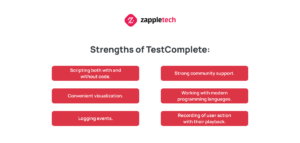 In our opinion, it is the best tool for parallelizing automated tests of desktop apps. Working in an isolated environment, TestComplete eliminates external interference and ensures complete confidentiality.
Test execution in software testing
To start testing any program, you need to understand its functions and development vector. Based on this, we will correctly assess the vital features and put them on the priority list. Before starting, we need to make a roadmap, including regression testing, random scenarios, and basic cases.
Software testing stages look like this:
Planning sprints, implementing the functionality.
Making cases for each critical parameter and their distribution across all cycles.
Preparing a foundation for scripting, analyzing user experience, designing software.
Selecting tools according to the technology stack.
Writing scripts to test main functions and interface elements.
Launching scripts and testing the software when the application is finished.
Analyzing results, detecting bugs, including work areas in the following cases.
Whether with automation or with manual testing, the mechanics do not change. The main requirement is the exact correspondence of the idea to the Agile (or DevOps) methodology. The same goes for parallelization.
Parallel testing in software testing
There are no big differences between usual automation and parallel testing. It greatly speeds up the routine and helps to test several versions of an IT product at the same time. The infrastructure for parallelizing tests can be created either locally in a VM or through a cloud service with physical devices connected to it. There are enough advantages and disadvantages in both cases, so it is better to combine them to obtain accurate results.
Parallel Testing: Breakthrough or Stasis of QA?
We often think over this question but do not find a clear answer. On the one hand, parallelization speeds up the work, taking over most of the routine. On the other hand, the time for automating several simultaneous checks is almost the same as in the case of manual tests.
ZappleTech continues to research this topic to provide you with new and helpful information. Want to learn more? Leave your comments, and we will write a detailed answer. See you soon, QA masters and lovers!