Introduction
Test automation is becoming vital for success. It is certainly cheaper than it ever was to use the automation tool, and their functionality is becoming richer than ever. This is leading to appearing of a great number of robust frameworks.
Test automation frameworks are an important cornerstone of software testing. They allow the testing team to automate, iterate, and report on the findings of results. But it is not enough to build a test automation framework, you need to ensure it is scalable, maintainable, and testable. For that, you should stick to a number of best practices in automation testing.
In this article, we will look at some test automation challenges and best practices that will help you to avoid them. Our tips will help you to maintain the efficiency in test automation in your project.
10 QA automation best practices
Software testing is a big part of software development process. Properly held, software testing will lead to successful release of the product, efficient performance, low defect rate, high customer satisfaction and great return of investment (ROI).
Now we will talk about a set of measures that will help you to improve the efficiency of test automation.
1) Start automating as early as possible
To increase coverage and efficiency, it's important to start automating as early as you can. In this case, the cost of a bug fix will be a lot lower than if you start testing in later stages. At the earliest stages, you can use unit testing that is relatively cheap and easy to maintain in comparison with other testing types.
2) Automate the repetitive tasks
Eventually, every test automation plan needs to start with narrowing down which tests will benefit from being automated. The very first thing to do is to create a list of the repetitive tasks that are currently done and choose the ones that are the most important for you — those that have the most impact on your business.
You can get the most benefit from automating the following types of tests:
Tests that usually cause a human error or require multiple data sets
Frequently used functionality with high-risk conditions
Tests that are impossible to perform manually or that takes a lot of effort with manual execution
Tests run on several environments
You don't need to strive to achieve 100% automation coverage. Automate only when you are sure that it will improve the efficiency of testing and the overall product quality.
3) Set the goals of testing
Start by creating an automation plan where you determine your goals and tests that you will automate.
To define the goal of the test, you need to know which action your test will perform. Divide your test into several steps and decide, what will do each of them. Avoid using the steps for testing different aspects of the app's behavior — it's better to have a separate test for different app parts.
We also recommend dividing your tests into several smaller parts. It makes them comprehensive and easier to maintain. You also can update the tests by adding small tests aimed at new functionality. Once you have numerous automated tests, you can unite them into a larger one that has a larger goal and covers a bigger part of the app.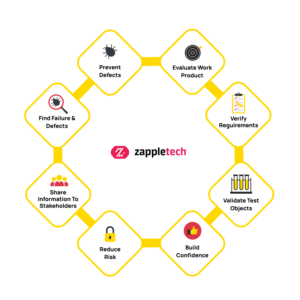 4) Select the right test automation tools
Selecting the right automated testing tool is crucial to the success of your automation project. There are many automated testing tools available on the market, and it can be overwhelming to choose the one that fits your needs. Consider these key points when selecting an automated testing tool:
Support of your platforms and environment
You should select a tool that has flexible API and is compatible with the platforms you are operating on, your programming languages, and operating systems.
Corresponding entry level
Make sure that the skill level of your team matches the entry barrier of the automation tool. If your testers don't have sufficient testing background, you'd better consider the tools that don't require coding.
Reusability and maintainability
Make sure your test scripts are reusable, maintainable, and resistant to changes in the application's UI
Integration with your ecosystem
The tool should integrate with your existing ecosystem: CI\CD pipeline (Jenkins, Azure DevOps), Jira, Git etc.
5) Create a quality test data
Creating test data for automated testing can be a challenge since there is a lot of different types of data that should be considered: text, dates, prices etc. The data that will be used in testing, needs to be easy to understand, concise, and structured so that your automation tool could understand it. Here are some criteria of good test data:
Accuracy.
It should be realistic and close to the real-time situation. You can find either find historic data or take the data from the future. Ensure that the dates are realistic, with the right days of the week, months, and years.
Validity.
The data should correspond to the purpose of your tool. For example, if you have a retail shop, don't test impossible scenarios where the user would buy 100 items.
Exceptions data.
Test data should be created with the intention of testing all the different scenarios that could happen during a user's experience. When creating test data, make sure to include all the different types of exceptions. For example, if you want to test that a user received a coupon code for their next purchase, you need to make sure that you have a data set that includes this scenario
6) Make sure your automated tests are resistant to UI changes
Changing the UI of your application can make your automated tests fail. To make your automation tests resistant to UI changes, you should ensure that your automation tests are more generic. For instance, you should make your automation tests aware of location coordinates, without making them dependent on the UI.
If you need to make your automation test scripts more specific, you should do so by adding more specific input parameters, for example, to make sure that the names of your controls are unique enough to support your automated tests.
7) Use test design patterns and principles
When you are creating test automation scripts, you need to consider how you are going to create scripts that are reliable. One of the best ways to do this is by using test design patterns and principles. Software developers use design patterns to help create reusable code that can be used in different projects. Design patterns are also used by testers to help with test data management and test automation tool configuration.
Here are four basic test design patterns:
1. Page Objects
This pattern separates the application's business logic from the application's behavior. When you design your automation scripts, you can wrap each of your page objects and then use them as a template for your automation scripts. This means you can reuse your business logic and your automation scripts.
2. Screenplay Pattern
You can create a screenplay pattern using a tool such as a table-driven test case, a pre-defined set of scenarios, or a set of pre-defined inputs and outputs. You need to make sure that your automation script is flexible enough to adapt to the inputs changes made by the user of the system.
3. Ports and Adapters
Ports and adapters are also a great way to improve your automation script writing. Instead of writing out individual procedures, you can reuse those procedures and make your script more reliable
4. Presenter First
Presenter First is a pattern that begins with a fully functional test case and then moves to automate the test case. It also includes the creation of a presenter that is logically structured that is then used with the functional test case to ensure that the output of the functional test case will produce the expected results
8) Separate your tests from the test automation framework
When it comes to testing automation, one of the most important principles is to separate your tests from your test automation framework. In other words, each class in your test section should represent a test suite, while each function of such classes should be a test case. Here, as you write new tests, they will not affect existing ones.
By separating your test classes from your framework, they can be reused in multiple test automation projects. They can also be used in the future when the framework is updated, or if you need to switch it. This can be achieved by creating an interface for each class and then creating separate implementations of the interface.
9) Make your automation framework portable
One of the best practices for a test automation framework is portability.
If you have a portable framework or library, your test automation framework is less likely to break while running on another machine.
You are also less likely to have to constantly update your framework when you are using it with a new project.
10) Simplify the tests instead of adding the comments
When writing test automation code, it is important to make sure that the tests are clear and simple to read. As the author, your goal is to have the reader understand what is being done in each line. If you find yourself adding comments to explain what is being done, you've probably taken the wrong approach.
One of the easiest ways to make your test automation code readable is to limit the number of variables. The fewer variables there are, the easier it is for the reader to understand what is being done. If you have a feeling that you need to leave a comment to understand what is done in this line, then you should take a step back and think again about what are you doing wrong.
Conclusion
We hope you enjoyed our article on automation testing practices. We know that for some test automation projects, it can be challenging to maintain efficiency and maximize productivity. If you need help with establishing the test automation process, please feel free to contact us and book a free consultation with our specialists. We will offer the best options that will suit your project.