Risk is an essential part of any job. And regardless of our efforts and attempts to avoid them, they happen anywhere, for example, in testing. Probably everyone is familiar with the problem when the user reported a bug that autotests did not find. However, you could be sure that everything is well-thought-out and there's nothing to beware of the term.
But outraged users are only part of the problem. Poor testing with bugs is very expensive. Besides, testing requires 25-90% of the budget, but the business is forced to allocate additional funds for unplanned bug fixes. Therefore, we will talk about risk management in software testing, effective planning, strategy, and how to do it effectively.
Risk: Definition and Types in Software Testing
It is difficult to find a more precise definition of risk given by PMBOK. It sounds something like this: "It is an uncertain event or condition that, if it occurs, affects the objectives of the project, such as content, schedule, cost, and quality, negatively or positively." Accordingly, the risks can be both negative and positive.
But if we talk about risks in software testing, then we mean a negative context rather. This risk can worsen the situation (increase the testing time, make the quality worse, increase the cost of work, change deadlines, spoil the product's reputation).
So let's look at the most significant types of risk in software testing:
Automated tests are short-sighted. That means that all that they do is act according to their script only. Simply put, they only do what they are programmed to do. This means that it will not notice an error that its script does not anticipate.
It involves high costs. So, first, you pay to invest in this tool, and only then do you look at the payback.
It is not always suitable. These are usability, layout and translation checking, installation testing, and similar areas.
It breaks easily. Sometimes even minor changes in the code lead to long fixing and updating.
It requires constant support. The more new autotests appear, the more time you need to update them.
In the end, we must admit that it is impossible to find all defects, even with test automation.
Risks Management Principles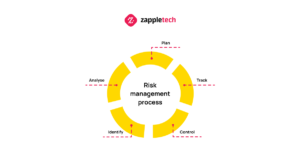 Taking into account that risk management in software testing will require tangible labor costs from you at the initial stage and regular work on updating in the future. It's difficult to find universal solutions along this path — they will depend on the project's size and specifics.
One thing is indisputable: risk management makes it possible to control the consumption of resources — that is, ultimately saving the customer's time and money. In the case of software testing, it consists of several stages.
Stage 1: Planning the Testing Process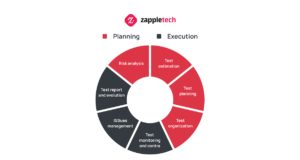 You cannot build a successful project without well-thought-out and clear documentation. The documentation defines effective communication, planning, and direct testing process. There are several important document types.
Testing Policy
This is the highest document created by management and defines the organizational points in risk management. It prescribes factors such as:
Testing objectives.
Basic terms and concepts of testing.
Documentation to support test processes.
Metrics for defining process testing.
Possible solutions to problems.
General standards and test criteria.
Testing Strategy
Typically, such a document is created by business analysts or project managers.
It includes items such as:
Testing volumes.
Industry standards.
Test execution schedule.
Deadlines.
Risk identification.
Status reports.
Essentially, this document defines the basic testing parameters: what we should test, what part of the product, when it should be started, and other parameters of the risk management in software testing.
Testing Plan
This is not the same as politics or strategy. It describes the technical part of testing and indicates this process to the performers. This document helps control risks in test plan and implementation. Drawing up such a document is the task of the quality control manager.
It will help control all testing processes and includes:
Schedule.
Introduction.
Knowledge Test.
Functions that should and shouldn't be tested.
Result.
Duties.
Assertions.
Risks.
Strategy.
The quality of these documents determines the quality of the testing strategy and the avoidance of risks in software testing.
Stage 2: Create a Proper Team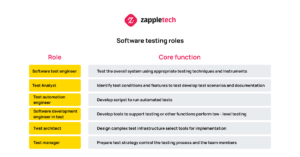 After the necessary parameters and tasks that autotests must perform determination have identified all the risks and plans, then it is logical that you must provide everything you need for this. For example, define the roles and tests of the performers.
Consider that effective QA has six main roles:
Test analyst.
Test architect.
Test automation engineer.
Test manager.
Software development engineer in test.
Software test engineer.
Each team member performs specific tasks, and the more effectively they interact, the more chances of avoiding risks in software testing.
Remember that automatic testing cannot replace specialists in any way. It needs control and correction by a competent specialist. Therefore, it is not enough just to assemble a team. It should develop in knowledge and skills and business training, exercises, brainstorming. This approach will develop your team of testers, and they will be able not only to work more efficiently but also to solve urgent problems.
Stage 3: Use the Right Metrics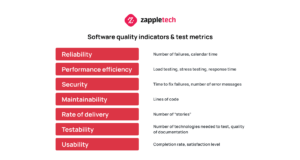 Effective risk management in software testing also involves paying attention to metrics as well. It determines the effectiveness of testing and its accuracy.
For example, the CISQ Software Quality Model has identified several critical metrics:
Reliability.
Performance Efficiency.
Security.
Maintainability.
Rate of delivery.
Also, the model can be extended to include assessments of testability and usability of the product. This will boost the software testing accuracy and quality, minimizing test risks.
Stage 4: Analysis
Analysis has always been and will be an integral part of risk management in software testing. This is especially true for the analysis of previous projects. This step helps identify and prevent software errors, thus preventing unplanned financial costs, customer problems, data loss, and other problems.
Check and analyze all factors of your testing software:
Technical documentation.
Execution of protocols.
Compliance with conditions and tools.
The skill level of your team.
Performance reporting and identifying the bugs.
You have to make sure that your team has taken enough tools to mitigate risk and risk management. It is even critical to get your company into the lead and ensure the success of your products.
Final Words
Risk management is a multifactorial concept that requires attention and effort. Especially when it comes to testing software, there will be risks even in such an optimal process as automated testing. Thus, risks in software testing can lead to serious financial costs, a downfall of reputation, and unhappy customers. Therefore, proper management is one of the key conditions for avoiding them.
What determines effective risk management in software testing? In general, it is based on:
Planning.
Suitable documentation.
Correct team building and training.
Arrangement of priorities and parameters.
Monitoring.
Analysis.
And if you want a team that minimizes any unwanted probabilities and risks in your testing software — turn to the pros.
Zappletech is a team that makes development and testing software effective and enjoyable, and free from problems. Contact us, and we will bring your project to the top!