Test automation has become one of the top trends in the QA industry. This is confirmed by the GM Insights research, which predicts rapid growth of the sphere until 2027. According to the analysts, the CAGR value will exceed 16% in the reporting period, and the final market value will reach over $40 billion in 2027.
It is worth noting separately automated functional testing – a branch of QA, which requires the adjustment of many processes simultaneously. Functional testing — all testers, whether experienced masters or beginners, come across this concept every day. We cannot release a product, hand it over to a customer, or approve it if it has not passed functional testing.
But the critical importance of such testing is only half the battle. Sometimes a team cannot cope with a massive volume of work, plus the human factor always occurs. Therefore, together with the mandatory functional testing, we get another question — its automation.
Importance and Significance of Functional Testing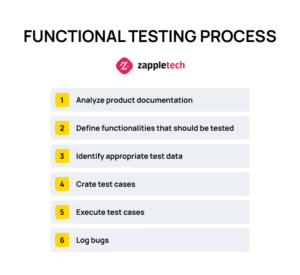 In essence, functional testing is aimed at checking the conformity of the functional requirements of the software to its actual characteristics.
So, its main task is to confirm correspondence of the product's functionality to the customer's requests. We check the functions for which we created the program through functional testing.
It is essential to properly set up automated functional testing scripts, not just to cover 100% of tasks with scripts but also to ensure that they are 100% passable. This requires some additional preparations, such as:
Code research.
Evaluating the technical stack.
Choosing the right tools.
Planning the process.
Creating a checklist of tests.
Only by following these points will you get the most valid testing results and ensure the quality of the IT product.
Testers use three main types of automated functional testing, depending on the access to the system code.
Main types of functional testing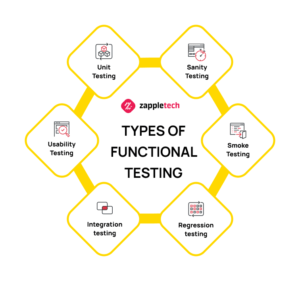 Functional testing is done for different purposes. For example, it can be carried out based on functional requirements (to identify the correct operation) or based on business tasks (emphasis on use-cases).
In any case, it is necessary to adhere to the specifications and create tests based on the product's characteristics and its individual components. Only then will you get true information about the state of the IT solution. Never ignore the importance of automated functional testing and implement this process from the early stages of software development.
Depending on the specific task required, we use different automated functional testing types:
Regression testing. Testing product functionality after fixing bugs or implementing new functionality
Integration testing. Testing interactions between system components and between multiple systems.
Smoke testing. A short cycle of tests to determine the correct operation of the main app's functions.
Sanity testing. Somewhat similar to smoke testing with the difference that it's suitable for web apps.
System testing. Software compliance verification with the requirements stated in the specification
Cross-browser testing. It is useful when your app is already developed and ready for release; such testing checks how convenient it is for users to visit different browsers.
Installation testing. It is needed when we have to check the installation process's correctness and safety.
Configuration testing. Checking the program operation on various software and hardware environments
One more functional testing type is manual testing. It fully simulates the actual use of the system by the end-user. There are also a few no less important functional testing types that are actively used.
Why is functional testing automation so important?
Speed ​​and efficiency are two fundamental ingredients of a successful business. And no one wants to sacrifice one thing for the other. However, automation has always been a step towards keeping these two items in balance.
The main thing is not to overdo it and not to automate everything that is more reasonable to test by hand. This will help save resources and reduce the cost of implementing automation in really important processes. Identify the value of each test before automating it. Make sure it doesn't compromise the speed and quality of the entire QA suite.
Thus, automated functional testing has several advantages:
Repeatability: all written tests will always be executed in the same way, according to a given code.
No human factor: The tester will not negligently skip the test and confuse the results.
Fast execution: the automated script does not need to consult instructions and documentation; this greatly saves execution time.
Fewer support costs: when automated scripts are already written, they take less time to maintain and analyze the results than doing the same amount of manual testing.
Reports: they are saved and sent automatically.
Non-intrusive execution: While the tests are running, the test engineer might be doing other valuable things. The tests might be running outside of business hours (this method is preferable because LAN load is reduced at night).
In a nutshell, automated functional testing helps save time by avoiding repetitive errors and system crashes. Plus, bugs will be detected at an earlier software life cycle.
Additional benefits of automation
In addition to the automation benefits described above, there is another one that improves and speeds up the entire QA process. The name of the benefit is paralleling. It doesn't just allow you to run multiple, single-type validation algorithms but also ensures that the entire range of target platforms or devices is covered. How does it work?
Using local or cloud virtual machines, test environments are deployed that connect to emulators or physical devices. The scripts run on all devices simultaneously and finish together. This speeds up the QA process by X (a multiple of the target platforms) times. As a result, testers spend less time on the same routine operations while getting valid reports.
This allows testers to analyze digital product performance on target devices. For example, to include not only modern models of smartphones, tablets, and OS in the list of gadgets but also older devices. In this way, the software publisher receives a detailed report on what specifications are needed for the app to work correctly and publishes them in the description of the digital solution.
Another side of automated functional testing
Of course, it is not a panacea, and it has pitfalls.
And the most important cornerstone of automated functional testing is the feasibility of 100% automation. It is not always necessary to automate everything. In 90% of cases, you will turn to manual tests for spontaneous function testing. So will other team members. If you need a one-time test – it's faster and easier to do it manually.
Therefore, before deciding whether to use such testing, consider also disadvantages (there are a lot of them too):
Repeatability: this was a plus but could also be a minus; the script acts strictly according to the scheme, but it cannot pay attention to any suspicious factors, make a decision and make a check.
Support costs: The more often the application changes, the higher it is.
High development costs for automated functional testing: This is a complex process since the actual development of an application is testing another application. Complex automated tests also have frameworks, utilities, libraries, etc., and all of this must be tested.
The cost of an automation tool: it can be especially high if you are using licensed software.
Skipping minor errors: the automated script can skip minor errors that it is not programmed to check. These can be inaccuracies in the positioning of windows, errors in labels that are not checked, etc.
Therefore, when deciding on such a strategy, ask why you need automated functional testing? It may work fine for some purposes and not be suitable for others.
Automated functional testing purposes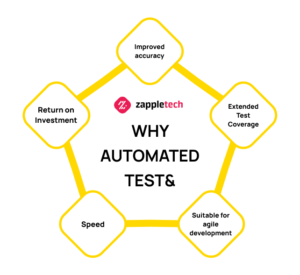 The test process is the highly qualified IT specialists' intellectual creativity, but it also needs to be carried out systematically to achieve the set goals.
The earlier and more logically you build your testing structure, the more valuable results you will get in the end. Optimize resource consumption, design test task coverage, and extend scripts by adding third-party checks. This will increase test scripts' coverage and improve checks' validity.
The automated functional testing tools will be an ideal solution for such purposes as:
Database writing, logging files, backend processes, places in the system that are most difficult to access.
For quick bugs funding in functionality and ensuring of the absence of them in the system.
For routine operations. For example, forms with many fields for a dataset (iteration over data). Thus, it can fill in the fields and check them after saving automatically.
To automate the process of filling in the fields with incorrect data to check various validations.
For long scripts (end-to-end).
Testing data that requires accurate mathematical calculations.
To automate the correctness of data retrieval.
The rest of the functional testing is carried out according to the customer's requirements or product and tool features. Many tools make the testing process fast and efficient.
Also, the simpler and cleaner the initial conditions were, if no factors were influencing the testing process, this automation would be as fast and efficient as possible.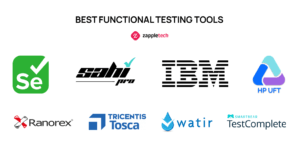 There are many great tools out there today for specific or complex tasks. Many are open source, do not require a programming language of knowledge, and are very user-friendly. Others are great for particular tasks like cross-browser testing.
They are all perfectly optimized and solve a number of testing problems. Regardless, you may need to mix frameworks and software suites to achieve better results. This is due to several limitations in each digital testing product, making it impossible to use the software to cover 100% of your testing tasks.
An example of a proper automated functional testing tool would be:
Selenium. One of the best and most flexible tools especially suitable for web app testing. It requires some programming knowledge, but it creates complex and advanced scripts and supports the most popular browsers.
Cucumber. Fresh in every sense solution, suitable only for web apps. It is an open-source BDD tool with simple functionality.
JUnit. It is an innovative open-source tool that is optimal for Java developers. It finds bugs operatively, generates test items, methods, mockups. It also has many extensibility points and interfaces that are flexible for changes and implementation.
TestNG. This tool is widely used in conjunction with Selenium. TestNG easily integrates with other tools, generates HTML reports, groups test cases, and allows parallel tests to be executed using dependencies.
MochaJS. This is a feature-rich JavaScript tool that runs in Node.js and in the browser. In addition, Mocha runs consistent tests and produces flexible and accurate reports.
PlayWright. A promising tool for end-to-end web applications. It provides a unified API for test automation, allows uploading and downloading files, emulating geolocation, mobile apps, permissions, scripting.
Selenide. Some people consider this a cover of Selenium, but this does not negate the tool's advantages, namely: a convenient and concise API, working with AJAX elements. It is a good framework for writing easy-to-read and easy-to-maintain automated tests in Java.
Appium. This is an automated testing app great for hybrid, native, and web apps. Also, Appium is cross-platform and supports desktop apps as well.
Cypress. Perhaps it isn't easy to find a more convenient and understandable framework than this one. The intuitive syntax, good documentation, and speed of work are already commendable.
These are just some of the best functional testing tools that simplify the testing process by identifying bugs and improving functionality faster.
Expert Tips: How to Optimize Automated Functional Testing for Your IT Product
In order to implement the testing process of a digital solution as efficiently as possible, it is necessary to prioritize and plan cycles properly. To do this, you will need the help of a certified QA expert, who will develop a personalized testing algorithm. Don't worry, in most cases, this process is free and is part of the basic consulting service.
First of all, you need to plan a project roadmap and project testing into the development process. This is actually the base from which the QA journey begins. Include step-by-step planning of scenario development before the actual work on the project.
Step 1
The first step on the path of complex QA is the development of test cases. To do this, imagine all the functionality that should be in the product and try to describe its principle of operation. Based on the resulting algorithm, write a series of operations needed to check each component. This will help you structure the QA process in the future.
Step 2
The second step is the development of automated functional testing scenarios. Here you need the help of developers or QA engineers, as well as a clear understanding of the coding and deployment of testing environments. You should immediately focus on building flexible code that can be adapted later for other tasks, e.g., testing a function with changes.
Step 3
The third step is to deploy a test environment and virtual on-premises or cloud machines. You will need them if you need cross-platform testing, which needs to be done on a tight schedule. Incorporating parallelization into the automation process saves resources, speeds up QA service, and produces valid results.
Step 4
The penultimate step in the algorithm is called analytics. Analyzing the reports, checking the results, and asking developers to fix bugs means that the tests are successfully completed, and their effectiveness is confirmed by the bugs found.
Step 5
Re-testing and editing scripts. The last step in testing is reduced to routine, even despite automation. Until the end of the development, QA specialists update the check algorithms, methodically submit reports, and control tests. In the final stage, they write a detailed report on the found and corrected errors in the software and summarize the effectiveness of the QA service.
Automated Functional Testing: Bottom line
It is impossible to call an IT product complete if it has not passed functional testing. It determines how much the software or app is ready for use, in other words, functional.
But given the cost and duration of some test processes, it becomes advisable to resort to functional testing automation.
Automated functional testing is not just a way to speed up the testing process to unload employees and find bugs around the clock. Instead, it solves different problems or several of them at once.
Depending on the required task and specificity, different Automated functional testing tools are used. Some are open source and perform other options; some are optimal for a specific task — testing web app.