According to research, the software testing market exceeded $40 billion in 2020 and will grow more than 7% annually from 2021 to 2027. The main reasons are new developments in the IT sector. Automated testing ensures the efficient functioning of software products and saves time to validate technological creations. How does it help to develop and update digital products?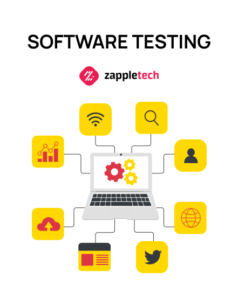 What automated testing is: features and levels
Digitalization and globalization of business processes have lowered the role of IT specialists in the testing process. Automation implies the use of special software to control and record the execution of tests. This method helps to check repetitive tasks automatically. A QA engineer must have good programming skills to create automated tests in Python, C#, or Java.
So what is automation testing in software testing? This term means simultaneous testing of several scenarios. The program is checked at different levels: code (unit tests and integration testing), API (if any), and GUI (user interface). Let's analyze each type in more detail.
Graphical user interface testing
Testing the display and functionality for the user. The GUI uses frameworks that allow you to generate actions (mouse clicks, keystrokes) and check the program's response. It is tested with scripts. The operation of the browser is imitated with various tools:
simple ones: sending HTTP requests and parsing HTML code;
advanced: using a browser engine in "headless" mode, for example, PhantomJS;
complex: using drivers to control the browser, such as Selenium.
Code-driven testing
Testing one piece of code separately from the rest of the program (unit tests). This is done using classes like mocks and stubs. When testing, they block access to the database and disk, helping to validate the required function. Unit tests are suitable for code that has logic rather than many calls to other classes.
Integration tests are used to test particular elements of the system that contain modules. For example, actions with a post on a web page. When a post is saved, it appears in the database with tags and 0 comments. Adding a comment changes the value to 1.
Testing API
Testing interfaces that provide interaction with users or other digital products using special programs. If the application has an API (Application Programming Interface), it can be checked by sending previously generated requests and comparing the response with the previous one.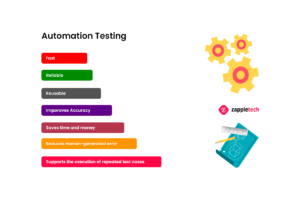 Candidates for Automation: Types of Testing
Regression. Assumes running tests regularly. Automation reduces the time to complete identical test cases. Typically, scenarios are developed based on manual checks with successful results on identified defects. This approach is especially effective for services that require regular updates.
Localization testing. Allows you to adapt a digital product to the national differences of each country. Includes adaptation of signs, units of measure, currency, time zone, and other components. Automation helps to speed up the testing of the required interface elements.
Load. Determines the ability of an application to keep operating at an acceptable load. Automation of this testing type allows you to get results faster and reduce tool costs.
Cross-browser and cross-platform. Verifies the operation of an application or website in different browsers and platforms. Automated testing involves a virtual machine and specialized online services. These methods make the process more versatile.
Stressful. Shows how fast the application reacts to excessive loads. An automated approach helps to detect memory problems to capture the behavior of a digital product.
6 stages of automated testing
1. Choosing an action tool
The options for tools depend on the development technologies. For example, QTP does not support Informatica. If a mobile application is used, the tool must execute appropriate scripts. For example, Selenium is suitable for web applications, and Ranorex Studio, Applium, Calabash, or Kobiton are good for products on Android and iOS.
Requirements and preliminary results should be determined using the Proof of Concept of Tool.
The selected tool must be checked for the following points:
Identification and display of objects;
Support for environments, frameworks, and various testing types;
A mechanism for generating reports on tests and results;
Cost and complexity of personnel training;
Database testing and error recovery.
2. Determine the scope of automation
A company may work on several applications, but it is not necessary to use automatic methods for each. The software product should be in the early stages of its life cycle and have manual testing reports. Regression detection requires a stable application and test cases. The team will run scripts on every build to detect errors automatically.
The main thing is distinguishing the piece of code to be tested. It should be selected considering business functions, technical implementation capabilities, scenarios with a large database, and the complexity of test cases.
3. Creation of a platform for automation
A framework is a set of rules and script planning. There are several types of them: linear, hybrid, data-driven, keyword-driven, and modular. They help improve test structure, improve reusability, and reduce both maintenance and employee training costs.
An automation architect develops a framework based on the project's purposes. The main task is to provide automation of software product testing as long as possible. As a result, when updating some application functions, the scripts do not need to be changed.
4. Planning and developing a strategy
The implementation plan includes selected tools, wireframe forms, stands and automation elements, the schedule and time of the scenarios, and the expected results.
The main thing is the choice of the environment for implementing scripts. It contains the operating system, browser, and other details. For example, if you want to test your website in Chrome and Microsoft Edge, the script must run in each browser.
When planning, the executor must be indicated. Companies do it differently: involve developers to execute scripts, gather a separate team to implement them, or run automatically.
5. Scripting and Testing
Once the tools and frameworks have been prepared, scripting may be started. The source code should be displayed in the version management system, along with a history of the changes. When writing scripts, relevant programming practices are used.
As a rule, automation scripts are based on test data. Another advantage is that test reports are generated by the tool, and the results are sent to email without specialist intervention.
6. Script Maintenance
The main goal is to test new features added to a digital product. Technical support is necessary to maintain the effectiveness of updated automation scripts. A reliable framework reduces the probability of a maintenance call. It is actually needed when the application is transformed.
The scripts are updated based on changes in the code, ensuring the smooth functioning of the software product. Example: add another language so that the application supports German. The framework should provide quick script updates for stable operation and customization effortlessly.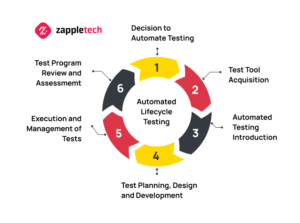 Key Features of Automated Testing:
Reliability. Provides error-free results, as the human factor is eliminated.
Regularity. Runs test cases continuously over a long period, checking each build of the target system.
Speed. Testing is provided automatically, so it is much faster.
Benefit. Saves time and effort of the project team, improves the quality of the developed functionality.
Versatility. Implies re-running of tests in several steps.
Relevance. Raises the status of an IT company for customers because such technologies ensure professional development and following global trends.
Monetization. Benefits when the created tests are used as products of intellectual activity. The customer can buy technologies for the independent development of the project.
Automated Testing Tutorial: The Signal to Action
When all the steps are made, it is necessary to define the basic metrics for analyzing the success of the validation. These include error rate, minimum time to release, customer satisfaction index, and employee performance improvement.
Automated testing technologies make it easier to test stable systems and can be combined with manual bug testing. We strive to use and improve them every day. Are you ready to test a digital product with us?