Best Automation Tools for Testing Desktop Applications: Introduction
Although the demand for desktop applications is not growing as rapidly as for mobile and web apps, it is still important for the company to release and maintain desktop software. Another big part of the desktop app market are the complex legacy enterprise systems. If your work is based on a legacy desktop app, you simply can't afford to ignore test automation.
In this article, we will speak about the basic principles of desktop automation testing. We will consider the differences between web and desktop automation for you to understand the key factors affecting the testing process. Also, we will speak about desktop automation tools you can use in your development practice
What is a desktop application?
A desktop application is the one running locally on a computer device, such as a desktop or a laptop computer. They are usually limited by the hardware they are run on and may have strict hardware requirements for correct functioning.
Desktop apps are developed for Windows, Mac, or Linux operating systems. The updates for them are manually installed by the users. Usually, desktop apps are able to work without an internet connection. Due to the isolated environment, there are fewer security issues on a desktop app, than on a web or a mobile one.
Since desktop applications are run on a local device, desktop test automation is also held on a laptop or desktop computer. It requires knowledge of the operating system and databases. Desktop testing involves complete checking of features like GUI, functionality, backend, database, memory, exceptions. Let's speak about testing types that are used for desktop automation testing.
Usability testing
This type of testing is to ensure that the product is user-friendly and pleasant to use. The testing is held on different machines with different characteristics. Usability testing is to answer the following questions:
Is the navigation across the app intuitive?
Does the installation process make sense?
Are the fields easy to fill and correct?
Do the texts and design properly reflect the page destination?
Is it possible to get lost while navigating the app?
As the result, the user path and possible issues are documented so that the company might improve the usability of the app.
А functional testing checks if the functional software requirements correspond with its actual behavior. Its main goal is to confirm that the software has all the functionality required by the customer and works as expected. Depending on the goal, functional testing is handled in the following ways:
Based on functional requirements in the specification. In this case, the use cases are created. The priority of the use cases creation corresponds to the priority of the functionality that needs to be tested. Here we make sure that all the features work as expected with different data inputs and their combinations
Based on business processes that will be handled with the help of the application. Here, we pay attention to the correctness of the operation from the point of view of system scenarios. Here, the testing is handled based on use cases.
Functional testing is realized on the following testing levels:
Component testing
Integration testing
System testing
Acceptance testing
Performance testing
In the modern software market, users expect great usability, responsiveness, and stable performance. The latter is particularly important — notwithstanding the type of the application, poor performance can provide an awful user experience and cause financial and reputational losses to the company.
Desktop apps hold about 30-40% of the total market and are widely used in healthcare, finance, telecommunication, and retail areas. Since the app is communicating with the centralized server, performance testing is required for smooth everyday operations.
Usually, desktop apps are unlikely to have any performance issues if the hardware and software configurations match requirements. Yet, it's necessary to test the performance of client-server desktop apps.
KPIs for desktop performance testing:
Number of concurrent connections per second
App and database throughput
Transaction completion time
Time to connect to the server
Transaction error rate
Desktop test automation tools for performance testing: Apache JMeter, Load runners (Citrix, TruClient), LoadComplete, NeoLoad, IBM Rational Performance tester.
Backend testing
Most app operations go through the graphical user interface (GUI). Since GUI is the main thing that is used by the customer, it is one of the most important things for testing. But, there is a lot of software components that are not available for direct interaction with the users. They are called backend, and they are also important for the perfect functioning of the app.
Backend testing components are:
Database testing.
When the interface and the database interact properly, the application works seamlessly. In case there are any database issues, it results in security threats, unstable performance, and inconsistent results. During database testing, we validate the following parameters: ACID properties, CRUD operations, Schema, Migration, Business functionality, Security, and Performance.
API testing.
API is an Application programming interface and this is where all the app logic is stored. It doesn't have a UI we can interact with. Generally, the API is created before the other parts of the application, and API testing is handled at the early stage. During API testing, we check how the app is able to send and receive the queries and input & output data. The most popular API testing tool is SOAPUI.
Server testing.
All the databases and APIs are installed and stored on servers that keep the app up and running. The files and folders in a server contain the logs of all actions in the application. Once the query is sent from the client-side, the logs are updated. Server testing aims to make sure that there are no memory leaks or malfunctioning that might compromise the app security.
5 best desktop automation tools
Since now, you are familiar with desktop applications and their testing, we will speak about the most popular automation testing tools for desktop application.
1) WinAppDriver
This is an open-source testing framework built by Microsoft to support Selenium-like test automation for Windows. It supports testing Universal Windows Platform (UWP), Windows Presentation Foundation (WPF), Windows Forms (WinForms) and Classic Windows (Win32) apps on Windows 10 OS. It is compatible only with Windows 10 and will be suitable only for those who are familiar with coding.

Benefits:
Compatible with any programming language and test runner
Easy integration with Selenium and Appium
Support of advanced gestures (pressure, tilt, barrel button) etc
Possible to use XPath and other elements to locate UI elements
Possible to use industry-standard Page Object Mode (POM)
Drawbacks:
Supports only Windows 10
No built-in spy tool, you only can use inspect.exe
For advanced users with coding skills
No record and playback
No built-in support of ALM integrations
2) Winium
This is a Selenium Remote WebDriver for Windows automation testing based on WinForms and Windows Presentation Foundation (WPF) platforms. It is free, open-source and is compatible with any dev tools, testing frameworks, and programming languages, like Java, Python, Objective-C, PHP, Ruby, Javascript + Node.js etc.

Benefits:
Support of multiple languages
Support of multiple test runners (JUnit, TestNG, NUnit etc)
Possibility to automate WPF and WinForms
Easy-to-use if you have experience with Selenium & Appium
Possibility to use XPath to find Windows UI elements
The use of industry-standard POM
Drawbacks:
The codebase was last updated in 2016
The API is too complicated
The use of a real mouse and keyboard — you can't execute more than one session on the same computer or use a mouse during testing
The app doesn't work properly running in the background
It's difficult to find the text from the component displaying the output
3) TestArchitect
This is a codeless automation tool designed to scale automation coverage and productivity. It is based on a keyword-driven testing method called Action-based testing. Due to a big keyword library, it can be used by testers without an extensive coding background.
Benefits:
Support of numerous OS (Windows, Linux, Mac)
Full testing feature set
Support of desktop, web, mobile, API, database testing
Support of applications written by different tech stacks
Easy integration with many ALM tools (Team Foundation Server, Azure DevOps, Jenkins etc)
Built-in playback and spy tool
Doesn't need advanced coding skills
Well-maintained by a professional team of engineers
Drawbacks:
Support of 3 languages: Java, Python, C#
Only one test runner — TestArchitect Controller
Supports only native version control system, doesn't support Git
Cannot run several desktop tests in parallel on one computer
4) Jubula
This is an open-source tool designed for Java automation testing for desktop application. It provides an automated GUI for testing different types of applications. It doesn't require advanced coding skills and targets the teams that write the tests from the user perspective. Jubula tests unite software development best practices that help to ensure the long-term functionality of the tests.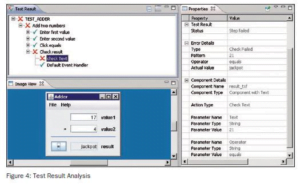 Benefits:
Good for automating Java apps
Supports Windows, Linux, Mac operating systems
Doesn't require advanced coding skills
Version control via import and export
Continuous integration by command-line clients
Drawbacks:
Doesn't support headless test execution
Supports only Java apps
Small community, lack of documentation
5) Tricentis Tosca
This desktop application testing tool offers continuous testing for their customer. It supports all types of test activities: test design, UI testing, API testing, test data management. Tricentis Tosca is easy to use for manual testers with little experience in automation. They claim that in three weeks they can make 85% of manual testing engineers to study Tosca automation testing. But, despite easy adoption, Tosca gradually becomes more complex to use in a long-time perspective.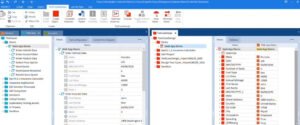 Benefits:
Easy to adopt for testers without advanced coding skills
Compatible with numerous platforms like .Net, Java, browsers etc
Built-in spy tool and record playback
Automatic generation of test data
Support of cross-platform end-to-end testing
Built-in ALM integration and test management tools
Drawbacks:
Doesn't support Linux and Mac
Cannot integrate with Git
Too much mouse clicking during testing
Supports only C# and Java
Conclusion
Upon reading this article, you are now familiar with the basic types of desktop automation testing. You have also studied the most popular desktop application automation tools.
If you have a desktop application that needs to be automated, please feel free to contact our specialists. We will give you a free consultation and explore the options that will fit you best.