Statistics show that the users need only a half of a second to decide if they trust that or another app or not. Performance is one of the critical factors for users when evaluating an app. And the lower this indicator, the more unreliable the app. Accordingly, users will ignore it, and the owner will suffer losses.
Poor performance can cause security problems or system failure. Moreover, it can arise for some hidden reasons, which affect the rest of the software tool quality indicators (fault tolerance, recoverability, survivability, etc.)
Automated performance testing is designed to minimize these risks or even eliminate them all. Here we will analyze how important such a tool is, what benefits of automation testing are worth keeping in mind, and how it can help you.
What is automated performance testing?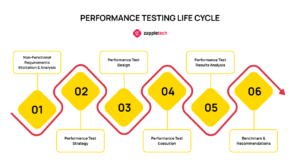 It is the study of the app's response rate to external influences at loads of different nature and intensity.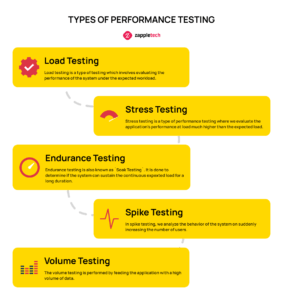 An automatic performance testing is needed to assess the app performance and health under various workloads and conditions. As a rule, people use several types of performance testing, each of which is suitable for specific tasks.
This is:
Load testing (performance under standard conditions).
Endurance testing (study of the long-term performance under the standard conditions).
Volume testing (system testing with increased volumes of processed data).
Stress testing (how does the app behave itself under extreme loads).
Spike testing (how does the system show itself when increasing the number of users).
Each of them has its purposes and features. Any of them become much more effective with test automation benefits.
When is performance testing necessary?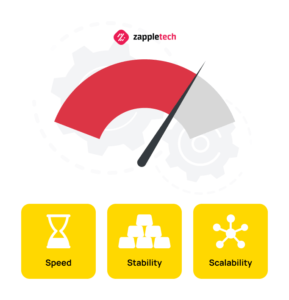 All kinds of applications must pass this testing. The performance testing can, among other things, improve the indicators of the system's usability, security, safety, and survivability. This is necessary for all types of apps: E-Commerce, Social Media Platforms, On-demand Mobile Apps, SAAS-based Apps, etc.
Testing and performance optimization allows early software development to identify a wide range of potential problems that are not detected by other tests.
It has several purposes and is used to assess:
the time and sequence of performing operations;
reactions to changes in the number of users that work with the app;
the limits of the load intensity, which affects the performance;
scalability of the app indicators.
All kinds of applications must pass this testing. That's not the only reason why automation testing is important. Performance testing can, among other things, improve the indicators of usability, security, safety, and survivability of the system.
Overall, performance testing is of great importance.
It is used by everyone who wants their products to be:
Fast.
Reliable.
Stable.
Scalable.
And most importantly, they are popular with users. It is impossible to overestimate the benefits of test automation for a startup or business, of which there are quite a few.
What are the benefits of performance testing for businesses?
Performance testing is a must-have for a successful strategy of app or website development. It is directly related to product quality and business efficiency.
Improved performance
Logically, the timely detection of bugs, problems, and other shortcomings improves the system's performance. This is directly related to your business performance because your team can more quickly assess the system's scalability, efficiency, and speed.
Accordingly, you will identify all bugs, fix all errors before your users see them.
Loyal users
This is a crucial benefit from performance testing because then your product will be popular and in demand.
So, polls show that most users expect a fast loading of a web application (no more than 2 seconds). After all, a customer's first impression of your business is critical to your success.
Clear and reliable results
Having a solid knowledge of performance means preventing failure, delivering stable software, and ensuring quality.
Performance testing is about overexposing high-quality standards, accurate test modeling, and risk mitigation.
No bottleneck
This kind of malfunction in the system occurs with the wrong code or some hardware problem that reduces the bandwidth of the data stream. This slows down or pauses data transfer.
You will know your app
Performance testing will help you find out three key parameters of your application:
How quickly your app responds to user action.
How stable is it under various loads?
How accurate is your application?
This will help improve and optimize your app so that it delights users with excellent quality.
High speed
High speed is another crucial benefit of automation testing performance. It is executed several times faster, allows even more volume, and makes fewer mistakes due to the absence of a human factor.
That is, performance testing is an indispensable part of a development strategy. It provides everything you need for an enhancement business: high conversions, user loyalty, confidence in your product reliability, and protection against product disruptions.
But to achieve even more outstanding results and faster, many startups strive to automate these processes.
Top 5 performance testing tools
Today's software marketplace is full of various load testing tools ranging from open source applications to premium automated load testing tools. However, it is sometimes difficult to choose the best one with so many available options.
Therefore, a few of the most influential and popular performance testing tools show the best results.
Apache JMeter
Currently one of the most popular open-source load testing tools. It is cross-platform, as is developed in Java. Both works from the GUI and launches in the console mode are available.
Apache JMeter has many advantages:
Convenient interface.
Results analysis and caching.
Suitable work with multithreading.
Data analysis and visualization.
Dynamic input.
Also, JMeter supports work with various network protocols of HTTP, HTTPS, FTP, LDAP, SOAP, TCP, mail protocols, and shell scripts.
In addition, it, as a java-based tool, provides capabilities for working with JDBC, Message-oriented middleware (MOM) through JMS and Java Objects.
Locust
It's known as an open-source tool, which is used to set scripts to load Python code. Locust can work both locally and distribute for more load.
The framework is primarily for testing web applications, but a specialist can quickly write a plugin to work with the desired protocol.
The Locust advantages are following, for example:
Simple documentation.
Easy requirements for the programmer and his skills.
Python support, which is especially liked by those who work in this language.
Cross-platform for running tests.
Own web server in Flask for displaying test results.
The only nuances are that you need to open its Web UI, written in Flask, and the lack of support for receiving reports in xUnit format to run it. This causes a lot of inconveniences when using it in CI.
K6 performance testing
It is an increasingly popular open-source modern load testing tool aimed primarily at developers.
Its advantages are as follows:
Integration with CI tools is available.
The ability to create custom metrics.
Designed for developers according to the "everything is code" concept.
K6 has an open-source version and a paid cloud version with additional functionality and load scaling.
It is excellent for developers who are interested in testing and want to write high-performance code and companies that can't organize independent testing.
Yandex Tank
Yandex Tank was created in 2006 and has gone a long way in its development. Now it allows the use of different types of load generators. It is attractive for its flexibility and versatility.
So, it can be integrated into JMeter to implement scenario-type testing with all protocols supported by JMeter. In addition, it allows you to use the BFG-Python generator and written in Go Pandora.
Yandex Tank features are as follows:
Automatic test stop function.
Built-in server monitoring via ssh protocol.
Open configuration for creating your modules.
Integration with Graphite is available.
Yandex Tank itself is implemented in Python and can only be used on Unix systems.
Gatling
This is one more popular open-source performance testing tool. It is written in Scala using Netty and Akka technologies.
The convenience of this solution lies in the fact that the report is generated automatically; all that remains is to analyze it.
It also has some advantages:
It may perform better under high loads than other free tools, especially when testing WebSockets.
Optimally for Scala programmers.
Has official and unofficial plugins for testing Kafka, RabbitMQ, JDBC, etc.
As for the protocol support, according to the official documentation, HTTP (s)/1, WebSocket, JMS, MQTT are supported.
Performance automation and manual testing.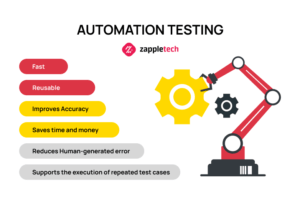 Test automation is a natural step in the development of the IT industry. It opens up many possibilities and has many advantages of automation testing over manual:
Speeds up the immediate testing process;
Uploads the team;
Covers many more items to test;
Performs tests that cannot be done manually;
Allows you to identify bugs faster and more accurately;
Promotes accelerated product release;
Enables round-the-clock testing;
This approach pays off in helping you stay ahead of the market and outperform the competition.
Of course, everything has some cons, and so does automated testing. For example, it does not allow for effective usability testing of design, such as the button's position and, in general, how comfortable the application is to use. Manual testing is still used to find out all of this.
But automation testing opens up more possibilities, at least. It frees your hands for more essential tasks and cuts costs. Also, it simplifies programs development for users and allows them to be technologically advanced and competitive in the market.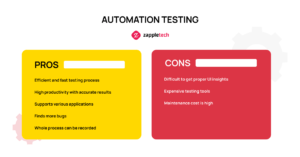 It's essential, if there are benefits of automation testing, then there are some disadvantages somewhere. First of all, this problem lies in cost. Some automation tools can be expensive, and this also affects the price of the test project.
In addition, you may also encounter:
Debugging a test script.
Some technical glitches.
Each tool has its technical limitations.
It also does not allow random testing, whereas the manual method does.
3 reasons why performance testing is needed for your project
The performance of a digital solution is one of the main factors affecting both the performance of the application and the UX. That is why this parameter is especially important in software development and testing. But beyond this, performance testing solves a number of additional tasks during the search for bugs.
Determining the cause of software problems
Often, performance problems with individual apps or systems are due to a number of third-party factors. For example, unstable connections or high memory consumption by other digital solutions. But beyond that, they can also occur within an IT product, in its code, modules, or communication protocols for information exchange.
To identify them and carry out performance testing. Usually, the errors are already evident during the script's first run and then eliminated by the developers.
Avoiding future problems
For preventive purposes, you can test performance even on the finished product, but the efficiency will be lower than with checks during development.
This testing allows you to identify weak code fragments, poor integrations, or other problematic areas of a digital solution. If they are corrected in advance, the risk of errors in the final version of the IT solution is significantly reduced, as are the costs of fixing them.
Checking the reliability and stability of an app
Performance testing can be performed together with load testing, checking the stress tolerance of the code and all software components. This allows us not only to determine the maximum allowable load but also to describe it in the specifications.
Also, thanks to this, it is possible to immediately improve the performance of a digital product by migrating it to another, more flexible, technical stack. But such a step is possible only in the early stages of development when there is still time to upgrade the platform.
These are the answers to the question: why performance testing is necessary in literally every QA process.
In general, performance testing plays one of the key roles in project development since it can be used to identify weaknesses in a digital solution. We recommend deploying this process early in the creation of an IT product to maximize the coverage of test tasks and application components.
Final word
Performance testing is a strategic decision for the successful implementation of an app or website. As you know, users are very demanding IT products, and they value high performance very much. Practice shows that less than a minute is enough to understand the problem of the app with this indicator.
Performance testing helps identify any bugs or issues before product release and take appropriate action.
Several types of testing are used, depending on the required parameters:
Stress testing.
Load testing.
Endurance testing.
Spike testing.
Volume testing.
Many believe that it is advisable to automate all these processes, given the benefits of test automation:
Accelerated processes and high data coverage.
The team unloads.
Accurate results without human error, etc.
This approach also requires some investment, and automated testing can be expensive. But, on the other side, it pays off quickly and gives the business a great start. And with it, you will gain high conversions and popularity of the product.