If a business cannot handle the volume of tasks in-house, it makes sense to turn to third-party specialists who work on an outsource software testing basis. They test the digital product to ensure it meets the original requirements and wishes. An often outsourced software testing team takes care of all the responsibilities as part of monitoring and improving the quality of your project while you and your in-house staff can achieve your business goals.
Features of Outsource Software Testing and Types of Cooperation
This is a modern way of collaboration in which an outsourcer helps you with any testing tasks. More and more companies are looking to work with third-party teams. According to Statista, the average cost per employee in the segment qa outsourcing services will be $114 by the end of 2022. The popularity of IT outsourcing will grow during 2022-2027 at a projected annual rate of more than 8%.
By choosing to outsource your own testing process tasks, you gain access to the valuable skills your project needs and have the flexibility to manage them.
For example, hire additional specialists to perform non-standard tasks. The professional help of such an outside team may be needed in many situations a business faces.
When you need an app testing outsource software testing:
Lack of skills in the in-house team. In this case, hiring external specialists allows you to compensate for gaps in your employees' knowledge.
Problems with the choice of technological resources. An outsourcer has access to modern tools and technologies and selects them for each project.
Limited timeframe for product launch. Outsourcer provides fast results due to the established workflows and in-depth expertise in different QA areas.
A need for an outsider's view. Specialists perform comprehensive project testing and provide professional recommendations to correct weaknesses.
A large-scale project of high complexity. Outsourcing is suitable for long-term projects that will actively develop and scale in the future.
One of the essential features of such collaboration is the variety of interaction models. You can bring in several specialists to work with your employees, hire an outside team for specific tasks, or outsource the entire project.
Three main types of cooperation in outsourcing testing:

Dedicated team. All necessary testing skills are available to you. At the head of the team is a dedicated manager who distributes tasks and keeps in touch with you. You have full control over the performers and can change the team composition.
Expanded staff. You hire a specialist who joins your staff and works alongside them. This a good opportunity to fill gaps in skills, reducing the time spent finding and recruiting temporary staff.
Project Outsourcing. An outsourcer performs the testing responsibilities for your product throughout the SDLC. You can choose the optimal interaction model. For example, Fixed Price for meeting specific requirements or Time and Materials for flexible collaboration.
If necessary, you can outsource software development and testing to combine different models based on the project's current needs. In any case, you eliminate the need to handle all tasks yourself, including non-standard and urgent ones.
Tasks That Can Be Delegated to Outsource Software Testing
Outsourcing team consists of several specialists who are responsible for the product's compliance with the requirements:
QA engineers: focus on processes to improve quality (documentation, monitoring, auditing).
QC engineers: focus on the product and identify its defects in various ways.
Manager: responsible for the successful completion of tasks within the project and allocates responsibilities.
Analyst: works with project documentation and knows the answers to all questions related to the project.
Test architect: has an in-depth understanding of all the technical nuances of the product being developed.
Team lead: makes important decisions concerning the testing strategy based on the results obtained.
Each specialist strives to provide stability, predictability, quality assurance and transparency to the project while maintaining optimal speed. The team is easily scalable and can be expanded with new skills quickly. The flexible interaction of the participants allows for effective solutions to many tasks.
The tasks performed within the project can be divided into groups:
Specifics of services:
manual testing, which does not require access to software tools;
automated testing performed with special tools;
consultation, covering all testing questions that may arise during the SDLC.
Type of product under test:
web apps with which the user interacts through a browser;
mobile apps adapted to the requirements of Android and iOS platforms;
desktop apps installed on a computer and running on the OS;
corporate systems (ERP, CRM, etc.) that solve key business tasks;
IoT systems that support the interconnection between sensors, software, and other technologies;
APIs that ensure stable interaction of software products.
Type of testing:
functional (compliance with functional requirements);
usability (understandability and usability of the UI);
regression (correctness of operation after recent changes);
compatibility (interaction with different environments);
performance (speed of work under load).
As a rule, our outsourcing software testing teams work with all companies, regardless of industry or scale. Specialists assist with product quality for complex and highly competitive areas, such as e-commerce, fintech, online broadcasting, and healthcare. This is made possible through a deep understanding of requirements and efficient workflows.
The Process of Outsource Software Testing
Planning and studying requirements
The work begins with the collection of requirements, something the analyst does. They constantly interact with a client to get maximum information about the project's business and technical side. Based on the collected data, an SRS document is formed, which is later used by all stakeholders.
It is important to understand that a team that uses Agile methodology manages requirements flexibly. This means that their list can be expanded, supplemented, and changed in the development process, according to the current needs of the project.
Also, there is an assessment of the project's scope, clarification of its timeline, and the creation of a roadmap. This is necessary in order to clearly understand the effort that will be required to complete the tasks and follow the requirements.
Forming a team
At this stage, relevant skills in both QA testing and QC are selected, and a manager and a team leader are assigned. Interviews with each specialist are conducted according to the client's wishes. The team's final composition is agreed upon with the client, after which we assign duties and draw up a work plan.
Important issues are discussed, and decisions are made together in a format optimal for the team. For example, they organize brainstorming meetings in which each specialist offers their vision for solving problems. Interviews with users to clarify and detail requirements and Three Amigo Sessions, in which the developer, tester, and product owner participate, are also useful.
Preparing
The preparatory phase involves the immersion of all specialists in the project and the selection of necessary technological resources:
test automation tools (Selenium, Appium, Cucumber, Playwright, Cypress, and other modern technologies);
databases (MongoDB, xSQL, etc.);
tools for different types of testing: security (Burpsuite, Nessus), performance (JMeter, Locust), API (GraphQL, restAPI), compatibility (BrowserStack, SauceLabs), etc.;
DevOps (Jenkins, CircleCI, Docker, Kubernetes, GitLab).
Specialists adjust all equipment and software tools to the goals and objectives of testing company and the project. All technology-related issues are also discussed with the client, and decisions are made after approval.
Testing and analysis of results
The workflow depends on the development team's chosen methodology. As we mentioned above, Agile implies a high degree of adaptability, which applies not only to working with requirements.
The work of a testing team that uses Agile:
conducts daily joint meetings and sets interim goals and objectives;
shares results reports regularly with the client and collects feedback to understand current requirements;
organizes weekly meetings and, if necessary, meetings with stakeholders to evaluate progress.
All this allows you to quickly adapt to changing company requirements, the needs of target users, and trends. Testing is performed continuously and involves even non-technical specialists and the product owner (BDD, TDD). The results mobile app testing are evaluated at the end of each iteration.
You can be sure that the assigned tasks will be performed as quickly as possible. At the same time, each performer is responsible for the work's promptness and the results' correctness.
The Value of Outsource Software Testing for Business: 5 Main Advantages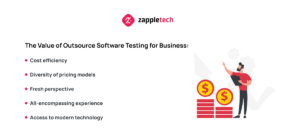 Cost efficiency
This is a worthy alternative to hiring employees. You don't need to hire HR to search for candidates and conduct interviews, and you don't need to invest financially in training new specialists and creating optimal working conditions for them (from renting offices to buying software licenses).
Add to that the lack of the need to regularly pay salaries, regardless of workload, as well as taxes, sick pay, and vacation pay. The outsourcer takes care of these financial responsibilities. All you need to do is control the work process and make timely payments according to your chosen pricing model.
Diversity of pricing models
Outsourced hiring is possible on convenient pricing terms:
Fix Price. The price is set under clear requirements. It is known at the start and does not change during the work. It is optimal for medium and short-term small projects.
T&M. The price varies depending on how many resources are needed to successfully complete the project. The model is suitable for short- and medium-term projects of small and medium size.
Dedicated team. There is an hourly rate for the performer per month. The budget is flexible and depends on the specifics of the project. The best option for long-term work on a large complex project.
Thus, you can optimize costs for any project of any scale and urgency. Another manifestation of such cooperation's flexibility is sure to bring benefits to your business.
Fresh perspective
By engaging third-party testers, you get the opportunity to objectively evaluate the product you are developing from different perspectives: simplicity and usability for the target users, security, and performance testing, compliance with local requirements, etc.
You will get an unbiased view of the value of your product for the audience. Once problems are identified, experts will make individual recommendations for fixing them and suggest new ways to improve quality.
All-encompassing experience
The company has a variety of skills that you are looking for to solve current problems. The team is formed according to project specifics: industry specifics, technical requirements, task complexity, and scope of work.
You won't need to bring in-house staff, as outsourcers have comprehensive security testing experience. You can easily expand your team with additional specialists when new tasks arise, and vice versa.
Access to modern technology
You get access not only to human resources but also to technological resources. For startups and small companies, this is an opportunity to avoid buying expensive technologies and tools, as well as the cost of staff training on how to use them.
As we said above, comprehensive testing will require AT frameworks, DBs, tools for automation testing each stage of DevOps, and more. The outsourcing company already has all that, so the tech stack will be formed specifically for the project and with your wishes in mind.
Do you want to evaluate these advantages on your own experience? Then choose the service provider responsibly.
Seven Important Criteria for Choosing an Outsourcing Company
When searching online and communicating with the company's manager, pay attention to the following characteristics:
Expertise in your industry, especially if it's a complex, highly competitive area.

A skill set that fully meets the needs of your project.

Certifications proving professionalism, such as ISTQB/CTAL/CTFL.

Flexibility in everything from requirements handling and planning to results analysis.

Access to the technology you need and knowledge of collaboration tools.

Responsible attitude to customer data security, in particular NDA drafting.

Project-specific pricing and availability of different collaboration models.
With outsource software testing, you get strong expert support at different stages of product implementation functional testing. Specialists work under your control and adapt instantly to changing needs. This is a valuable opportunity for projects that need to get to the target market faster while maintaining decent quality.