When it comes to creating, implementing, upgrading a software product, testing is necessary. But the main question is who is responsible for finding errors? A business has two options: select performers from a full-time team or delegate tasks to a third-party company that deals with test automation (AT) on an outsourcing basis. The second option's popularity is growing, and we will tell you why. You will learn when it is beneficial to involve a team from outside and what nuances to consider when choosing.
Test Automation Services: In-house or Outsource
The outsource model is based on delegating certain tasks (functions, processes), including testing, by another organization. And the question immediately arises: why can't this be entrusted to the in-house team? Firstly, if we talk about a startup, it may not have a formed staff. Secondly, even if you have the necessary skills, it is difficult to give time for non-core and non-priority areas because this can negatively affect the main tasks.
The same goes for hiring staff. It takes time and effort because searching, selecting, formalizing relationships, and adapting a new team member takes more than one day. Of course, the in-house model also has many fans. Basically, these are companies that have a full staff and are ready for ongoing expenses for the employees' maintenance: salaries, vacation pay, sick leave, taxes and fees, equipment fees, and office rentals …
What should do those who want to find a balance between costs and quality of task performance? Collaborating with the test automation team on model outsourcing would be a good choice. Especially if you need to implement an urgent project, for example, releasing a product faster than competitors or finding software problems missed by the previous team.
Let's take a quick look at the characteristics of both models and evaluate their capabilities and limitations.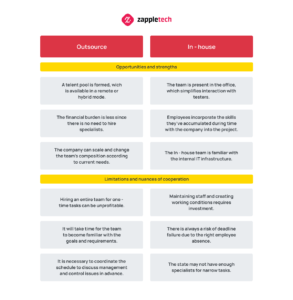 We have discussed two opposing models, now let's separately consider outsourcing AT in terms of 5 business benefits.
5 Benefits of Test Automation Outsourcing
1. Cost-Effectiveness
This is perhaps the main motivation to switch to the outsourcing model. Cooperation with an outsourcer is possible even with a limited budget. Of course, this is primarily due to reducing personnel costs, space rental, equipment purchase, and automation tools. This is valuable for startups and small companies that are not ready to invest in building an IT department and hiring testers.
There is another argument confirming the cost-effectiveness of such cooperation. There are many pricing options: from a fixed rate per hour (or for the entire project) to a cost that depends on the number of resources used. You can choose what is beneficial for your business at the development moment. Also, experienced outsourcers often offer individual tariff plans to adapt to the clients' capabilities.
2. Access to the Best Resources
The secret of test automation outsourcing demand is not only in savings. Also, the business gets something without which it is impossible to guarantee a decent result: access to industry skills, advanced technologies, and tools. An experienced outsourcer has a strong intellectual capital in a particular industry (or even several industries) and owns a modern technological base. Even with a strong desire, it is difficult for a startup to gain access to resources of this level independently.
The team provides qualified assistance in predetermined areas of testing. And for this, it does not need to undergo additional training. To get started, it just needs to get acquainted with the project requirements and agree with you on the work schedule nuances, reporting, and results' feedback. Building a technological base for the project, planning, and control is also taken over by your partner.
3. Recruitment Flexibility
You get the opportunity to attract the knowledge and skills in the field of testing that your business needs at a given moment. This will not be a problem if you do not have formed requirements. The outsourcer will audit the project and select specialists with relevant experience. Your partner is responsible for all HR tasks, and you do not need to create an HR department and deal with search, recruitment, and onboarding.
Moreover, in the future, you can attract additional specialists. This is important because project requirements change as functionality and reliability increase, apps migrate to new platforms, and/or integrations are performed. Such cooperation allows you to quickly adapt to the business needs than hiring in-house.
4. Comprehensive Help
The need for testing arises for various reasons. For example, you are building an app, and you are interested in fixing all the bugs before releasing it to the market. Or you decide to update the functionality of an existing web solution and then check it for correct operation. Perhaps you want to make sure that the corporate software developed by another team for you is free of defects.
As part of test automation outsourcing, you can get expert help on any issues. Even if an outsourcing company specializes in one direction (in particular, AT), it can provide a whole range of related services. So, our services cover creating a testing strategy, QA audit and evaluation, maintenance, infrastructure support, tool integration, and much more.
5. Focus on the Essentials
Imagine that you outsourced product testing to an outside team. What will you and your staff do with the free time? Of course, focus on key business areas. So, you will be able to correctly distribute the workload among internal specialists and assign resources for solving priority tasks. For example, set the stage for promoting a new product by developing a marketing campaign.
Also, you can make bold plans in the long term without worrying that something will go wrong. Why? You remain independent of circumstances: under the concluded contract, the outsourcer undertakes to provide services on time. Even if there are changes in their team (employees get sick, go on vacation, quit), this will not affect the project. Testing will be completed on time and with the agreed performance indicators.
Let's say you decide to delegate all test automation tasks on an outsourcing model. Before you start, you must evaluate your potential partner from different angles. We will list several factors to consider.
What You Need to Know Before Starting Test Automation Outsourcing
Technical experience. The company must prove an ability to provide the necessary resources: demonstrate a portfolio with case studies, indicate a technical stack, refer to real clients.
Ability to adapt. It is important to ensure that the outsourcer can quickly adapt to unexpected changes. An agile approach helps you keep working in an ever-changing environment.
Cost level. Sometimes organizations offer underpricing when they can't emphasize experience. Then you are unlikely to benefit in the long run.
Interaction strategy. Ideally, you should have common views with the outsourcer on working with the project and building communications with the outsourcer.
Safety concern. The outsourcer must take data protection measures for each project, product, and client company and agree to sign an NDA.
So, we have considered the test automation outsourcing benefits from different angles, and we can say that this is the best choice for business in many situations. Development from scratch, expansion of functionality, integration, porting to another platform, performance improvement… The help of AT specialists may be needed at all stages of development and life cycle of software in general.