Introduction
We are living in a world where we are constantly in a competitive market. There are countless companies just like yours out there competing for the same customers. In order to compete, you need to ensure that your product is always delivering high quality and in a timely manner. This can be done through the use of continuous testing.
When it comes to DevOps practices, being Agile is a key pillar. Continuous testing is a DevOps practice that helps ensure that your product is always delivering high quality and in a timely manner. This blog will give you a glimpse into how continuous testing in DevOps works.
What is continuous testing?
Continuous testing is the practice of executing test cases automatically and frequently as code is checked into the source control. It provides fast feedback on recent changes to the repository and enables developers to quickly respond to customer feedback. In the traditional software development model, testing happens at the end of the development lifecycle. With continuous testing, the tests are run along the way.
The continuous testing market is expected to grow from $1.15 billion in 2018 to $2.41 billion by 2023, which is 16% of annual growth. Organizations, across various industry verticals, are adopting continuous testing for enhancing their business operations.
The goal of continuous testing is to test and deploy software in such a way that the process is automatically repeated with each change to the codebase. It helps to reduce manual efforts, such as exploratory testing, as well as to improve the quality of software. With continuous testing, you alleviate the risk of defects, save a lot of time in moving the code from Dev to Test environment without waiting for all the developers to commit.
The role of Continuous Testing in DevOps
Continuous Testing is done to improve the quality of the software in terms of security and functionality. This approach combines the development, build, and testing phases in a company.
When a developer makes a change to the code, code coverage tools will check the changes to see if they have caused any errors or performance issues. This helps developers find errors and fix them before they go into production.
The software is tested in the test environment and the results are then compared with the expected results. If there is a difference, the software is retested in the Dev environment and the results are compared again until they match. This process is repeated until the software is stable.
This process saves time because developers can continue to make changes and QA can still test the software without waiting for the developers to complete their changes.
Key components of DevOps test automation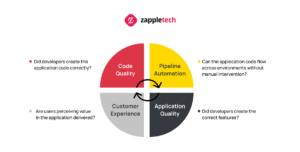 Continuous testing is more than just continuous feedback loops. There are a number of different components that make it a reality, each of which relies on a set of processes, technology approaches and continuous testing tools in DevOps. There are four key components that you need to keep in mind when working on your next continuous testing project.
1) Continuous integration
Continuous integration is a software development practice that involves integrating code frequently. Once the code is integrated, it will be verified as correct and the integration will be run again automatically. This is done to make sure that all the changes made in a particular code commit have been properly merged.
CI separates your code into two parts: the code that is to be integrated and the code that will be tested by the end of the process. The code that is to be integrated is placed in a repository and the CI tool will take it and build it into the latest version of your product. The other code will be run through a suite of tests to see if all the changes were made properly.
Once the code passes the end of the tests, it will be merged with the code to be integrated and will be built into the latest version of your product.
2) Environment provisioning
Environment provisioning is the process of building a virtual or physical environment required for testing. It involves the creation of a testing environment on a computer that is separate from the production system.
It can include provisioning test databases and services, provisioning a test network, and setting up a test environment for the product's user interface. The environment provisioning process can be time-consuming and one of the reasons for slow testing environments.
With a container-based platform like Docker, provisioning takes seconds rather than minutes. You can make your continuous development and testing environment as lightweight as possible by using a minimal operating system in each container.
3) Automation
One of the key components of a continuous testing approach is the automation of testing. This includes API integration testing and UI testing. With a robust test automation plan, you'll be able to create and execute tests with ease. Having a consistent testing methodology will make it easy for you to create tests quickly.
If you have a test automation plan in place, you will be able to easily create test cases and test suites.
4) Collaboration
Collaboration is the most important part of continuous testing. It's the part that requires the most people, so it's a good idea to start with a small group. The group works together on one change or a new feature, uninterrupted until it's ready for production.
Testers work in pairs or teams of three and write the test first and then code so that the test passes. The goal is to create a test that is easy to read and understand. When the test is finally complete, the tester writes code to make the test pass. When the test is finished, they refactor code to make it more readable or better-performing.
How to implement continuous testing?
In order to implement continuous testing, you need to work on the process of how your team can add more modern testing practices. By embedding quality in applications, you can break down the process of continuous testing into smaller parts.
You can start with embedding quality in the code and build in small quality checks throughout the application pipeline. It is important to note that these quality checks should be performed throughout the application pipeline.
Virtualized Environments
Continuous testing implies testing many times in a few hours or in a few days. However, running your tests multiple times in a day can be problematic. If you have a virtualized environment, you can use it to run your tests.
This will provide you with a continuous testing environment, but it creates a bottleneck. You need to make sure that you have enough virtualized environments. If you don't have enough, you need to make sure that the environments are available all the time.
This helps you to ensure that the changes you made are not only successfully implemented but maintained in all environments. For this, you will need a virtual environment. It is a container that isolates a separate environment from the host machine. You can run apps on the virtual environment, while the host machine could be used for other tasks.
When you need to test something, you can run it on the virtual environment and make sure that only that code is tested. When you need to change something, you can easily change the virtual environment and then deploy it in the production environment.
Test Data Management
Continuous testing requires businesses to have a data management strategy, and a data set to work with. The data set should be diverse enough in order to test a variety of software products. If a company has the right data management strategy, it can help keep test data organized, which will make it easier to produce test data and then sort it before it is used in testing.
This will help ensure that the test data is relevant because it represents the actual software that the business is using. The data sets should include different data and be based on different versions of software and should include different devices and different people who are likely to use the software. This will help you to test how the software will work with a variety of people and devices.
The business needs a platform that can create test data and support the diverse needs of the software products. There are a few different ways to create test data: using a script, small pieces of data, or combining test data. Data management should be run by a data scientist. This specialist will identify test data needs and create the best strategy for creating and collecting the data.
Test Automation
Continuous testing has never been more accepted, but to make it work you need a complete test automation solution. Test automation is not just about test cases anymore. It also needs to be about the end-to-end test process, from data collection and management, to test results.
There are many steps in this process, and it needs to be reliable. To enable continuous testing, you need reliable test automation. There are many ways to set up test automation. You can use a tool like Selenium, which is good for testing web applications. It is good for syntax-based errors.
Pipeline Orchestration
In order to benefit from the value of Continuous Testing, in order to provide a continuous feedback loop, you need to have an orchestrated pipeline that can handle the continuous feedback loop. This orchestration is a set of tasks that will get your application integrated with Continuous Testing and make it work as intended.
To establish the transparency of a pipeline, you need to make sure that the workflow tool being used is fully integrated with your build and deployment processes. Here, it can process all the necessary information needed to make continuous testing successful.
For example, if you're using Jenkins, you'll need to run a Jenkins job that will install the continuous testing tool (with the appropriate plugins for your build and deployment process) on your behalf.
API Testing
To properly adopt Continuous Testing, organizations must recognize the importance of the testing pyramid and test as much as possible at the unit and API levels.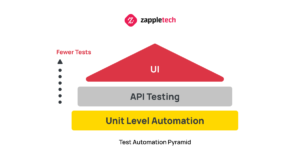 The testing pyramid is a model for how and where to focus your testing efforts. It states that you should test your unit level first, then your API level, and finally your UI level. However, to make sure that the testing pyramid is becoming the best practice for your organization, you can begin by focusing on API testing.
By adopting continuous testing, you'll be able to test your APIs to the fullest extent and minimize the reliance on UI testing.
Conclusion
We hope you enjoyed our blog post, it's important to consider the effects of continuous testing in the context of DevOps. Continuous testing enables your team members to test their software continuously with the goal of delivering high quality and in a timely manner. If you have any questions or concerns, please don't hesitate to reach out to us.