Test-driven development (TDD) is an approach to software development where developers can write a test case for each function that needs to be implemented. The idea is to write a test case before writing any code so that developers can create a clean and simple codebase. This process minimizes the chances of writing buggy and complex code which can lead to problems.
Tests are responsible for providing management with assurance that the solution is working. It's an important practice that helps teams to be resilient to change.
In this article, we will consider what is TDD in software development, how is it different from traditional automation testing, and what tools can be used for implementing it in your project.
What is test-driven development?
TDD is a software development methodology based on repetitive short development cycles. Initially, the test is written to cover the desired behavior, then the program code is written to implement the necessary behavior and to pass the test. Last, the developer handles the refactoring of the written code with constant checking of how it passes the tests.
TDD vs traditional development
Test-driven development and traditional one are two different approaches to software development. Traditional software development is the process of designing, implementing, and testing a piece of software.
In contrast, test-driven development is a process that starts with writing test cases that must pass before any code is written. The software is then developed in small increments, each build being tested before it is deployed. The two approaches work well together, and the process can be used to deliver software of any size.
TDD development cycle
Test-driven development methodology is based on the organization of automated testing of the app by writing unit, integration, and functional tests defining the requirements to the code before writing it.
First, the test for checking the work of the future code is written. Then the developer writes the code performing the actions described in the test. Once the test is passed, the developer refactors it, if necessary. The refactoring is handled under the control of passing the test which is simpler and more reliable.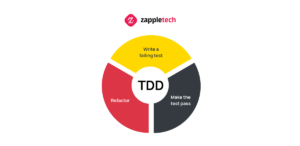 Creating the tests
To ensure the functionality of a software application, developers must create precise unit tests before the application is created so that the tests can verify that the functionality of the application works as expected. Developers should write tests to ensure that the code they create will meet their desired requirements. This ensures that the code is testable and that it can be easily changed later on.
Correcting the code
When a test fails and developers are trying to figure out what went wrong, they need to make the minimal changes required to correct the code so that it can run successfully when re-executed. These changes are generally quick and easy to make and can be done without breaking the current requirements.
Code refactoring
Refactoring is a software development technique that can help improve the quality of a software program by changing its internal structure without changing its external behavior. It is used to ensure that the code is clean, crisp and doesn't have any problems. It is also used to find any redundancies or potential code optimizations.
Benefits of TDD
TDD method is a more balanced approach for software development that revolves around three main activities: coding, testing, and designing. Done correctly, The goal of a developer in TDD is to help you avoid the trap of chasing an optimal solution and instead helps you build a piece of software that is good enough to test. Here we will consider the main benefits of the TDD approach.
1. Better code quality
When developers write the necessary tests, they are able to work with the product more efficiently because they are able to anticipate the errors and mistakes. This is because the tests already take into account the possible errors and mistakes. Consequently, the code appears to give better results.
With test-driven development, there is better code quality and fewer bugs. There is also less code that is not being used and is at risk of breaking. With TDD, you can build a cohesive and clean codebase with a clear design and structure. You can also make changes to the codebase faster and with less risk of breaking the code.
2. Detailed documentation
When writing tests, there is a lot of documentation to be done. It is important to write down every single step that is involved in the process of testing your requirements.
Writing a detailed specification will allow anyone to easily follow the process used to test your requirements. It helps to have detailed documentation to include all the users' actions. This will help you and the programmers know what the users are going to do.
3. Saving the time
Programmers without TDD spend a lot of time testing and debugging their code. With test-driven development, when the test fails, the developer understands that something's wrong immediately and can fix it at a time.
TDD approach reduces the number of bugs and errors. According to the IEEE Software study, implementing TDD reduces the number of bugs by 40-80%. Consequently, less time is necessary to fix them and maintain the code.
4. Reliability
If a developer is not testing their code, they are not aware of the bugs that are going to be introduced into the code. The developer may also find it hard to know what is going to happen with the code.
With the help of test-driven development, the developers can be sure that the code they are developing will work with the latest changes. So, both the developer and the customer are confident in the reliability of the code and system.
5. Cost-effectiveness
TDD implementation will help you to get rid of the bugs in the software, and it will decrease the time needed for a project:
The code of good quality is easier to maintain and extend
The application is stable and reliable
You will already have extensive documentation and will not need to write it separately
As soon as the project is completed, you can use the software in a live environment and your software will encounter fewer bugs and be more stable. With a reduced budget requirement and a smaller time frame, the cost of your project will obviously decrease.
Tools for TDD
There are many tools designed for handling the TDD process in software development. Now we will look at some of them, designed for different programming languages.
JUnit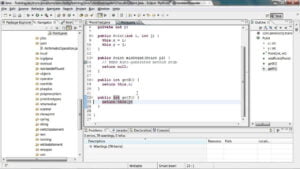 JUnit is an open-source unit testing framework for the Java programming language. It plays a crucial role in test-driven development. It is a highly flexible framework and can be used with the most complex of Java development projects.
JUnit is an IDE that features an intuitive interface and supports many programming languages. It can be used by beginners, who just want to start learning, as well as by experienced programmers, who have the time and resources to experiment with new techniques. It offers a range of features that make it easy to increase productivity and the speed of the programmer and has a TSLint to ensure the stability of program code.
Rspec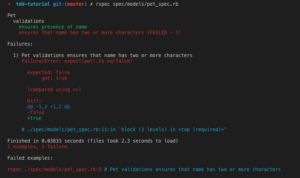 Rspec is an open-source testing tool that is used for testing Ruby on Rails apps. The tool is written in Ruby, and it is the most frequently used testing library for Ruby in production applications. It is a powerful testing tool and is used to test Ruby on Rails apps using the Test Driven Development approach.
In order to use Rspec to test Ruby on Rails apps, you will need to install the Rspec gem. The Rspec gem has a number of features that are required for testing in order to use the Rspec library. Rspec features include automatic setup, shared example group, syntax checking, and built-in reporter.
csUnit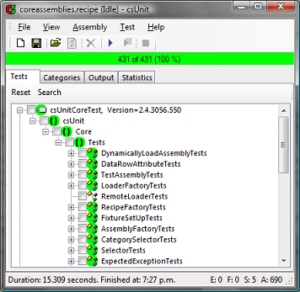 CsUnit is a unit testing tool for .NET developers who are using test-driven development. It comes as a Visual Studio add-in and can be used to write, run and analyze unit tests. A common way of writing unit tests is to use the xUnit family of frameworks. However, these frameworks are not free, and they are not open source. To overcome this, the csUnit team have created csUnit – a free and open-source unit testing tool for the .NET Framework.
csUnit offers a lot of features for TDD. These features allow you to test directly against the .NET Framework. It also allows you to verify your changes before you commit them to source control. In addition, it provides a code coverage tool for the .NET Framework. It even provides a test runner for the .NET
Chai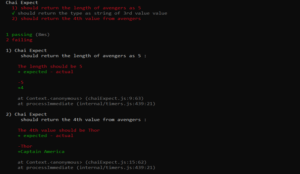 Chai is a small TDD assertion library for nodes and the browser. It provides a nice API for making assertions in JavaScript tests that can be paired with any JavaScript testing framework. It supports chai.js, Mocha, QUnit and any other JS testing framework that can run tests with callbacks.
Chai is designed to be easy to use and work well with other testing frameworks. It has a simple and flexible API, and it's designed to be easy to configure, run and extend. Chai is also easy to use with other assertion libraries. It has a couple of new features, including support for callbacks in tests, a change in the assertion syntax and the ability to chain assertions.
Pytest-play

Pytest is a Python library that lets you test your code using TDD practices. It allows you to write and run tests in Python. It works just like any other Python library: you install it through your package manager, and then you can import it into your code. Tests are written in Python too, so you'll have code testing other code.
There are a number of great features in Pytest. One of the most important ones is the ability to write tests in either Python unit test format, or the more flexible xUnit format. You also have the ability to write tests in multiple languages, including Python, C, JavaScript, and Ruby. Pytest supports all Python libraries, including CPython, IronPython, Jython, PyPy, and PyPy3.
Conclusion
We hope you enjoyed our blog post about what is TDD. It is a great way to achieve a clean and simple codebase that will be easy to work with. We hope that you will try it out in your projects now and let us know if you need any assistance.