Testing is an integral part of modern development methodologies. It begins before the start of work and continues until the release of the IT product. With this effective approach, the service market based on agile methodologies has reached $20 billion, according to FNFResearch. They believe it will increase by $10 billion more in 2026 with a CAGR of 18%.
Now the most common development techniques are TDD and BDD. Many IT experts mistakenly consider them opposites, but they are actually parts of the same process. ZappleTech analyzed the benefits of each approach and is ready to share the results with you. Today, you will learn about these methods, how they affect the quality of the product, and how to combine them within your project.
TDD vs. BDD: Definitions, Features, and Differences
TDD and BDD stand for test-driven development and behavior-driven development, respectively. The first method is based on preliminary testing of each function, and the second on a user interaction scenario. It sounds complicated, but in practice, they are similar.
The essence of each method is writing cases and scenarios before work begins. However, if TDD requires developer's activities only, then in BDD, all the project participants are involved: the developer, the customer, and QA specialists. These are integral components of the Agile methodology that optimize development and speed it up. Logically, it should be exactly the opposite because documentation and the initial creation of test cases supplement the classical process. Let's visually compare the differences between these types of work on an IT product.
Test-driven development vs. behavior-driven development: difference table
According to CapGemini, 63% of businesses are interested in improving the quality of customer experience through their IT solutions. Trends of 2021-2022 dictate game rules for companies providing services to consumers. In turn, customers require software developers to optimize apps to meet the high standards of today's market. This is where BDD and TDD come to the rescue. Both types aim to improve the user experience, but each goes to the goal in its own way.
Differences between these approaches: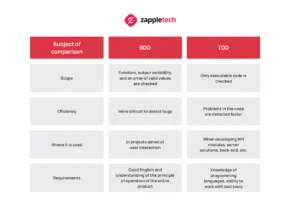 As you can see, both approaches to development have similar goals but radically differ in implementation. If TDD tests are written by developers for developers, then BDD uses a "human" interpretation of cases into general English. As a matter of fact, these differences are at the same time the advantages of the described methods, but we will consider them in more detail later.
Features of writing test scripts
The development of TDD involves the creation and automation of test scripts for specific functions and code sections. Examples of use and an execution algorithm depend on the implemented component. A procedure is considered successful when each line is processed sequentially without errors and with relevant results.
In BDD, the principle is slightly different. Verbal descriptions of actions, processing, and issuance processes are used to create cases and scenarios. For example, we write, "When entering the user's account, the login line accepts only English letters and numbers." In this case, "zapplet3ch" is considered correct, and "z@ppletech" is incorrect. The developer's task is to optimize the code so that everything considered wrong is rejected by the program.
Product quality due to the difference between TDD and BDD
Among respondents to the CapGemini survey, 63% seek to improve the quality of the user experience with their products, and 61% aim to improve their apps through QA. Modern trends and quality control specialists approve the BDD method, considering it the most practical in terms of usability of IT products. The user-oriented approach to development and testing ensures the correct operation of the software in all use cases.
On the contrary, TDD aims to test the functionality without worrying about the user experience. That's why this approach is used to develop program components unavailable for users. These are various integrations with network modules, back-end components, databases, etc. Due to the high efficiency of the method and good speed of finding bugs, it is rightfully considered the favorite of most IT companies for full-stack development.
Combining BDD and TDD methods within the project: is it cost-effective?
Each development approach is selected based on the project goals, scope, technical stack, and available resources. Since TDD is considered a faster development method than BDD, it is more often used by IT companies. Some experts are still arguing about the relevance and convenience of developing using one or another approach, but top experts combine both types within one project.
How does it work?
The project participants are divided into 2 groups: developers and testers with an operational developer. The first group works adhering to the TDD principle, checking the code before programming and after implementing each element. The second group works using the BDD approach, describing test cases and checking them several times, focusing on the changes made by developers.
In fact, there are many options for combining, and each individual team of performers works according to the most convenient methodology and scenario.
What connects both methods?
It is not difficult to guess that a common element for TDD and BDD is testing. It accompanies the project from planning to the final delivery of the release version to the customer. Only the approach to implementing elements differs. Usually, dedicated QA teams successfully combine both methods, coordinating with the development team.
Difficulties only arise when creating a detailed roadmap and preparing cases, scenarios, and tools for testing. It's because TDD requires test cases for missing features, while BDD requires an understanding of what functionality will be implemented and how it should work. Most of the other joint tasks of QA and developers are automated and need timely updating of the product code only.
How dedicated QA teams optimize development using TDD and BDD approaches?
It's no secret that the effectiveness of development and testing depends on the qualifications of performers. Since the market is now oversaturated with freelancers and startup IT organizations, it is not easy to single out the best in terms of price/quality ratio. Even the viability of a startup MVP is at risk if specialists cannot provide a decent level of engagement and skills.
We recommend not going to extremes but trusting the QA process to industry experts. ZappleTech provides a full range of quality control services. By delegating this to our specialists, you free up your resources to perform major business tasks. With us, your project will hit the virtual market in time, and its quality will satisfy your customers. Please contact our manager for consultation and ordering the services of QA ambassadors!