According to GMInsight, the test automation market will reach $40 billion by 2027, and its CAGR level will exceed 16%. Such popularity of QA services is caused by rapid growth in demand for the development of IT products among business representatives. The Gartner report says that expenses on digital transformation (mostly on corporate software and IT services) increased by 10.8% and 9%, respectively, in 2021. Regardless of who develops an IT product, outsourcing company or full-time team, quality assurance is still one of the main priorities. That's why QA experts are now in demand more than ever.
Checking resources for bugs is the best way to release an MVP timely and win consumer loyalty. A mandatory component of modern IT solutions is software running in the cloud. API testing is a complex yet exciting task, and the performance of the entire product often depends on its quality.
What is API automation? It's a set of operations and techniques used to test apps' logic and performance. Optimized automation of these processes means the possibility to create and run test scripts in particular cases and in a stream when deploying new versions of an IT product.
ZappleTech experts have prepared a detailed guide on this topic. Now you will learn about API test automation, its varieties, and how to automate the testing of API elements.
Why and when is this kind of testing used?
Modern IT products support uninterrupted data exchange with the server. API allows connecting payment systems and search resources. It also integrates social services, navigation, and more. Each customer of an IT product strives to provide users with a stable connection, high response speed, and quality information processing. Unlike other program components, API affects the interface partially and performs all the basic operations invisibly. Data processing takes place on the server, so the stability and speed of the exchange are vital here.
QA experts use API automation tools to speed up verification, provide reporting, and identify problems with connectivity, processing logic, and issuance relevancy. The verification methodology is somewhat reminiscent of the "White Box," when the input and expected results are already known.
It is assumed that the API is not a separate system component, but it is fully integrated into it. It allows early testing, maintained as each new release is deployed. Contrary to popular belief, testers do not directly interact with the code but send requests to API endpoints.
Subspecies
In contrast to the classic kind, where developers detect bugs on their own, API testing is performed by QA specialists. There are 5 kinds of API testing in total.
Unit testing
Fully automated testing when scripts run after a new version of the product is deployed. Its coverage directly depends on the number of implemented functions and data set. Its task is to identify the slightest inconsistencies in the information exchange process.
Unit testing of API is the main kind, affecting which tests will run next.
The data exchange between all app components must be seamless and fast. Any delays or deviations cause concern and close attention of testers. During development, specialists must debug the system and make it work as a single element, so integration testing is the only effective tool for checking the compatibility of all parts.
Negative testing
Users tend to make mistakes: enter invalid data, confuse language layouts, and neglect the logical chain of actions. Negative testing means entering deliberately incorrect data into the API. Using this technique, testers determine if the system responds to erroneous actions correctly. Experts evaluate the system's viability by inputting invalid values to the database, describing the ideal response model, and comparing it with the actual result.
Performance testing
The most suitable case where API test automation may be used is performance testing. Testers check the system for stress resistance by emulating hundreds of simultaneous requests. They gradually raise the bar and identify the critical moment of overload and the program's response to it. API reliability testing is another king, but these methods often duplicate each other, and the difference is actually minimal. For example, to check out the system's stable operation, it is enough to re-login every 10-30 minutes using the same account.
Security testing
Since the API is almost the app's shield and its first line of defense, the protection must be perfect. Obviously, chances of penetration increase when the system is overloaded, and the best response is to completely shut down the system until you restart it. This kind of testing is not always accessible for beginners, so experienced testers are often involved. Their task is to check all critical aspects: entry points, gray APIs, external spam, and so on. Customers often refuse to test security, citing unnecessary costs and lack of demand. Needless to say, they are very wrong?
Random tests
Each API is built in a different format and amount of data. What happens if an unauthorized package goes to one of them? There are 3 outcomes: perceiving it as correct, refusing to process it, or switching off. If you have got the first option, it's time to analyze the component more deeply and teach it how to respond correctly. There is no methodology and time frame for this type of testing. It is used with other methods or standalone, depending on the tester's preferences.
Compliance tests
Perhaps it is one of the main API test automation methods. It includes checking the app's logic, processing user feedback, and testing "socialized" scripts. It's a kind of acceptance testing focused on API and interaction with data.
How to automate API testing?
There are dozens of unique and practical API test tools, but most do not support automation and parallelization. This list contains API automation tools proven by ZappleTech. Regardless of the payment model, they are market leaders used by thousands of testers worldwide. Let's meet these heroes!
JMeter
One of the top solutions for API test automation. You can test static and dynamic web resources and browser apps. JMeter works both with complex products and their components.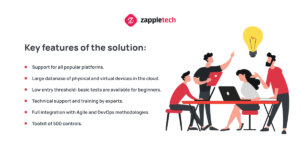 The tool allows you to create scripts, edit them, and analyze them conveniently. The built-in algorithm analyzes results autonomously, focusing on cyclical errors.
SoapUI
It is a universal API automation tool and one of the most popular assistants to QA specialists. It can be flexibly configured, executing test scripts equally well locally and in a cloud environment. Complete integration with tools for Agile and DevOps makes it a favorite among advanced development teams.
Its features:
Full cycle automation support.

CI/CD integration in full package version.

Flexible system for creating scripts and complex tests.

Convenient forms and readable reporting formats.

Emulation of APIs and protocols.

Flexible pricing model.
Don't mind the paid distribution model because the tool costs the price. You need some training and experience to use it, but enthusiasm will help you to master SoapUI quickly.
Postman
If you need a full-fledged platform for API automation tools, you should pay attention to Postman. This solution contains the best tools and technologies, ensuring continuous testing throughout all sprints. The centralized storage system provides quick and convenient access to documents, scripts, and reports.
Key features of Postman:
Analytical tools for reporting and planning.

Workspace system: personal, shared, or team mode.

Complete CI/CD integration out-of-the-box.

Flexible pricing model.

Open API repository.

Large community and reliable technical support.
Postman is one of the central players in the QA market. Flexible and reliable features make this product a leader among API testing software.
Let's summarize
Now you know what API test automation is. Of course, it's a serious and responsible process. The performance and viability of your MVP depend on the quality of the service. That's why you should not delegate QA to beginners or freelancers. Only experts with extensive experience and skills can solve your task as quickly and efficiently as possible. Order ZappleTech services and release your IT product on time without bugs.