Software testing and quality testing have become an integral part of developing and maintaining an app, any program. Indeed, applications interact with each other through APIs, use legacy systems, and become more complex every day in a non-linear manner.
At the same time, any system's increased complexity also implies a significant number of additional problems and nuances. This also complicates the testing process, and in response to this, we must introduce new tools and methods. One of these options was AI automation testing.
A New Era Is Coming
It has already arrived, as the AI approach was practiced several years ago. More specifically, it's about AI with machine learning (ML) involved in testing. The latter one is a technology for recognizing patterns, patterns and predicting future trends based on the received data. This gives significant advantages in testing, making it possible to predict situations.
Why is AI in Test Automation a Good Idea?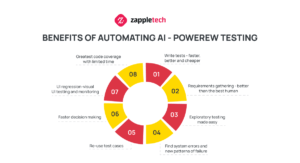 The forecasts and data from Statista claim that AI's software market revenue will only gain momentum. Moreover, by 2025 it will be about $126 billion. This shows that the introduction of AI in test automation already covers almost all areas of activity. And the company only wins from this.
High Accuracy
No person is immune from mistakes. Without exception, even the most experienced and smart software testers are subject to them, especially if we are forced to perform dreary and monotonous work.
So, AI test automation will solve the problem with the human factor. It will perform the same actions without deviation, provide a detailed record of results, and offload employees to create new products.
It Saves Time and Money
Software testing is repeated many times, and this adds the need to change the source code each time and introduces the need for some expenses.
What AI in Test Automation offers: you can reduce the cost of rewriting the source code and offload staff for creative tasks. As a result, you will also get to deliver work many times faster, reducing testing time.
Go Beyond Manual Testing
Imagine a website test with over a thousand users. This is tremendous work that takes a lot of time and effort, and without AI in test automation, it would be an incredibly difficult task.
It allows you to simulate thousands, hundreds, and dozens of virtual users who can interact with web applications, software, and network applications.
Expands the Scope of Testing
AI test automation tools also allow you to cover more during testing. For example, they may analyze other aspects of programs, capture additional factors and analyze them.
User-Friendly
It's impossible not to notice that such tools greatly simplified the testing process. The user can see all the test results, track failures and errors, fix them immediately.
5 Ways How to Use AI in Automation Testing
Visual Automated Testing
Visual is just one of those aspects that need human control. Developers can now create machine learning-based testing to detect visual bugs in software.
This approach helps to reveal the visual correctness and objectivity of the application. The tester can confidently know about certain problems with the UI and solve them promptly.
APIs Testing
You may know that an API is testing software that allows communication and data exchange between two software systems. As a result, it can detect application defects better than UX testing.
However, you will need a higher technical knowledge and tools when testing at the API level. With this, software testers must know the subject area's necessary knowledge.
You can turn manual UI tests into automated API tests with AI in software testing, which makes it easier and care-free.
Domain Knowledge
So, AI in software testing contributes to better application testing. For example, they help testers develop codes and test scripts, especially during the most difficult stages of testing.
But a competent tester also has enough domain knowledge to understand when to run manual or automated tests to run test cases. Moreover, it is important to know how the application will work and benefit the organization when using AI for test automation. Thus, machines will be able to write flawless codes themselves. At the same time, manual tests are preferable for handling complex test cases.
Spidering AI
Using spiders has the feature of pointing to your web app from AI tools. It then starts automatically scanning the application by scanning and collecting data.
Over time, tools create a set of data and templates for your application as tests run. Then, AI test automation tools point out potential problems.
In this case, an expert with knowledge of the domain will have to confirm whether the problem flagged by AI is a bug or not. Spider AI can help you understand which parts of your app to test. Simply put, the AI ​​will perform heavy tasks, and the tester will have to check the accuracy of the results.
Robotic Test Automation (RPA)
Robotic process automation (RPA) performs repetitive business processes without human intervention. This helps to automate existing interfaces in IT systems and fully support them. RPA scans the screen, navigates through systems, and identifies and collects data.
Tasks are performed exclusively by bots, and tests can be done using the web, desktop, or mobile applications. In addition, it helps set up test data and run regression tests.
The main benefits of RPA are:
scalability;
codeless testing;
cost savings;
increased productivity;
accurate results;
flexibility.
So AI in software testing can automate half of software testing procedures. For example, testers can use machine learning to teach systems to detect bugs that might go undetected by manual testing.
Top 5 AI Test Automation Tools
However, successful testing automation is impossible without worthy tools. Over the past year, these six AI test automation tools and apps have been in high demand among testers.
TestCraft
This tool is powered by Selenium and is suitable for regression and continuous testing. Test Craft allows you to reduce the time and effort of maintaining and tracking web apps.
The program also allows you to conduct automated graphics tests and does not require particularly high knowledge in coding.
Applitools
It is a software platform for visual application management. It also offers a uniquely comprehensive platform that is applicable to a variety of tasks and areas:
DevOps.
Digital transformation.
Manual quality control.
Design.
Test Automation
The uniqueness of this tool also lies in the fact that it has computer vision that mimics human eyes and brains. Applitools Eyes captures and analyzes your entire application screen with a single line of code. This tool offers a fast and convenient method of cross-browser testing, with support for all testing environments and languages.
As a result, you have one of the unique and functional AI test automation tools that detect 45% more defects and work 3.8 times more stable, 5.8 times faster.
Functionize
This is a universal tool for all popular types of testing, including functional testing. It also uses machine learning, which makes tests even faster and more accurate.
Functionize allows you to quickly create AI-based tests, and it also automatically updates these tests. Functionize is considered to be the most powerful enterprise AI testing tool/platform in the industry. This tool can run thousands of tests in a couple of minutes and integrates with existing tools.
Sauce Labs
This tool claims to be the largest testing cloud with 800+ browser combinations, not to mention 200+ mobile simulators and emulators.
In short, it is the most popular cloud-based test automation solution using machine learning and artificial intelligence.
Testim
This tool uses machine learning to create, execute, and serve automated tests. Particular attention is paid to functional, end-to-end testing and user interface testing.
The tool gets smarter with more runs and improves test suite stability. Testers can use JavaScript and HTML to write complex programming logic.
AI in Automation Testing: Final Words
With each passing day, as AI permeates the software development life cycle, organizations are still considering whether or not they should fully incorporate it into their product development practices. But statistics and practice show that AI-based test automation will gain momentum and prospects.
Moreover, such testing is already used in the API, visual, and spidering. So, testing becomes not only faster and more accurate but also more diverse, which significantly frees the hands of testers. Especially if you use functional AI test automation tools.
ZappleTech is a company that knows everything about functional testing, AI, and Machine Learning and the use of these technologies. We provide high-end automated testing in areas such as:
Contact us, and your result will be even more than you could expect.