Introduction
Automated UI Testing has been a widely discussed topic lately. As its name suggests, it stands for automating the process of user interface (UI) testing with the help of various automation tools, frameworks, and scripts.
It is extremely important to validate that the user interface is functioning correctly because the end-users interact with the application and access its functionality through the UI. So their experience (and satisfaction) with the solution largely depends on the way its user interface works.
In this article, we will explore automated UI testing, its benefits and challenges, and what it consists of.
What is automated UI testing?
Automated UI testing is the process of verifying that an app's UI not only behaves as intended but also empowers users to make the most out of it. This includes making sure that the app is not only visually appealing but also that it's able to do its job effectively.
The main aspects of UI automation testing are as follows:
To make sure that the UI of the application is intuitive and user-friendly, its workflow and navigation are correct
Make sure that the app works correctly in different environments: browsers, operating systems, devices
Check if the user input is handled correctly; validation against the invalid one
Check if there are no spelling mistakes or internal messages that have gone to production accidentally
Ensure that all the fonts sizes and colors are readable
Automated UI testing is done by a visual regression tool that runs on a web browser.
Benefits of UI test automation
UI test automation has many benefits. It enables testers to move faster, to test on any device, and to ensure that the software is working correctly. It also helps the team to maintain a better coding standards. Let's see a detailed breakdown of UI automation benefits.
Increased speed
Automation allows running tests much faster than manual testing ever could. Completing multiple QA tasks on different devices can take seconds instead of hours. It also allows performing multiple tests on different devices, and it is possible to run these tests in parallel. With UI test automation, you can also reduce the cost of software development, since less time is used for testing.
Running tests 24\7
Using UI automation, QA testers are able to automate the process of testing, running scripts constantly and uninterruptedly, finding bugs in real-time as soon as they are introduced into the software. It significantly increases the efficiency of testing, and it also makes debugging cheaper.
Cost-efficiency
The cost-efficiency of automated UI tests is the main reason many companies are making the switch to automated web and mobile UI testing. Once the initial investment has been made, the return on investment can be huge. With an automated test environment in place, fewer QA hours are needed to cover the scope of test cases.
This means more time is available to focus on the development and implementation of new features, which could mean a huge growth in the company's profit margin.
High accuracy and reliability
There are many benefits of automated UI tests. One of the most important benefits is the high degree of accuracy and reliability. UI automation tests are highly accurate because they rely on data that is generated by the software. The tests are also highly reliable because they are not handled manually and are not subject to human error.
Reusability of scripts
Automated GUI test cases prove to be useful for many reasons. The automation process allows the testers to work on more than one project at a time and to reuse the same scripts across different projects. The test automation software is also easy to share among the teams. It allows the automation scripts to be executed and shared on one central server.
Challenges of UI test automation
When starting to implement UI automation testing, the team may encounter a number of challenges.
Multiple error handling
If you are testing a website or app, you will most likely be faced with multiple errors during the course of your testing. As the tester, you will need to examine each error, decide which actions should be taken, and put those actions into a process. It can be a tedious process, especially when there are large projects with complex scenarios.
Frequent UI changes
UI changes are a common occurrence during the development process. This is why it is important to have a well-maintained testing script. It will help you to keep pace with the changes in the application.
Image comparison
Image comparison is an important factor of UI testing. It is a crucial factor as pixel variations in size, color, shape, and formats should be handled effectively while testing website UI.
However, there are many complex scenarios that are difficult to handle, especially when your website is mobile. For instance, image comparison can be difficult when your application contains a slider, a slimmer, or a factory-style horizontal or vertical scroll.
Longer script execution
When dealing with web UI automation, it is typically very time-consuming. When it comes to the length of the script execution, it is often the case that more execution time is required, and often it takes more time for execution.
There are a number of reasons why this occurs, including the web UI, being slower, the automation tool being slower, or the test scripts are not designed in a way that makes them quick to execute.
When do you need UI test automation?
There are certain circumstances when automating UI tests is the best decision. Based on the project, the type of automation, and the availability of resources, here are a few examples of when automating UI testing is the best decision.
Scaling long-term projects
Automating your test automation requires a significant initial investment for hiring or training the required automation experts and using certain UI automation testing tools. But it leads to an increase in Return on Investment (ROI) in the long run. Yet, the project should be large and extended enough to see this benefit.
Many repetitive UI tests
Repetitive UI tests are among the best candidates for automation. Performing the same simple task manually over and over again wastes much time and effort of the testing and/or development team, which should be better spent on more creative and complex assignments that require expertise. Robust UI test automation is one of the most powerful tools a testing team can have.
Simultaneous test running
The number of user interface tests can grow quickly depending on the complexity of the project. It can reach 3000 and more. When the number of tests increases and the time to run them fluctuates, the testing process becomes unpredictable. This is when the automation of user interface tests becomes really important to accelerate the testing process.
How to set up UI automation testing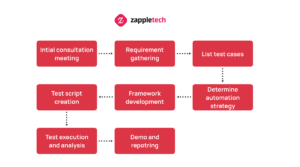 Here is a brief guideline on how to establish the processes of UI automation testing.
1. Initial consultation
Its purpose is to define your goals and objectives, learn about the test automation options that best fit your needs, and get a general idea of the time frame and budget that your test automation project will have.
2. Gathering requirements
In order to determine what type of automation will be used for a project, the UI automation team gathers project requirements. This is done based on the architecture and technology used for application development.
During this stage, the testing teams identify the testing and product knowledge at their disposal to determine whether external technical assistance will be required.
3. Listing test cases
When designing a UI for a website or app, it is important to create a test case for each and every action in your UI. These test cases help you test the interactions and functionality of your application. They also provide a visual depiction of how the application works and serve as the basis for your project's scope and strategy.
4. Deciding on UI automation strategy
UI automation strategy is dictated by the QA team. It's important to have a plan in place before you start designing the UI automation test. It's also important to have a plan in place after the tests have been designed. In order to start the test, the QA team needs to determine the languages to be used, what test data to use, and how to test the UI.
5. Framework development
Once the automation strategy is set, the next step is to develop a basic framework for automation. A framework is a collection of scripts, tools, and processes that a team uses for automation. The framework should be designed for ease of use and to provide a reduction in overhead. Frameworks should also be designed to account for any unexpected or unplanned changes.
6. Writing test scripts
The UI automation tests are created using the test cases outlined in the initial stages. This test script is then used to run the automated UI tests that are necessary to ensure the UI is working properly.
7. Test execution and analysis
Upon completing script development, they are executed in batches. During this step, it is crucial to analyze the results for feedback purposes. Additionally, check for defects to ensure no test script failures are encountered.
8. Demo and reporting
Once your tests are completed, you need to present the test results. For this purpose, you will need a report generator that can be used to present the results to the stakeholders. The report generator should be intuitive, automated and follow the defined test case sequence. It should also allow you to filter the results based on the specified criteria.
Conclusion
In this article, we talked about automated UI testing, its benefits, and challenges. We hope you enjoyed our article and found it informative. As always, feel free to contact us anytime, and we would be happy to answer any questions you have.