The growth of the e-learning market is driven by the Covid-19 pandemic and global digitalization. According to Statista, the total cost of online courses will reach $243 billion in 2022, which means that platforms for continuing education will remain in demand in the next decade. According to an analytical study by ClassCentral, distance learning has already attracted more than 180 million students worldwide, who have completed 16,000 courses. The numbers are impressive, but few people know that QA testers, software developers, and content specialists are responsible for the success of digital course websites.
ZappleTech experts researched the E-learning test topic and collected the most interesting materials for you. In this article, you will learn about the history of digital courses, the SQA process for eLearning platforms, and its automation. We promise it will be interesting and informative!
E-Learnings Platforms: A History of the Dawn of Digital Courses
It is believed that the first learning systems date back to 1924, but it is not entirely true. At that time, primitive devices were used and tested in a stationary mode. But yes, it became the starting point for digital courses in the way we know today.
The first true step in virtual learning was the release of the Mac PC, which introduced thousands of users to the Internet in 1980. Although floppy disks could contain quite a bit of data, and real-time communication with teachers was difficult, it did not stop enthusiasts willing to learn. In 1995, the first traditional digital learning systems appeared (LMS), which are still developing.
The turning point for the entire virtual world was 2010. During this time, social networks such as Youtube developed, where training videos were published, Twitter, and LinkedIn, which became common communication channels for many years. Since then, classic LMSs have evolved into full-fledged virtual products and are still popular all over the world. Also, at that time, a new form of education was born — MOOC, or a massive open online course.
Now, in the midst of the Covid-19 pandemic, online learning has become a kind of routine for most people, closely intertwined with the daily hustle and bustle. Refresher courses have helped millions of users to get an education and change their jobs.
E-learning test: challenges and tasks for SQA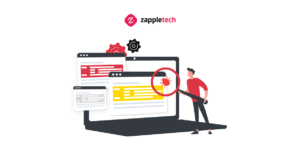 With the development of learning systems, it became necessary to introduce new functions, content, and control logic. As with any IT product, there are many design and delivery challenges. Incorrect code, irrelevant description, or errors in text and controls: all this reduces the effectiveness of the training and user experience. Let's take a look at the most common and annoying moments and talk about how to avoid them by testing an IT product.
Key points for a successful launch of an online course:
Optimization for different devices. Not everyone uses modern devices to gain knowledge. Adapting to all specifications is a difficult but feasible task.
Grammar and lexical errors. It is very striking and casts doubt on the competence of the course author. To solve this problem, copywriters should be involved.
Design and interface. Convenience is a priority in such systems. Attractive design catches users no worse than high-quality materials.
Easy presentation. The low rate of successful passing of tests directly depends on the perception of information. The easier the material is presented, the better the students master it.
Logical elements and links. The content used in the program must be clickable, in good resolution, and well-integrated into the interface. The user experience and the success of the course depend on it.
Relevance of information. Why do people buy access to training programs? Of course, to get maximum useful data and relevant knowledge.
It is the minimum required for a digital platform release. It is enough for a full-fledged MVP launch on the market. But before releasing a product, you need to make sure that the material is relevant and consumers won't have problems with the software. It is where SQA and testing experts come to the rescue.
QA Tasks Before Release
As you know, testing is the foundation of the viability of any IT product. Platforms for digital user learning are no exception. Here the main emphasis is on quality presentation and correct interface operation. That's why the main tasks for testing are:
Checking the solution's performance, its uninterrupted operation, and the load on the consumer's system.
Proofreading of texts, correction of mistakes: descriptions, FAQs, and answer options.
Updating content and its quality. Image resolution, video and link processing.
Testing the interface, its compliance with the described blocks, and output relevance.
Investigation of user situations in non-standard scenarios and variations.
Testing for adaptability to various systems, screens, and resolutions.
Doesn't seem difficult, right? The main goal is to identify all bugs before release, ensuring the best user experience and maximum audience response. So where do you start your QA process? Let's figure it out.
Software testing learning websites: automation, manual testing, tools and steps for QA implementation
Since most digital learning platforms are cloud-based and implemented as web apps, we will consider them in the context of testing with traditional methods. As you probably know, not all QA processes can be automated. To effectively test the app, you need to prepare cases for manual and automatic testing immediately. It will save time and won't distract you during sprints.
When to start an e-learning test?
As with all projects, it is best to implement SQA from the early development stages. It will save your time and money, and the released IT product will initially be of high quality, increasing the company's income. For the sake of fairness, we note that testing can be started at any stage, and it will be profitable anyway.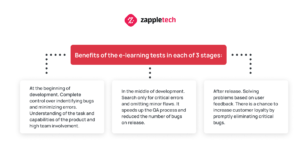 The time when the search for errors begins is not a critical factor. You can benefit from any situation if you solve your tasks correctly. But we, the ZappleTech team, still recommend starting QA at the beginning of development to avoid problems in the future and not risk your reputation.
Automation: what exactly are we optimizing?
Let's mentally decompose the main components of a digital learning platform in a virtual space: server side, framework, interface, design, and content. Which of these should we automate in tests? Perhaps we will focus on the first three components:
Check the server part with any suitable tool, focusing on request processing speed and the relevance of the values returned from the database.
Automate the framework: from control buttons to data input/output fields. It is vital to eliminate all errors related to logical elements.
Check the design by analogy with the interface: focus on performance, fails with textures, and errors when rendering some elements.
Use cases are also included in this list. It is like classic web application testing when everything possible is automated and parallelized.
Tools for QA Automation and Parallelization
In one of the previous articles, we discussed tools for test automation and parallelization on virtual machines and cloud servers. Now let's focus on three tools optimal for the e-learning test. We use them ourselves and recommend them to our colleagues:
Selenium is one of the best tools for automating web app checks. Convenient script syntax allows you to adjust scripts for any test.
Cypress is a modern solution for QA engineers. It allows for creating custom algorithms from scratch or recording them from the screen, increasing the tool's flexibility.
Playwright is a cross-platform product that supports all browsers and systems. It solves any tasks related to end-to-end testing of web applications.
This list is optional for every tester. We just recommend things we use on our own. Of course, to use Selenium, you need a background and some training, but the spent resources are offset by the demand for trained specialists in the IT market.
Let's summarize
For full-fledged testing of learning websites and software, you need the following:
A team of specialists.
Product roadmap.
Understanding of software and its functions.
A set of automation tools.
Sprint testing time.
Skills of working with scenarios and scripts.
Need a team of experts to test your digital platform for online learning? Contact our manager and order the services of the best experts in the QA industry.
If you like the article, leave your comments or questions, and we will answer you. ZappleTech monitors the IT market and trends in the world of high technologies, collects, analyzes, and prepares information for you. Subscribe to our updates! See you soon!