According to the GMInsights research, the value of the QA services market in 2020 exceeded $40 billion and will grow by 7% annually, reaching $60 billion by 2027. It is clear that the testing industry is in demand and is essential when creating modern complex systems and single products. If a company releases the first software version containing performance or interface errors, most likely, customers will not appreciate it, bringing down the brand rating and moving to competitors. Therefore, it is necessary to ensure quality control at the early development stages. The cost of a mistake can be prohibitive even for large organizations and even more so for startups.
ZappleTech experts studied the QA industry and prepared information on its importance and role in the viability of an IT product. From the article, you will learn in more detail about checking projects for "sanity" and how to identify errors at all stages of application development with sanity testing automation.
Sanity testing: goals, objectives, blind spots, frequency, and problems
Health testing is one of the most demanded aspects of QA. With its help, problematic areas can be identified which are either disabled or do not fully perform required actions. This procedure is most often performed spontaneously, but it is a fundamentally wrong approach to the duties of a specialist.
Sanity testing is needed for:
Checking the finished build and each component.
Identification of non-working functions.
Comparison of results using the "white box" method.
Surface testing of each item.
Obtaining information about the progress of an IT product.
Defining major and minor bugs.
A bit like a kind of regression testing, isn't it? In fact, a health check is its component, although it makes sense to consider them separately, not combined in a complex.
Sanity testing tasks:
Reducing non-working functions.
Cursory check of the product at every stage.
Indication of development progress and its effectiveness.
Additional collection of information about unresolved bugs.
Spontaneous checking between sprints or during them.
Study of the main problems, analysis, and prevention.
Performance testing is provided by the "white box" method. Although limited in scope, it improves the final quality, reduces data scatter in the reports, and facilitates faster error recovery.
Frequency of automated sanity testing of an IT product
The more often, the better. You can start preparing for testing from the start of the project, but the effectiveness will be revealed only after compiling the first builds. If builds are compiled daily, it may affect productivity because testing for operability takes quite a lot of time (about 20 minutes per cycle).
An important process, but performed as a secondary one? Yes, that's right because other types of testing are more prioritized due to deeper product analysis. Automated sanity testing is used to solve this issue, and we will discuss it later.
Blind spots and sanity testing issues:
So, testing starts only after compiling a working build, which is the main problem of this solution. Unlike the others, performance checking is about looking for deviations between the actual and expected results. The intermediate state of an IT product is a blind spot that neutralizes attempts to investigate the functionality for errors.
The second problem with performance testing is superficiality. You cannot set more advanced parameters for the scenario, only the expectation/reality comparison. Actually, it is not a critical disadvantage because the test is a component of regression testing performed to get additional information about the product during sprints and spontaneous checks.
Sanity vs. smoke comparison: different approach and philosophy
Many people compare these 2 types of testing, which is a mistake. While health testing reveals superficial problems only, smoke testing is used to scan a wide area at all stages. Sanity testing looks for a known result, while Smoke determines whether the function is executed fully or interrupted at some stage.
Let's take a look at the main differences: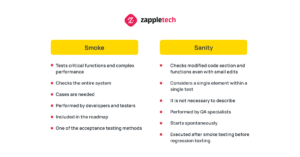 This table demonstrates the difference between these types of checks. They cannot be compared because they are complementary and focus the attention of QA specialists on different areas of the product. Both tests are vital and cannot be mutually exclusive.
An example of using Sanity during testing
Imagine a marketplace project. This marketplace gathers sellers who pay commissions from each transaction to the platform's owner. For example, the tax is 10% from sales +1% for intermediation when paying with a bank card. We need to check if the tax is calculated automatically and transferred to the owner's account.
We use the transaction amount of $350 and 2 virtual cards: a seller and an intermediary. Then we provide transactions and look at the balances. If the seller receives $311,5, and the intermediary receives $38,5, the test is successful, and the result is relevant. If not, we test the entire system for a bug and delegate the task to fix it to developers.
Actually, it's not difficult to repeat this procedure every day, but the specialist will get bored and postpone this case after a week. But what if this process is automated and included in sprints on an ongoing basis? Do you imagine?
Automated sanity testing: advantages, tools, profit
Why do you need to automate processes performed spontaneously? To improve the efficiency of testing in general and check functions after the slightest changes in the product code. We put this kind into the priority list of tasks when working on a project, so we recommend not ignoring this vital component of QA.
Sanity testing automation has many advantages over traditional manual error checking:
It speeds up checking and comparing the expected result with the actual one.
Testing is parallelized, so it is possible to run multiple scripts for different functions simultaneously.
There is no need for strict control over checking each element.
More time to concentrate on more important and urgent tasks.
Decreased reliance on regression testing between sprints due to continuous troubleshooting.
The final quality of testing and its effectiveness are improved in terms of stability and the number of fixes before release.
To optimize the development and QA service, you need to run automated sanity testing during sprints, starting from the early stages of project development.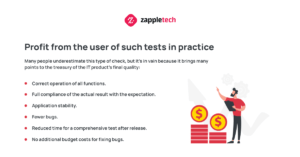 Do the implementation team and the customer benefit from sanity testing automation? What do you think?
Tools to optimize the sanity check process
Due to the limited testing area, almost any basic automation tool is good. It should work with the interface, input/output data, and analyze it. Therefore, select an option suitable for your technical stack as well as product type and features. In our projects, we use classic software and automation environments that have proven their flexibility, versatility, and reliability.
Best tools for sanity testing automation:
Selenium is one of the most popular products for automating interface and functionality testing. Works with a wide range of technologies and supports scripting.
Cypress is a widespread test automation tool. It supports algorithm-based customized scenarios and has a recording/playback feature, which makes it versatile for testing web solutions.
Playwright is a good cross-platform alternative to other web product testing apps. It supports extended syntax, all popular browsers, and many programming languages.
These tools are our favorites, but we also use other products that help us deal with minor tasks.
Let's summarize
Many people believe that sanity testing automation is a component of regression testing, and it is not needed in a stand-alone version. We think otherwise. Our team considers it an additional tool to provide clients with the best QA experience. If we reduce most bugs with its help, it will result in the customer's satisfaction and a successful product.
Need to test an IT product? Order this service from our manager, and we will provide you with quality services that will speed up your product's release and get income in a short time.