Introduction
With the introduction of continuous integration and delivery (CI\CD) practices, software development has made a great step forward. It also influenced the quality assurance process and setting a QA pipeline helped to shorten delivery cycles and improve the software quality.
A QA pipeline is based on multi-level automation tests and continuous integration running them in different environments. With innovative QA practices, you can fully automate the testing and concentrate on developing and improving your application.
In this article, we will tell you, how CI\CD works and how to integrate test automation into a pipeline. You will also learn how to set up your own QA automation pipeline.
What is a CI\CD automation pipeline?
A CI\CD pipeline is a series of actions performed to deliver the new software updates through a DevOps approach. It introduces constant monitoring and automation of app development, especially at the integration and testing phases. Let's consider the CI\CD process in more detail.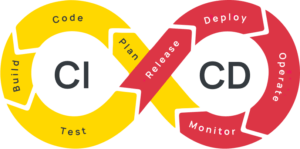 Continuous Integration
Continuous integration is a key component of Agile development practices. It is based on continuous bringing the code to the central repository after the successful launching of the tests. The main goal of continuous integration is to find and fix the potential issues as soon as possible, improve the quality of software and speed up releasing of updates.
Before continuous integration became a widespread practice, the developers used to work in an isolated way and united their results only upon completing the work. This was a time-consuming and labor-intensive process.
With continuous integration, the developers push their changes to the central repository executing unit tests. Then the version control system automatically checks if the code can be integrated with the existing one. The new code arrives continuously that simplifies the testing and lowers the risks.
Continuous Delivery
This is a set of practices aimed at continuous updating of the software. Continuous delivery helps to quickly deploy the updates on production without changing the existing features. How does it work?
Upon completing the feature, the developer sends it to the QA-engineers for testing. It's easier for them to write the test cases to the small new feature and test it. Upon completing the testing, the feature goes to further testing with auto-tests and then to the release branch in the version control system.
CD delivers the functionality gradually. It helps to immediately get feedback from the customers and make changes if necessary.
Benefits of CI\CD automation
Introducing an automation pipeline will help you to increase productivity and to improve the overall product quality. Here are the benefits of having a QA pipeline in your project: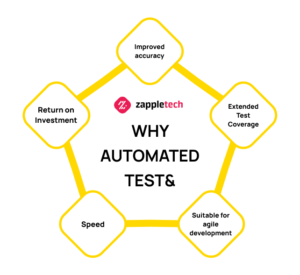 1) Small code changes
Using CI \ CD practices allows you to introduce small pieces of code into the software. Minor changes are easier to integrate than big ones, it causes fewer issues and doesn't require a lot of maintenance. Continuous testing pipeline allows testing small code items once they are put into the repository and helps to recognize the issue at a time.
2) Fault isolation
In case the issue occurs, CI\CD helps to leave the negative consequences limited in the scope. Limitation helps to reduce the potential for damage and facilitate the maintenance of the system. CI\CD ensures that you quickly identify the failure and prevent it from occurring in other parts of the software.
3) Smaller backlog
Introducing CI\CD into your development process minimizes the number of minor defects in your backlog that are detected before the production and fixed before the release. With little issues in backlog, the developers and testers can focus on more important issues and improve the products. This also improves the overall quality of your product — the customers will never see the majority of product bugs.
4) Reduced costs
Pipeline automation reduces the number of errors and the developer's time spent on bug fixes. With the time that was freed up and better code quality, the developer is able to spend it on improving the product that will also improve your ROI.
5) Better maintenance
Update and maintenance is an essential part of product development. Introducing a test automation pipeline will help you to maintain the product during downtime periods.
What testing types can be automated with the QA pipeline?
The automated pipelines are flexible and can take over different types of routine tasks, especially the ones related to the testing. With the help of the CI\CD pipeline, it is possible to automate the following testing types:
API testing
Load testing
UI testing
Unit \ Component testing
Functional and non-functional testing
Cross-browser testing
QA automation pipeline allows running different tests simultaneously for better efficiency. Having a CI\CD system can improve the fluency of many processes — version control, service virtualization, parallel testing of the software in different environments.
How to create a QA automation pipeline
A fast and reliable QA pipeline is based on continuous integration that runs multi-level automation tests across different testing environments. Since you are now aware of how a CI\CD works, we will give you a brief guide on creating an automated testing pipeline.
Step 1. Create a test automation framework
Test automation framework is a system allowing engineers to create, maintain and run automation tests for testing their app. To create an automation framework, you need to choose the tools you will be using for testing a different aspect of the system. This choice should be based on the skill set of your team.

For example, if the majority of your team doesn't have a solid tech background, you might choose the tools that allow creating the tests in human-readable languages, such as Cucumber and Robot framework. On the contrary, if your team mostly consists of tech-savvy specialists, you don't need to create human-readable tests and will be able to save time on test automation.
Step 2. Introduce continuous integration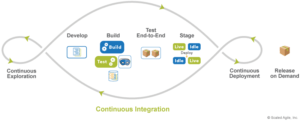 Once you have implemented your automation framework, it's time to configure a continuous integration environment. Usually, Jenkins is used for configuring the test automation servers. It's an open-source tool allowing you to run any kind of test and integrate with almost everything. It has a big community, rich documentation and a set of tutorials.
With Jenkins, you can set up a CI environment and automate the test execution on your local machine in a few minutes.
The automated pipeline has the following benefits:
Faster test results
Some tests have a longer execution time, and you can set them up so that they run at night, and you check the results in the morning
Avoiding human error
It is possible to run automation tests in parallel in different environments
Step 3. Identify which processes can and should be automated
While developing the automation strategy, keep in mind that it's impossible to automate 100% of tests and in some cases, manual testing will be more efficient than automated. So, before setting the test automation pipeline, you need to decide which processes need to be automated first.
There are two categories of tests subject to automation:
Tests that are run frequently
If these tests are executed manually, it increases the possibility of errors since the same test is executed several times a day. For example, browser compatibility testing involves frequent capturing of screenshots while testing on different browsers, devices, or OS. In these cases, test automation will save your testers a great amount of time.
Tests that require specific knowledge
It can be risky to depend on specialists that have the domain knowledge required for the test execution — they might be not available during a critical stage of the project. You can avoid such a situation by introducing a QA automation pipeline.
Step 4. Select a right tool set
Once you set up your pipeline, you need to choose which tools you will be using for test automation. Here are some criteria for your choice:
You can select open-source or proprietary software based on your needs. With an open-source one, you can modify the code in the way you want, yet you will not have strong support from the provider. You will have to pay fees for proprietary software, but the vendor will constantly update it and support their customers.
If your project requires storing the codebase on your own servers, you are welcome to choose on-premise hosting. On the contrary, you can select virtual infrastructure from a third-party cloud provider or use the testing product as SaaS.
Some tools have a large and active community where you can find the answers to the majority of your questions. This is a big benefit and can be an important factor in your final decision.
Integration with other tools
You need that all your tools interact smoothly: CI\CD, test automation ones, repositories, orchestration services, compilers etc. All the tools should also support the necessary programming languages and environments.
Step 5. Identify the weak points that lead to crashes
CI\CD pipeline aims at minimizing the number of issues during the deployment. Knowing the possible vulnerabilities of your system beforehand will help you to take measures on preventing the issues at the stage of developing the pipeline.
Conclusion
Having read the article, you know everything about setting up the QA automation pipeline. In case you want to trust this to the team of professionals, you are welcome to turn to our team. We will give you a free consultation and explore the possible options, choosing the best one for your needs.