The viability of an IT project depends entirely on the number of bugs found in the release version. It's obvious that most are fixed after the finished product is released, but the first user experience affects its further development and community support. According to Microfocus, 72% of respondents believe that bugs discovered during development are easier to fix than those that surfaced after release. We agree with this 100%, especially since the effectiveness of QA has increased with modern Agile and DevOps methods, much more powerful compared to the outdated Waterfall.
Talking about current SQA practices, we mean a complex of all testing types. They check the major part of IT product functionality. In fairness, we note that automation is not a panacea in finding bugs, but it is an additional tool for professionals. Manual and automated testing are integral components of QA in general. There are no tasks that can be done 100% with just one of these methods.
ZappleTech experts have conducted QA research for IT products. In this article, you will learn what challenges SQA solves and when to use automation testing.
Why automation testing is required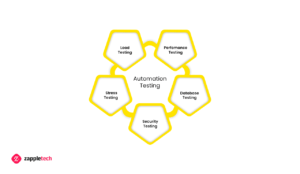 QA is now firmly rooted in IT development companies. Without this procedure, it's impossible to provide a high-quality product, avoid mistakes, and correct them timely. The testing teams took responsibility for the overall efficiency of the IT solution, finding dozens of bugs in code every day. Assisting programmers, they quickly monitor the app's condition, send timely bug reports, and check the changes made.
Responsibilities of QA staff:
Planning. From the early development stages, they write scripts and cases for testing vital features.
Creating instructions. Initially, this task was performed by contractors who sometimes even did not know how the application worked.
Testing. QA specialists manually check the implementation of a module or component according to received specifications.
Analysis. Generating reports and describing situations based on the results of the check.
Delegating. After comparing bug reports, testers delegate tasks to programmers who promptly fix the bug.
Control. After the developers respond that the problematic element of the code is fixed, the QA department rechecks it for errors.
These are the basic functions of SQA that even beginners in the field can easily handle. The main problem arises when tested data exceeds the human and time resources planned for the development sprints. This is where automation comes to the rescue.
Test Automation: A Powerful Tool in the Hands of a Pro
Many users who are not familiar with the nuances of QA believe that automation is about running a script and resting while it checks something. Alas, we are still very far from this. And even AI and ML are unlikely to cope with this job.
This procedure is a complex and painstaking process that requires performers with an IT background in coding and a little creativity. Also, dozens of tools are necessary, each responsible for checking a particular function and containing an arsenal of editors, constructors, and loggers.
But the main requirement for a QA specialist is understanding when and why automation is used. It can speed up the testing process or completely stall it at a standstill, increasing expenses significantly. Therefore, the benefits and risks must be carefully analyzed before starting.
When to use automation testing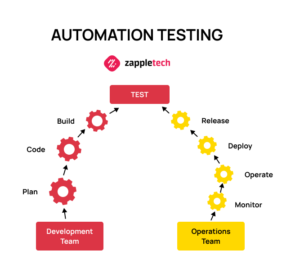 Despite the popularity of automation, many experts ask a reasonable question concerning when to use automation testing: in a sprint, between cycles, or at a certain stage of development.
It's difficult to answer this because many factors influence this:
Knowledge of the future software's features.
The number of QA personnel involved.
The amount of work on the project.
Deadlines for the final product.
Duration and number of sprints.
Manual check speed.
Modularity or solidity of the program.
Implemented and planned functions.
It is an indicative list. It varies depending on the type of IT product being implemented, the deadline, and the technical stack. Sometimes automation does not even pay off. Primarily, it is due to the cost of tools and skills of SQA specialists.
How to automate: Free vs. Paid
Automation programs follow two models: free and paid. The former is open-source and highly customizable, while the latter is strictly limited by its potential. Most importantly, each tool has a different set of commands as well as scripting and programming languages ​​supported. It causes difficulties when choosing software for test automation.
General recommendations for selecting programs for automation:
Estimate your budget and do not pay for unnecessary functions.
Choose a product according to your development methods.
Check the tool's stack support.
Explore several scripting languages ​​and pick the most suitable one.
Decide on a payment model in advance.
Use a solution that is convenient for you and train your employees.
If you have difficulties with choosing a test automation tool, you can contact us. ZappleTech consultants will offer you the best options that our company's QA specialists use.
When to automate testing: start, middle, or end of development
Test automation is just a tool, not the primary means to an end. It does not fix bugs found but helps to identify problem areas of the code and prepare appropriate reports.
Here are some steps to prepare for testing automation properly:
Write a complete testing plan, including all methods, regression, and both inter-sprint and final QA. Consider every point, even the smallest ones.
Explore the project, starting with the prototype and the implemented functionality, and ending with the essential functions included in the roadmap.
Prepare cases and describe each action to be performed step by step. Consider the expected results and potential situations.
Analyze cases and divide them into two groups: those that can be done manually or automated. Revise the lists once again and make the final list of functions to test.
Distribute responsibilities among team members. Delegate manual tests to beginners and mid-level specialists. Automatic tests are better to be provided by your professionals or outsourced.
After the SQA group launches simultaneous testing, study the results and submit critical bug reports to the developers.
It is best to prepare for automation from the first hours of the project launch. It is important to separate the priority tasks and the secondary ones, focusing on the main MVP functionality. You should also consider regression testing, plan it during the sprint, and write scripts before moving on to the next step.
Problems of Test Automation
As we mentioned before, test automation is not perfect. Its main cons are a high threshold of entry, strict requirements for QA specialists' skills, and routine scripting. Also, with urgent changes in the project, inconsistencies with the test case may arise when the solution needs to be rewritten from scratch or painstakingly edited.
Implementing automated software testing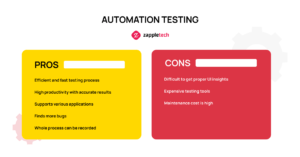 Let's summarize! To start automated testing of your program, you need to make a list of functions that are impractical to check manually.
These may include:
Custom use cases.
Cyclic checks of the interface for fault tolerance.
Testing of code elements for the relevance of results.
Regression testing during or between sprints.
Verification of payment transactions with virtual data.
Testing the database for the accuracy of values.
Automation solves most of the current problems of QA teams. Yes, some tests are better performed with manual methods, but we recommend combining these methods to improve work efficiency. Regardless of urgent tasks and the expected number of bugs, polishing applications before release is the priority of all SQA specialists.
If you still have questions about the material, leave comments, and we will answer all of them! The ZappleTech team constantly monitors the IT sector and looks for trending products, methods, and solutions to provide you with only relevant and helpful information. See you soon!