According to Markets and Markets, the global market for automated testing will approach $50 billion by 2026. Analysts are confident in a 19.2% CAGR. Modern trends require high-quality implementation of IT products from entrepreneurs. Even the coolest startup on the market is doomed to failure with a weak MVP with many errors and shortcomings.
QA as a concept was born recently but firmly entered the development cycle and the Agile methodology. Modern methodologies such as DevOps, Scrum, or Agile establish parity between developers and testers. No matter how ideal the application code is, it is difficult to assess its final quality without checking the functionality and the interface according to user scenarios.
According to Statista, the number of mobile users over the next five years will increase by 390 million, reaching 7.49 billion. Since 88% of smartphone use cases are mobile apps (as stated in the 2020 e-Marketer report), we will devote this article to them. Mobile testing tools deserve special attention because these solutions allow developers and testers to effectively check projects throughout all sprints, up to the delivery of projects to the customer. ZappleTech experts analyzed the mobile automation testing tools market and selected TOP 10 popular and in-demand products for QA Engineers and ordinary testers.
TOP 10 mobile application testing tools
Like testing web resources or desktop software, checking mobile apps has many features. For example, you need a base of connected devices from several manufacturers, with different processors, OS, and display resolutions. In this case, you will be able to provide a full verification cycle and eliminate problems with unsupported devices in the release version. It is physically impossible to test all existing smartphones and their modifications, but the cloud will help you: it's possible to emulate the necessary characteristics or connect real test devices from the database.
In most cases, you have to pay the tool's developers for such functionality, but there are also free solutions with limited features. Let's take a look at the popular programs, distinguish their strengths, and decide whether it is worth paying for them and how to save money when choosing a package.
Appium
When it comes to mobile application testing tools, Appium seems to be the most versatile. This tool can perform a full range of checks for mobile and web apps, as well as hybrid ones. What are its features?
Testing without project deployment.
Integration with modern methodologies: DevOps and Agile.
Scripting with native languages: Java, Python, Ruby, and PHP.
Open source and large community.
Flexibility and customization.
Working with advanced user scripts.
This cross-platform tool with a large arsenal of functions is a universal solution for any QA team. It combines easy management and detailed testing scripts. It's a compulsory component in the arsenal of a modern tester.
Ranorex
The interface is the main element of any mobile and web app. That's why checking the interface for errors is an essential point in the developer roadmap. Ranorex complies with all the modern requirements, being one of the best mobile automation testing tools. Its strengths:
Completely automated regression testing.
Quick editing of tests by keywords.
Support for datasets from external sources.
Cross-browser checks: one test for all platforms.
Working with Windows, Android, and iOS.
Browser support: Opera, Firefox, Chrome, IE, Safari, and Edge.
A flexible pricing model allows you to choose the best option for the requirements and budget of your team. When you purchase a package, you access parallel testing in the cloud, where thousands of different devices are emulated. It speeds up and optimizes checking your IT solution for several platforms simultaneously.
TestComplete
Another versatile software from the list of best mobile automation testing tools. Its functionality is enough for a comprehensive user interface check for stability and response speed. It's one of the most popular tools in the world of QA, the effectiveness of which has been proven by thousands of successfully implemented projects.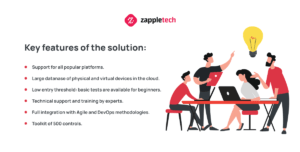 The program has a free trial period, and the pricing policy has options for any wallet. Even a single tester can afford a comprehensive solution with full functionality.
LambdaTest
It's a classic representative of mobile testing tools. This flexible and powerful software has great potential, and QA Engineers make sure of it every time they run it. The package solution includes a complete set of instruments: a cloud, emulators, and a script editor for testing web apps and mobile solutions.
The advantages of the program are:
Easy and customizable interface.
Flexible custom script editor.
Base with more than 3,000 devices, both physical and virtual.
Fully automated and parallelized tests.
Integration with DevOps and Agile systems.
Support for popular development languages ​​in syntax.
It is a professional solution for modern QA teams of experts. Its toolkit allows for comprehensive testing of the interface and functionality of apps. The complex is suitable for all development stages and can be easily integrated into the roadmap of any project.
SoapUI
A serious tool for developers. It helps test APIs and everything connected with them. Security, speed, and high load are metrics SoapUI deals with. It can be used as a mobile automation testing tool, but instead of functional or interface testing, it checks fault tolerance and reliability of API. It is suitable for web apps and hybrid or native mobile ones.
What is so special about the tool?
Full testing of API at all development stages.
Using SOC2 security protocol.
Emulating bundles and individual elements.
Support for data-driven testing.
Providing comprehensive statistics and reporting.
Flexible payment model.
That's a powerful tool that has won the trust and loyalty of developers and QA Engineers worldwide. SoapUI has proven its effectiveness, so experts use it in most projects.
Selenium
A generic tool, not just one of regular mobile application testing tools. With a built-in script editor, it is a favorite of many QA Engineers. It helps automate tests, parallelize them, or run single quick checks of particular functions. After minor edits, previously created scripts can be reused in the next sprints.
The features of the program are:
Cross-platform and multilingual.
High entry threshold and requirements for tester skills.
Support for parallel testing.
Large database of virtual and physical devices.
Reliable results and technical reporting on them.
Open source, customization, and extension base.
Selenium is one of the most popular tools on the market, proven by thousands of successfully tested apps. Despite the complex scripting syntax and high skill requirements, Selenium is a favorite among QA Engineers around the world.
SikuliX
Another top solution that can be used as a mobile automation testing tool. To run tests, you do not need access to the code, SDK, or other software elements: it is enough to have a compiled prototype with a working graphical interface. The tool supports JavaScript, Python, and Ruby.
The key features of the program are:
Support for virtual devices.
Working with ADB (experimental).
Integrated OCR tools and interface analysis.
Automated user scripts.
Action recording/playback.
Community support and open source.
SikuliX is a free yet powerful tool and an essential component in the arsenal of any expert tester. It's not easy to master it, but the program's functionality offsets it. This solution constantly develops and acquires new features, which keeps it up to date.
TestProject
Flexible testing of web and mobile apps is the strength of this tool. Its cloud computing power reaches 3,000+ connected devices and a local virtual environment. It provides easy and fast parallelizing of tests. The speed of checks can surprise even well-experienced testers.
The program's strengths are:
Virtual test environment deployed on a working device.
Cross-platform testing on thousands of different devices.
Integration with Agile and DevOps methodologies.
Free product distribution model.
Full cycle of testing: from load to interface.
Detailed reporting for each inspection cycle.
This tool is really enjoyable to use, allowing you to solve routine problems easily. Even QA beginners can master it. Access to the product is free, but the community supports it, investing in its development and modernization.
AppliTools
It is one of the most user-friendly mobile automation testing tools. It combines simplicity and a powerful arsenal for fast and efficient parallel testing of various devices. It checks the interface and functionality of mobile, web, and desktop apps.
The main features of the product are:
Working with popular development languages.
Integration with other test environments.
Easy customization of scenarios, including multi-level ones.
Fast processing of user actions and parallel tests.
Simple and clear reporting with logs and streaming statistics.
Flexible pricing model.
This high-quality and convenient product is one of the best QA solutions on the market. Testing experts and dedicated QA engineers should have it in their arsenal. Master it and use it when testing mobile, web, and desktop apps.
SpecFlow
It is one of the classic Agile and DevOps tools. It combines flexibility and reliability, being a favorite among most testers. SpecFlow tests mobile/desktop apps, hybrid solutions, and classic web resources.
Key features of the tool are:
Simple and user-friendly syntax Gherkin.
Joint work on scripts.
Seamless integration with other test environments.
Logical description of actions in scripts.
Clear and structured reporting.
Modular system for building test scenarios.
SpecFlow is a free tool suitable for any app. It is multi-platform, so you can emulate various devices or connect to thousands of physical ones in the cloud. Remote testing is an innovation in the QA market. It speeds up work and minimizes errors.
Let's summarize
There are many mobile automation testing tools on the QA market. With the proper approach, they simplify testing apps significantly. But having such software does not mean that you ensure 100% quality of the final product.
Nowadays, even a startup owner can afford the services of a dedicated IT product testing team. Working with the above tools daily, ZappleTech experts have thoroughly studied them. We eliminate all bugs during the development sprints and fix minor flaws before the MVP is released. Cooperating with us, you get the highest quality product timely. Order the services of QA industry experts and break into the lead!