According to statistics, 43% of hacker attacks became possible due to flaws in the software architecture. Meaning, that when creating almost half of the programs, the development team does not carefully check the system security quality. Such carelessness about the security of manufactured products can mean significant expenses for the company. For example, Google was once fined $50 million for non-compliance with the General Data Protection Regulation.
Obviously, the security of the software is essential for both end-users and the developer company. The latter should use appl security testing to improve the safety of their product. Zapple Tech specialists told what security testing tools exist and how to choose the best one for the needs of your project.
What is Application Security Testing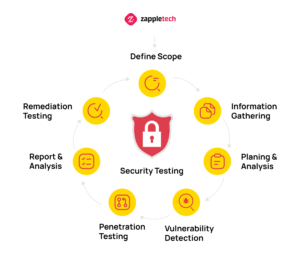 Security testing is a set of tests that are not related to the functional part of the program but are aimed at identifying weaknesses in the app architecture. Such testing is designed to assess how the product can withstand potential hacker attacks and how the system can prevent unauthorized data entry.
When carrying out the procedure, QA engineers need to concentrate on several goals:
Determining the primary subject of protection.
Checking for software vulnerabilities and the likelihood of harm to the product by third-party threatening programs. Among them is a low level of protection when a user logs into the system and operating system malfunctions.
Forecasting possible risks. Any testing is aimed at ensuring that the business receives a high-quality final product and profit. Accordingly, it is important to assess what dangers exist for the program and what damage they can cause.
Finally, troubleshooting. Naturally, testing by itself does not mean fixing the code. But the reports received contain recommendations for eliminating vulnerabilities and also allow you to monitor the success of fixing errors.
Types of Application Security Testing Tools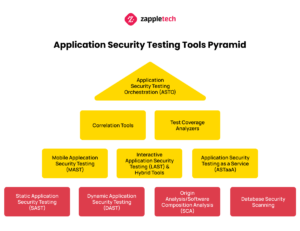 Consider 10 approaches to finding bugs in code that can lead to program security failures. Some of them are considered constitutive. Let's consider them first.
Static App Security Testing (SAST)
Finding bugs in code in the early stages of program design is the main goal of testers who are interested in reducing the cost of fixing bugs. This tool allows you to test the program at the beginning of its life cycle. It is possible thanks to the so-called "glass/white box" or "white hat" method; it involves the study of the source code in conditions where the QA engineer and the alleged hacker have data about the system's internal structure.
Dynamic App Security Testing (DAST)
It is the opposite of the previous tool. It is guided by the "black box" or "black hat" method. i.e., the QA engineer is not aware of the system's characteristics. It explores the weak points of the program in the course of its operation. Mainly used for testing web apps. The essence of the tool is the intentional introduction of malware and erroneous data into the software. The advantage of this method over the previous one is that with the help of DAST, it is possible to detect weaknesses in user identification in the system.
Origin Analysis/Software Composition Analysis (SCA)
The SCA tool works by analyzing code elements and comparing them to the registries of known vulnerabilities such as Common Vulnerabilities and Exposures or the commercial VulnDB registry. The use of SCA is most common for open source programs. The only disadvantage is that it does not recognize vulnerabilities for elements of its development.
Database Security Scanning
Data storages are not always an integral part of the program. Nevertheless, they are closely interconnected, apps depend on the information contained in the databases, and those, in turn, depend on the activities of the programs. Therefore, this type of testing cannot be ignored. The DSS tool works with databases in a static state, monitoring password weaknesses, configuration issues, and excessive administrative activity.
The rest of the tools are applied by test teams as new skills and abilities develop.
Interactive App Security Testing (IAST) and Hybrid Tools
Hybrid tools, recently called IAST, consist of a combination of app testing in a static state and active operation. They allow you to assess how true the statement is that known vulnerabilities can be exploited for a cyber attack in a particular functioning program. Agile and DevOps methodologies take this approach as an alternative to SAST and DAST, which are considered more resource-intensive.
Mobile App Security Testing (MAST)
Mobile Apps are exposed to many risks, including lack of trust in customer identification data, platform misuse, use of insecure mobile communications, and more. In this regard, testing mobile programs, including their security, deserves special attention.
The MAST tool is similar to other tools that test programs in a static and functioning state. But it also has several additional features designed specifically for mobile devices. They help reduce the risk of unauthorized access to data by allowing code to be injected on the client or server-side without source code.
App Security Testing as a Service (ASTaaS)
Using security testing as a service, i.e., accessing third-party services, will help you save a lot on creating your infrastructure and using additional resources. Such service consists of static and in-process software testing, including API validation, risk probability analysis, penetration testing with building cyber-attack models, and other functions.
Correlation Tools
QA engineers often face the problem of false positives or false negatives results. The tools discussed in this paragraph help to cope with it; they reduce the noise in the data, provide access to reporting and data from other ASTs, and allow them to be compared and evaluated. Most of them are used primarily to collect data from other tools, although some do come with a code review feature.
Test-Coverage Analyzers
As the name of this group of tools implies, Test-Coverage Analyzers evaluate which part of the code was checked during the tests. The result is the number of lines of code tested or available paths (in %). To visualize the result, it is advisable to determine the required coverage percentage beforehand and compare the obtained figures with the optimal ones. This tool can be used independently or be part of SAST.
App Security Testing Orchestration (ASTO)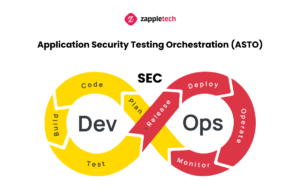 Due to the constant growth of the number of programs and the transition from one technology to another (e.g., from classical web products to microservices), available security testing tools are also growing rapidly. It is not uncommon for multiple tools to test a single product. In such situations, the Application Security Testing Orchestration, or ASTO, comes to the aid of testers. This tool helps to centralize the data management and reporting of all ASTs that run in a particular development environment.
Guidelines for Selecting Software Testing Tools Types
If you choose in favor of quality control of the security of the software you create, this is already a huge step towards success. Indeed, according to statistics, about 30,000 Internet resources are subjected to cyberattacks every day.
Now it is important to analyze which tools are right for your project. We have prepared some recommendations for you.
It is better to start security testing using constitutive tools (DAST, SAST, SCA, DSS).
If you created the program or if your developers have access to its source code, give preference to SAST.
If third parties write the program and you do not have access to its source code, use DAST.
In open-source programs, test with SCA tools.
Summarizing
Digitalization of all business areas requires software developers to fully protect apps from external threats, including those requiring maximum confidentiality (financial, medical, legal). Zapple Tech specialists can implement all your software security requirements. Contact us – with us, your apps will remain invulnerable to malware and cyber-attacks!