Any correction made to the code may affect other parts of the product. Projects with low code and architecture quality, as well as with impressive technical debt, are especially susceptible to this problem. As far back as 1975, Frederick Brooks wrote in his book that fixing one mistake is likely to create a new one. According to him, this probability is in the range of 20-50%. And even today, in a technologically advanced world, 0% cannot be guaranteed. However, we are confident (and know from our own experience) that it is possible to ensure high quality through automated regression testing (ART). In this article, we will discuss the main advantages of this method.
1. What is Automated Regression Testing
RT covers all types of tests that are performed on proven areas of a software solution after changes are made to the code and/or work environment. The purpose of such manipulations is clear – to gain confidence that the new version of the product does not contain defects and works stably. So, it makes sense to conduct tests if during development the code was changed, removed, or added, the version was updated (PHP/Java/Windows/MySQL, etc.), a transition to new servers was made, etc.
Of course, not all changes require immediate testing. Some changes can be tested in 10 seconds using a simple checklist or code review. For example, the text content on the site has been corrected, but this does not mean that the site needs to be rechecked. But if we are talking about fixing serious defects, merging code, migrating to another database or OS, and adding new functionality, then you cannot do without RT.
A popular practice is automated regression testing. Why? The fact is that such acts are performed frequently, which means that they require a lot of time, attention, and resources. Manually achieving the desired result is also difficult because it is fraught with errors. That is why ART becomes the optimal choice for any project, regardless of its scale and focus (be it trade, finance, or education). The main thing is to follow modern practices proven by professionals.
2. Best Practices of ART
Problems in a product often come as a complete surprise. It would seem that the developer made changes in one area, but it has affected another area that is not related to it. It is quite natural that if a team of 5 developers is working on a project, the likelihood of regressions during each release increases significantly.
At the same time, testers should remember that even small changes can affect functionality. It is important to focus on how well the change made fits in with all the code written earlier. As we said above, the manual process is too slow and tedious, which means it needs to be improved. In other words, testers should pick up expert test automation practices and analyze their benefits for a particular project.
Useful ART Practices:
Implementing Test Management Software. Such tools offer a wide range of features for working with requirements, preparing test cases, tracking bugs, personalizing dashboards, customizing reports, and more.
Maintaining a clear test schedule. It is important to stick to the original schedule throughout the project to achieve results. It will also help the team adapt to a regime where tests are performed regularly.
Categorization. Experts recommend dividing the test suite into smaller categories. The tool chosen for management will simplify the classification. This will save testers the trouble of identifying test types.
Creating a failed test. What to do if there is an unambiguous error in the code, but the test does not see it? One option is to write a new test that is known to fail.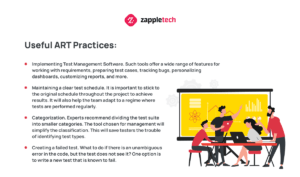 These seemingly simple recommendations can simplify the work of the whole team. But to implement certain practices, you need to clearly understand why this should be done and what can be obtained. We have prepared a list of the main benefits of automated regression testing for each of you to explore the key features of the approach.
Six Reasons for Automated Regression Testing
Freeing Up Resources
The first reason for choosing ART for a project is perhaps to save resources. If the team switches to automation (including checking some components of the product), it will have free time. It can be spent on researching non-standard solutions, setting up processes, and fixing bugs. As a result, the number of errors will be reduced, which means that the client will receive a first-class product.
Getting feedback fast
One of the obvious test automation benefits is getting instant data. If testers practice the waterfall approach, it only conducts RT before release. Automation allows for an iterative approach where work is done in parallel to analyze results and correct previous steps. This not only saves time but also allows you to quickly get the right data and correct any errors.
24/7 Execution
Automation makes it possible to run tests continuously at any time of the day. With a schedule, there is no need to be around and regularly run tests manually every day or week. You can run tests at a convenient time, including at night, and also run in the background. The continuity of the process is very important because it allows testers to learn about all the defects immediately before the product reaches the user.
Scalability
Manual tests are so tedious that they do not leave time and energy for additional tests and research. There is an increased risk of missing important nuances and missing serious errors, which will negatively affect the quality of the finished product. As we said above, ART can be an ongoing process. In terms of speed and frequency, the manual method is not able to compete with automation. This means you can scale processes and improve quality control even without costly resources.
Simplifying maintenance
A product acquires many new functionalities during development, which means that it has to be tested regularly (after each change). It is only natural that the set of tests expands over time. At one point it becomes difficult (or even impossible) to manage and maintain the tests manually. ART provides transparency, allowing tests to be configured without interfering with the code. As a result, servicing processes becomes easier and faster.
Better situational awareness
This method expands the power of analytics. This is especially true when tests fail. Testers who use this approach are more aware of the state of the product. This means they are more likely to recognize the problem and determine its causes. This increases the speed and accuracy of decisions to eliminate defects.
This is not a complete list of benefits and positive aspects of automated regression testing. We have highlighted only the key nuances that play an important role. In general, automation creates conditions under which it is possible to achieve success in a short time without serious expenditure on resources. The main thing is to use the right automation practices and strategies.