Developers need to make changes at various scales to keep an existing program in line with rapidly evolving business needs. But without proper control from testers, even minor corrections can cause the entire service to function poorly. Such program failures are tracked through the use of regression testing.
Some experts underestimate the importance of executing such tests. They equate them with repeated tests, giving an idea only about a piece of code and no opportunity to evaluate the program's work as a whole. In this article, we will try to exhaustively answer the question, what is the essence of automatic regression testing. Also, list ten of its tools that, according to Zapple Tech, are the most common in 2022.
What is Automated Regression Testing
Regression test execution is a comprehensive evaluation of the entire system after any amendment to the code, which includes functional and non-functional tests. Such testing is a highly resource-intensive procedure. It significantly slows down the process of creating software, making it more costly. It is impossible to do without regression tests; there is a known case when low-quality programs caused losses of about 3 trillion dollars. And that's just in the US.
It means that the problems of time and cost must be somehow solved. Many testers have found that the only way out is to automate regression testing. The advantage is that the procedure will take place with almost no human involvement, provide accurate results, and high speed of testing.
Even though regression testing automation requires the presence of highly qualified testers in the company, its implementation pays for itself 100%.
When are Automated Regression Testing Tools Needed?
Some QA teams still perform manual regression tests. This approach does not justify itself by any parameter – it requires too many human, time, and financial resources. If you're wondering if it is worth automating, ask yourself these 2 questions:
The answer to the first question is obvious; in the case of regression testing, its regularity speaks in favor of automation.
As for the second, let us consider which companies are interested in automating regression tests in the first place.
Companies with regularly updated software. Manual testing in such companies would take up most of the time of QA teams. As a result, the software life cycle could not fit into the financial and time frame.

Organizations that emphasize correct test results. Firstly, automated regression testing does not require the intervention of a QA engineer, so it can be conducted non-stop at any time of the day and show a more reliable result. Secondly, the human factor is eliminated in the automated process.

Companies whose projects are limited in time and have a clearly defined budget. The coverage of automated tests significantly exceeds that of manual testing. Thus, more tests can be performed in a given period, the product's quality can be improved, and it can be brought to the market on time and without additional costs.
Do you recognize yourself in at least one of these points? Then it's time to think about using regression test automation tools. Zapple Tech will help you decide which ones are worthy of your attention.
Most Popular Codeless Testing Tools in 2023
We have already mentioned that the transition to automatic regression testing, or any other testing, requires the presence of QA engineers with excellent automation skills on the company's staff. The use of codeless regression testing tools can simplify this process. Consider the most popular of them.
Subject7
The Subject7 solution is implemented in the cloud and is a platform for any type of testing: desktop, mobile, and web apps.
The platform allows you to:
Perform regression testing not only for experienced QA engineers but also for technically untrained users.

Track successful and unsuccessful test results thanks to video recording.

Easily integrate the tool into your existing development environment through support for JIRA systems, Jenkins, GitHub web service, and open APIs.

Perform cross-browser testing in any convenient environment (private or public cloud, diverse local networks).

Adjust the testing frequency – systematically (e.g., daily) or only when changes are made to the code.

Determine the financial costs to avoid exceeding your project budget even before using it.
Selenium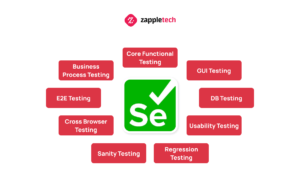 It is an open-source AT environment used to automate testing in web browsers.
Selenium Features:
Supports multi-browser testing.

Allows you to reuse test scenarios.

Has extensive integration capabilities – compatible with Continuous Integration/Continuous Delivery tools (including jenkins).

Multilingual and cross-platform tool.

Supports parallel testing, which speeds up test case execution.
Testigma
The Testigma regression testing tool is often called flawless in the QA environment for its wide functionality. The tool automatically suggests suitable test cases when you make changes to the program.
Platform Capabilities:
No scripting is necessary to perform testing.

It is possible to set up regular checks without human intervention.

Supports artificial intelligence control.

Customizable test execution priority is available to create their optimal set.

Easily integrates into your existing development environment with support for JIRA, Jenkins, and more.

Provides detailed reporting on testing.

Has a test lab located in the cloud.

Supports multi-platform testing (for mobile and web apps).
TestComplete
Thanks to the integration of the TestComplete tool vendor with a personal cloud, its use makes it possible to create automated tests without writing code. The ability to integrate error detection tools greatly speeds up the testing.
Tool features:
Accelerated detection and correction of code containing an error.

Regression tests do not lose their functionality when changes are made to the UI.

Supports the ability to plan and run a test without the tester's direct involvement.

Suitable for testing all types of software: desktop, mobile, and web apps.
Ranorex Studio
Ranorex Studio is a universal tool suitable for automated regression testing of programs for various types of devices. This solution is recognized as reliable and effective in the QA environment.
Advantages of Ranorex:
Provides a detailed report of tests performed; all data is stored in XML format, and the reporting also includes screenshots of failed tests.

Reuses successful test cases.

Supports easy integration with TestRail, Jira, Jenkins, and other systems.

Allows keyword-based testing without scripting.

Features a thoughtful user interface with detailed instructions.
TestingWhiz
This tool is trendy among testers due to its versatility. It allows regression testing of mobile, desktop, and web apps. It also supports cross-browser testing and database tests.
Other Benefits of TestingWhiz:
Not only does it require no coding, but it is also intuitive.

Endowed with FAST technology, which provides flexible scenario automation.

Supports third-party integrations.

Reruns successful test scripts.

Provides risk-based testing.

Detailed test reports are available to users.
Katalon Studio
This solution is based on open source frameworks Selenium and Appium. It has a special IDE interface for testing all types of software.
Tool features:
Ability to deploy to Windows, Linux, macOS.

Easy integration into Jira, Jenkins, and other systems.

Keyword and data-based tests available, used in Behavior Driven Development and Test Driven Development.

Support for installing additional plugins.
Avo Assure
Besides the codeless architecture, the Avo Assure tool has another essential feature. It allows cross-platform end-to-end regression testing.
Other important points:
Keyword-based testing can significantly reduce the test time.

Support for integration with third-party Jenkins systems is available, Jira, QTest, TFS, and ALM.

The tool makes it possible to run multiple test scenarios simultaneously and increases test coverage.
TestCraft
This codeless testing tool is a solution for automating regression and continuous testing. It has a built-in recording-playback system and a test script with ready-made input data, subsequently subject to change.
TestCraft strengths:
Supports running multiple test scripts simultaneously.

Successful test elements are available for reuse in new scenarios.

Each action is analyzed and strictly reportable.

Test scenarios are developed before the software is ready.
CloudQA
The CloudQA tool is implemented in the cloud and allows testing with multiple browsers.

Key points:
There are reporting and test suite scheduling features.

Each test action is completed by saving a screenshot for clarity of successful and unsuccessful cases.

Support for integration with third-party JIRA systems, Slack, Asana, GitHub web service.

Works with many browsers, including Internet Explorer, Firefox, and Chrome.
Summarizing
Regression testing allows software developers to avoid many mistakes associated with making the slightest changes to the code. QA managers are increasingly opting for its automatic implementation to simplify this procedure. Interested in automating regression testing? Contact our specialists — we will find the best automation tools for you and save your budget and time!